Why I Bought A New Pair Of Glasses For The World Cup
There's no escaping World Cup fever when you work in an office like mine. Every four years, our usually quiet working environment erupts into mayhem with the World Cup. For a soccer lover like me, it's a real treat.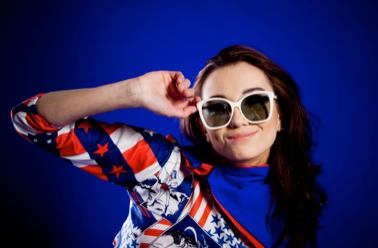 It's also about the only time that I don't need to worry about making small talk with my colleagues. When we saw Clint Dempsey score against Ghana, what a great match!
Did you see Dempsey? And what about that Brooks – isn't he something? As thrilling as it was to rehash the match the next day, it left me wanting more. I wanted to be there front and center as the Stars and Stripes did us proud. With no chance of getting on a plane, I needed a plan B.
At first I thought tweeting would help. Cheering along with the rest of the twitterverse, I felt united with my country. I got quite into it, until we lost to Germany. Poof! Just like that, all of the online camraderie vanished. The #WW3 hashtag many of us had been using was no longer trending. I realized I had to move on.
I decided that a new pair of eyeglasses would be my solution. It turned out to be far more effective than seeking out colleagues or hashtags. If you're looking for some World Cup spirit but can't afford the airfare, I highly recommend you do the same. It's the closest you'll get to feeling like "We Are One (Ole Ola)". Don't believe me? Here's why you should treat yourself to a new pair of eyeglasses, in honor of the World Cup:
1. Turn Your Support into an Accessory
Eyeglasses are a great way to show your support for your favorite team! It's a creative alternative to getting dressed up in your team's colors. And let's face it, it will save you the hassle of dyeing your hair. Who says you can't use your glasses as a statement-making accessory?
My advice is to choose your new frames to match the color of the team you support. Supporting the United States, I went with three different frames. I started showing them off three days before a game. The first day, I went red. The next day, I went white. The third day I went blue. By the time I was wearing my blue frames, no one doubted what team I was supporting.
I felt proud strutting my stuff in those colors. There's something very satisfying about turning your support for your favorite team into an accessory.
2. Easier to Enjoy than a Caxirola
At the 2010 World Cup in South Africa, it was the vuvuzela. In 2014, it's the caxirola. This Brazilian percussion instrument had been declared the official noisemaker of this year's World Cup, but it was quickly banned by Brazil's Ministry of Justice. In addition to being distracting during matches, the caxirolas were found to pose a safety risk after fans starting chucking them onto the pitch. You never have to worry about any of that potential danger with eyeglasses.
Your frames can be big, eccentric, and crazy, with no issue! While they may not be noisemakers, you can wear your World Cup Glasses with pride, and not get in trouble with authorities. Take that, caxirola!
3. Great Time for a Check-up
Did you know that you should have your eyes tested every two years? If you're due for a check-up, this is the perfect time. After all, it's that time of year when you want to sit back and enjoy the television without straining your eyes. Who knows, you may find that you truly need a new pair of prescription eyeglasses.
Come Celebrate with Zenni Optical
We invite you to celebrate the World Cup with us! Come browse our diverse selection of affordable frames and find something that's perfect for you. With great prices and an unbeatable selection, you're bound to find the ideal pair to pay tribute to your team.