Celebrities and the Sunglass Mystique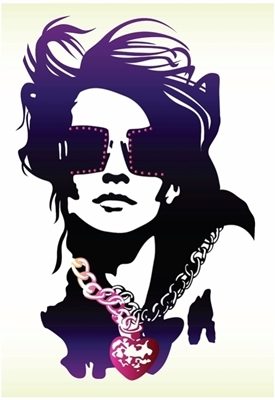 No doubt about it, sunglasses can be intriguing. While it is said that the eyes are the windows to a person's soul, when a person deliberately conceals them, the rest of us pay attention.
(What's going on under those shades?)
While some celebrities may try to throw fans and paparazzi off their scent by wearing sunglasses, I suspect that many of them know that their disguise isn't fooling anyone.
(In fact, many people associate sunglasses with celebrity, paying special attention to folks who look like they don't want to be recognized.)
Other celebrities willingly don sunglasses while on the job, or out on their own, as just one component in their overall look. In fact, many a star has set a serious trend just by wearing sunglasses, causing millions of fans to buy a pair (or a close imitation) for themselves.
Signature Looks
While some celebrities, such as Jackie Onassis, Angelina Jolie and Roy Orbison, are known for wearing sunglasses all the time, some actors have managed to launch or renew the popularity of a particular type of sunglasses just by wearing them in a role.
(It should be pointed out, however, that manufacturers of sunglasses often pay movie studios "place" their frames on the faces of actors: The choice to use a particular style doesn't always rest with the costume department.)


Probably the best known sunglass trend-setter is Tom Cruise. In his youth, Cruise's Risky Business  shades were responsible for putting Wayfarers back on the cultural radar. His "Top Gun" Ray-Ban aviators also helped boost the popularity of an already classic style. In later years, his Mission Impossible II Oakley Romeos triggered a rush on the ultra-modern frames.
Arnold Schwarzenegger likewise started a trend when he wore Gargoyles back in his Terminator days. Gargoyles had the advantage of being fairly reasonably priced (still are, in fact) and their full-coverage made them utilitarian to boot.
(True story: Way back in the day, I sold sunglasses from a mall kiosk. In many cases, people would come up to the stall and ask for sunglasses by the name of the movie in which they were featured. While I was happy to inform customers as to the exact brand and model name, most weren't interested. They just wanted to look like Tom or Arnie.)
Getting the Look Without Breaking the Bank
If you want to get the look of your favorite celeb but don't have enough cash to buy a pair of designer sun specs, never fear. Many companies sell knock-offs at reasonable prices: So long as you don't let anyone get too up-close and personal, others will probably just admire you from afar and, if you're lucky, may even assume that you are a VIP.
(Particularly if you're dressed to kill and out on the town for the night.)
If you aren't crazy about how your knock-offs sit on your face, take your glasses and yourself over to an optician for a professional fitting. The optician may be able to adjust your sunglasses to give you a more polished look.
(You'd be surprised what a few tweaks can do for you.)
Do you wear regular glasses? No problem. You can usually get sunglasses with prescription lenses. Another option is to check out sun-shades, which you can attach to your regular eyeglasses.
(Don't freak, sun shades don't look like they used to!)
Seriously: You won't look like a Revenge of the Nerds refugee when wearing contemporary sunshades. The new models, such as those sold by Zenni Optical, exactly match the shape of your eyeglasses. They are magnetized, so you don't have to spend time fiddling with awkward-looking clips. They also allow you to select frames that matches the look you want without making you buy a separate (and expensive) pair of prescription sunglasses.
(Big savings, little fuss.)