Do-It-Yourself Frames For Summer Fashion Fun
With so many fabulous fashion frames available at Zenni for a mere $6.95, and tinting to make any glasses sunglasses for only $4.95, making your own designer prescription sunglasses is so affordable!  It's also just so much fun to gather up some favorite and inexpensive craft items to really make your glasses special. The best part is that anyone can do this — no art degree required!
Check out our favorite DIY frame ideas:
Make Your Own Striped Sunglasses and Matching Beach Bag

Zenni 806030    $6.95
This white plastic aviator frame for only $6.95 awaits your do-it-yourself inspirations. To get started, consider adding stripes you cut from colored electrical, or duct, tape — available on the cheap at any hardware store. This idea is featured on Kaboose.com as a kids' craft, so don't be afraid to try your hand at creating awesome summer eyewear.
 Credits: Kaboose.com

 Credits: Spoonful.com
Don't forget that you can turn almost any pair of Zenni glasses into sunglasses. For this DIY project, just click on the Zenni 806030 white frame at the top of this page and the "order" button will guide you through the ordering process where you can add tinting for only $4.95. For the beach bag how-tos, click on that image to get the instructions from Spoonful.com. Can you believe that all you need is tape, cording and a garbage bag?
 Create Your Crystal Blue Fantasy Glasses
 

Zenni 338526    $6.95
It's really amazing that such a trendy-looking, universally-flattering frame as the Zenni 338526 above is just $6.95! The blue and black tones as well as the short lens height tends to look wonderful on a variety of face shapes and skin tones. Turning this frame into a fashion stunner is as easy as gluing on some Swarovski crystal flower beads and adding a few scroll or other lines with a fabric paint writer that also works on plastic.
Swarovski Crystal Marguerite Beads — Sapphire
Credits: TheFind.com

Scribbles Dimensional Paint Writer — Sky Blue
Credits: FashionDesignBooks.com
Design Your Own Pastel Pearl Frame
Zenni 419011    $6.95
Enjoy feminine glamor by simply gluing glass pearls onto this light, full-rim metal aviator frame. Pastel tones are best for a classy look and you can go for all one color or use several pale pearl colors. Either a glue gun or jeweler's glue may be used for this project. For added glam, you may want to order pink or purple fashion tinting from Zenni — or a regular gray or amber tint to make these 419011 glasses into sunglasses.

Glass Pearl Pastel Beads
Credits: FireMountainGems.com
 Decorate Your Eyewear With 'Rubies' Or Roses
Zenni 223618    $6.95
A row of small ribbon roses glued across the top front or a handful of adhesive craft gems are all it'll take to make red hot glamor glasses. This pretty red, Zenni 223618 medium-narrow frame is translucent for extra trend appeal. Don't hesitate to try on this $6.95 frame (by clicking on the glasses image above and using Zenni Frame Fit with your uploaded photo) as you may be happily surprised by the result!
 Martha Stewart Crafts Gems Stickers — Ruby
Credits: Fabric.com
Small Ribbon Roses — Red
Credits: Etsy.com – Blossom Basket
Let The Eyes Have It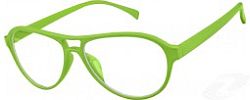 Zenni 806024    $6.95
This bright green Zenni frame is perfect for fun crafting possibilities. Its large, aviator styling will allow for larger decorations such as a variety of sizes of googly eyes as shown in the "Silly Sunglasses" preschooler project over at Spoonful.com. You may want to add green tinting to your Zenni 806024 frame order for extra fun!

Credits: Spoonful.com
Whip Up A Watermelon Frame In Seconds
 

Zenni 225224    $6.95
This DIY frame is super-quick as all you need to add is a few polymer clay watermelon slices to this attractive Zenni 225224 style. It has a beautiful, random green and black pattern reminiscent of watermelon rind! If you want more challenge, buy red, green, white and black polymer clay from a craft shop and make your own watermelon details. Otherwise, you can buy the slices ready-made and hot-glue them, or use jeweler's glue, to position a slice or two creatively at the bridge, temples or wherever you please. Won't these glasses be fun at summer picnics?
Polymer Clay Watermelon Slices
Credits: Etsy.com — Miniature Sweet