Do You Want Glasses Like Pope Francis'?
Jorge Mario Bergoglio, better known as Pope Francis, the newest papal dignitary, seems to be spending a lot of time reaching out to the masses by making public appearances as well as getting involved in some controversial news stories. The 76 year old even has millions of Twitter followers to whom he Tweeted: "Dear Friends, I thank you from my heart and I ask you to continue to pray for me." Well, he may need a lot of prayers if the media keep calling him an exorcist or he keeps irritating the Vatican with his atheist-friendly attitude. Well we do like his round, classic John Lennon-style glasses that are back in style. But, why are these glasses mysteriously absent in photos taken the day after he first wore them as Pope?
The Mystery Of The Disappearing Eyeglasses
One picture above is not like the other. Although the photos were taken only a day apart and Pope Francis wore the same papal garment, his glasses are oddly missing in the second photo. It gets even odder as a closer look at the second photo shows a pretty much identical pair of round glasses on Cardinal Agostino Vallini, Vicar General of Rome, who also happens to look amazingly like Pope Francis in both build and facial features. I guess we'll never know whether one of them borrowed the other's glasses or what happened, but for sure this is a nice style on older men — that we can say with certainty. We've gathered up some great, similar Zenni styles below, plus added a few frames close to the style of the other man in the photo — Cardinal Santos Abril of Spain:
Zenni 550011  $9.95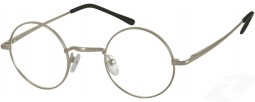 This frame has spring hinges for maximum durability at such a low price! It's a silver-toned, medium-fit frame of lightweight, metal alloy that's also available in bifocal and progressive prescriptions as well as single vision. This is just the perfect frame for papal visits — or just running errands!
Zenni 322111 $19.00
If you want to go a little more oval  than completely round in lens-shape while still retaining Pope Francis' basic eyewear look, the Zenni 322111 frame is a nice choice. This frame is actually available in 37 different lens shapes!
Zenni 589021 $27.95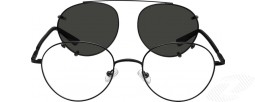 Here's a practical summer version of Pope Francis' round eyewear style. Rather than silver or gold metal tones, this lightweight metal alloy frame has a thin, full rim in black which is flattering on many people. The detachable, polarized sunshades are an exact fit to the Zenni 589021 frame, so you get a smooth look in a prong-mounted setting. The fit is medium-large and single vision, bifocal and progressive prescriptions are all available.
Zenni 229721 $12.95
Certainly not just for cardinals, this medium-fit, single vision frame features a thick upper section with rimless lower lenses for a contemporary look. It's ideal for those who prefer the style of thicker frames — especially at the temples. The temple arms also have an attractive striping detail — to make you feel years younger while still looking age-appropriate.
Zenni 793121 $25.95
A really stylish, trendy version of Cardinal Santos' glasses, the Zenni 793121 frame is a smart, black and gray half-rim design with distinguished-looking, yet fashionable, temple arms. This medium-fit, single vision, men's frame has a pleasing finish in hypoallergenic, black stainless steel. Very nice! — now back to Pope Francis …
Pope Francis, The Atheist-Supporting Exorcist?
Disappearing eyeglasses on Pope Francis is the least of the Vatican's concerns these days. The Pope caused a media stir when he was recently reported as performing an exorcism when he laid his hands on a young man's head after a St. Peter's Square Vatican City mass. Then, a few days later, the Pope sermonizing that atheists can do as much good as believers once again had the Vatican a little agitated. It'll be interesting to see what Pope Francis will do or say next — and whether round or other glasses will make a reappearance!