Eyewear As Seen On Carly Rae Jepsen: Copy Her Maybe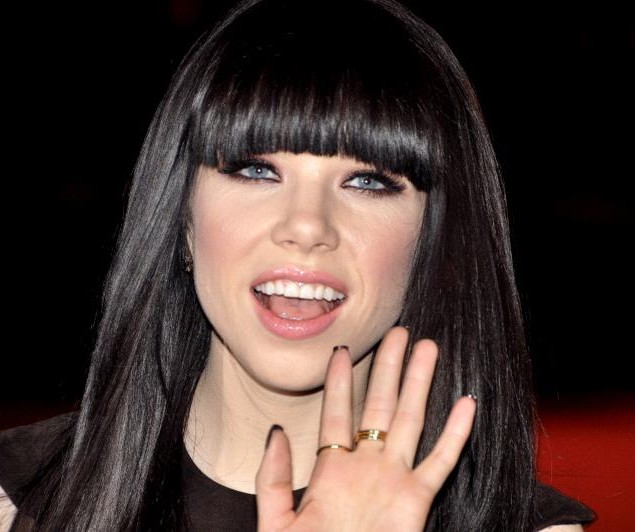 It's no surprise that the cute as can be Canadian "Call Me Maybe" singer, Carly Rae Jepsen, is completely adorable in glasses — much like Zooey Deschanel with that fringe of bangs and flowing dark hair. It's hard to believe Carly will be turning 28 on November 21st though, because she still has that stylishly sweet 16 look about her.
This can make it seem a little daunting to try to get her glasses style, but really Carly Rae's eyewear picks tend to be shapes and colors that we mere mortals not blessed with eyes like sapphires or perfect pixie hair can wear in a very flattering way too. Here's what we mean:

Black and Aqua Women's Frames (621521) for only $27.95!
Sure, aqua can highlight blue eyes, but did you know that this is one color that tends to flatter everyone of any eye color and skin tone? It's no wonder this color is on the horizon for Spring 2014 and is a favorite of many people.
Just click on one of the images to access the Zenni catalog and the Frame Fit on the right side of that page. There, you can either upload your own photo to see how these hot glasses will look on you or try them on our variety of eyewear models. (Yes, it's fun!)

Tortoiseshell Women's Frames (286325) for only $19.00
Tortoiseshell also tends to flatter all skin and eye colors. It's always a popular classic that never gets dated looking on anyone, plus it can be worn with casual or dressy clothes equally well  — not to mention with any color in the rainbow. For Fall/Winter 2013 – 2014, tortoiseshell glasses are trending with wool coats in soft greys and with slouchy sweaters in brown tones.
To be sure, tortoiseshell Geek Chic glasses, whether with larger or sleeker lenses, always seem to be amazing at making the wearer look smart for work or school — or in Carly's case, for singing career interviews!

Black Women's Acetate Frames (619021) for only $19.00!
Here are even more Carly-esque glasses that look great for work, school or anywhere. She really looks stunning in these, but again, these are styles that will bring out the best in most faces, eye colors and skin tones, so don't be afraid to try them out.
Also, don't be afraid to wear a little understated color or subtle pattern in such a classic frame shape as with the Zenni 295715 frame above. You'll still look completely professional while also gaining some extra style details.

Tortoiseshell Women's Frame with Crystals (260625) for only $15.95!
Another way to add your own style is to experiment with bolder tortoiseshell looks as well as cat eye shapes.
These Zenni frames above are cute as a kitten updates for Carly Rae's oval tortoiseshell frames that she wore earlier in her career. The Zenni 260625 tortoiseshell model features a silver metal triangle detail on the temple arms that contains three sparkling crystals on each side. This is so much style and glamor for $15.95, don't you think?
The Zenni tortoiseshell cat eye frame (626925) has the trendy appeal of contrasting temple arms in white for a fresh look that will work any time of year. This medium-fit fashion frame is available in single vision, bifocal and progressive prescriptions.
We give a shout out to Carly Rae's talent and her glasses style and can't wait to hear her next hit!