Fall for Tortoiseshell 2013
Tortoiseshell glasses are always a Fall fashion staple and this year is no exception. For 2013, classic amber tortoise tones are joined by other options in cooler browns, whites, grays and even blues (Jessica Alba's fave). Style mags like Harper's Bazaar pair great glasses in tortoiseshell with tailored gray wool coats or soft brown slouchy sweaters. Combining graphic prints and tortoiseshell is a fun, fall fashion look for 2013 too: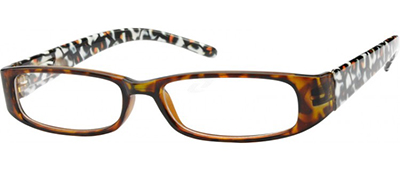 Get these Women's Tortoiseshell Frames (281125) for only $9.95!
Round, square, heart, triangle or oblong — this smart rectangular frame tends to be super-flattering on all women's face shapes, so don't be afraid to give it a try by uploading your photo into the Zenni Frame Fit. (Just click on the glasses image to enter the catalog system. You can also view this frame on a variety of our eyewear models on the right side of that catalog page.)
More Great Looking Rectangular Tortoiseshell Frame Picks For Men And Women
It's fun and sooo easy on the budget to pick a practical and attractive Zenni tortoiseshell frame for a great price. Remember that almost any Zenni prescription frame can be turned into sunglasses by adding tint for only $4.95.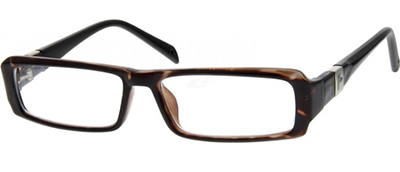 Get these Men's Rectangular Tortoiseshell Frames (226225) for only $6.95!

Get these Women's Contemporary Rectangular Tortoiseshell Frames (611635) for only $25.95!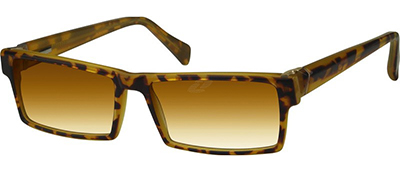 Get these Men's Non-Rx Tortoiseshell Sunglasses w/Amber Lenses (A8442625) for only $28.95!
Tortoiseshell Squared
This popular tortoiseshell square frame shape is worn by celebs like Bruno Mars, Ryan Gosling and British rapper, Dappy, to name but a few. It will combine nicely with any man's fall wardrobe and looks ultra-smart for work or school.

Get these Men's Dark Textured Tortoiseshell Frames (637425) for only $25.95!
More Wonderful Square Shape Tortoiseshell Frames For Men And Women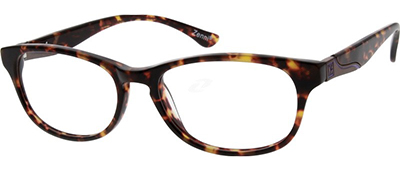 Get these Women's Dark Tortoiseshell Frames (626425) for only $35.95!
Stylish actresses like fashion buffs Hilary Duff and Rachel Bilson wear tortoiseshell sunnies in a classic square shape similar to this Zenni frame above in dark tortoise. This frame features wire-reinforced temple arms for extra durability and fit. Check out these bold-patterned tortoiseshell frames too:

Get these Men's Light Tortoiseshell Frames (292525) for only $19.00!

Get these Women's Blue Tortoiseshell Frames (230926) for only $12.95!
Wider and narrower square shapes of tortoiseshell frames are available in many different shades of tortoiseshell in the Zenni catalog. Click on any of the images above to access the catalog to find more options.
The Cat And The Tortoise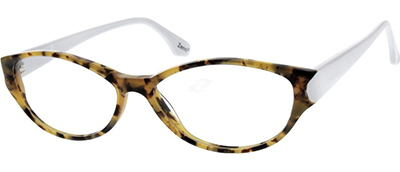 Get these Women's Cat Eye Frames (626925) for only $19.00!
The white temple arms on this super-stylish Zenni cat eye tortoiseshell frame reflects an artistic trend for 2013 — different colors for the arms and front of glasses. With this cute frame, you also get the option of single vision, bifocal or progressive prescriptions.
More Cool Cat Eye Tortoiseshell Frames For Women (And one for men too!)

Get these Women's Medium-Fit Cat Eye Frames (626325) for only $25.95!
It's all tortoiseshell all the time with this fun, dramatic frame style that's been seen on the likes of Kim Kardashian and Kelly Osbourne.

Get these Women's Non-Rx Cat Eye Sunglasses (A10120335) for only $45.95!
This kind of glamorous cat eye sunglasses look is eye-catching to be sure! Just ask actress Melanie Griffith.

Get these Men's Non-Rx Cat Eye Sunglasses (A8621225) for only $22.95!
Here's a dark tortoiseshell sunglasses frame perfect for males who love the cat eye look as the corners are more subtle. Women can wear it too.