Looking At Hot Fashion Trends Of 2013: Ombre Is Continuing Into Summer
The ombre color trend of dark to light, or light to dark, shades of the same color gained real momentum in January 2013 with it burning past hair coloring looks alone and becoming increasingly hot in eyeglasses, jewerly, makeup, clothing, home decor and even weddings. This lively look isn't dying down anytime soon either. Get inspired by the ombre trend and let Zenni's beautiful collection of ombre-inspired eyewear have you looking trendy without the spendy:
(Just click on any of the  Zenni glasses images below for ordering info.)
Credits: Red Velvet Layer Cake created by Francine Stewart, One Girl Cookies, Brooklyn, NY — photo featured on Me And You Look Book
 Mmmmm, this red velvet ombre wedding cake looks too pretty to eat!
 This sophisticated, striped frame in yummy shades of red with silver metal accents on the temple arms, takes the cake for summer style at only $19.oo! These glasses could certainly be worn to a wedding or anywhere you want to impress for less!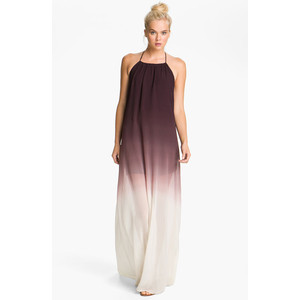 Credits: Young, Fabulous and Broke's Ombre Trapeze Maxi Dress for Nordstrom

Couldn't you just live in this all summer — along with the cool, co-ordinating Zenni 237823 glasses for only $12.95 below? (Hint: Just add a detachable sunshade to that Zenni frame for only $3.95 to give your prescription glasses double duty as sunglasses!)
Zenni 237823 $12.95
This fashionable, yet practical, full rim plastic frame, fits medium to large sized faces and is super-flattering on most women regardless of face shape, skin tone, age or eye color! (If you click on the glasses image above, you can upload your photo to the Zenni Frame Fit feature on the right side of the page you'll be on to see how this frame will look on you.)
Credits: Suite Revival
 Any favorite summer flea market find can be transformed into a trendy ombre decor item by using several shades of paint on the same chip as Suite Revival did here.
Zenni 387223 $19.00
 Yellow and clear transparent acetate mix in awesome ombre style for a fresh fashion eyewear statement. Not only does this attractive, full rim frame have durable spring hinges and adjustable temples for a comfortable fit, but each temple features a pretty, gold-colored accent.
Credits: Dream In Purple
 Purple ombre glitter nails? Tres chic!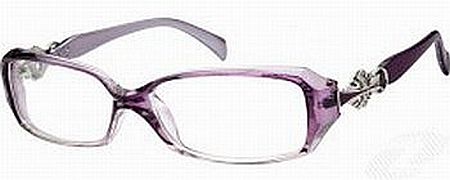 Zenni 256917 $27.95
Keep the elegance going with this purple, amethyst-toned acetate frame that features sparkling crystals on esquisitely-shaped, curving temple arms. The arms are flexible too for a custom, comfort fit in a medium-sized frame.
Credits: Reebok Elite Ombre tank style swimsuit at Alera Swimsuits
A sporty tank type of bathing suit lets you get a good workout in the water. The trendy ombre details keep you stylish as does the beachy-looking Zenni frame below for just $12.95. All you have to do to really beach it up for next to nothing is add a clip-on sunshade for $3.95, or sunglasses tint for $4.95.

Zenni 230726 $12.95
Metallic temple details accent this pretty acetate, full rim frame in beautiful, tropical blues and a random, spotted pattern that remind us of sea turtles. The fit is ideal for a medium-large face and single vision, bifocal and progressive prescriptions are all available. It's sooooo fashionable!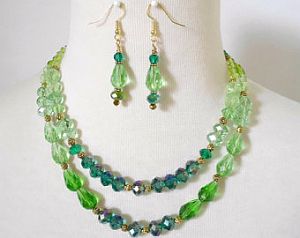 Credits: Innervisionary
Some pretty jewelry can dress up any spring or summer outfit for a romantic dinner or special occasion. We love the cooling, refreshing appearance of this necklace and earring set by Innervisionary.
Zenni 621424 $27.95
Make a trendy ombre style statement that is still appropriate for work, meetings or anywhere. The eye-catching metallic detail at each temple adds the perfect finishing touch to this full rim, medium-large acetate frame. A deep green upper flows into a lighter shade on the lower rim that's reminiscent of beach glass.