Festival Fashion: Austin City Limits
After a jam packed summer festival season, fall is finally here! Before you get out your scarves and cold weather gear, we've got one last music festival on our books, Austin City Limits! Here at Zenni, we couldn't be more excited! We love Austin for its unique vibe, live music, food scene, and awesome street- style fashion.
For two weekends in late September and early October, thousands of music fans will flock to Austin, Texas for the closeout music festival of the season. This year marks Austin City Limits' 15th year anniversary and features headliners such as Radiohead, Mumford & Sons, Kendrick Lamar, LCD Soundsystem, M83, and the legendary Willie Nelson. It's no surprise that ACL draws its fair share of celebrity attendees and surprise performers. Scott Eastwood, Matthew McConaughey, Camila Alves, Jared Padalecki, Jensen Ackles, ASAP Rocky, and Future have all enjoyed the music festivities at Zilker Park.
Austin's distinctive style makes ACL a can't miss event on our annual calendar. We're looking forward to seeing all the festival fashion looks from this year's upcoming festival!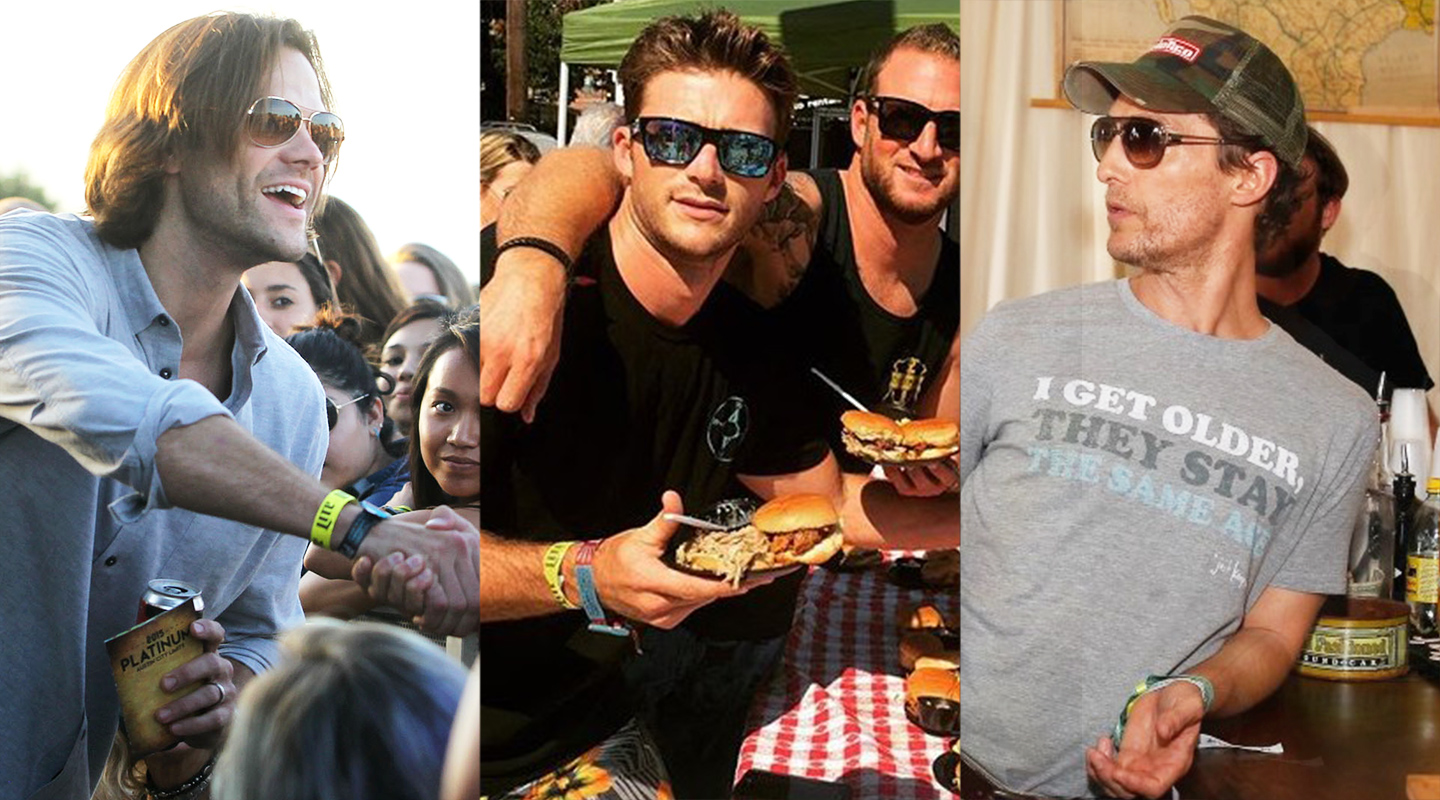 Image credit: JustJared, Austin360
FOR WOMEN
ROUND METAL
From Coachella to Bonnaroo and Glastonbury to Lollapalooza, vintage-inspired metal frames have dominated the festival fashion season all year long. Take note: this festival trend isn't going anywhere! For fall music events like ACL, we love the look of amber tints, rose gold mirrored finishes, and delicate metal detailing.
Image credit: ATX Street Style
TRY: Vintage-inspired, round metal frames with a gradient amber lens have signature retro appeal.
OR: Intricate detailing, rose gold mirrored finish, and delicate gold metal arms make these round sunglasses extra sweet.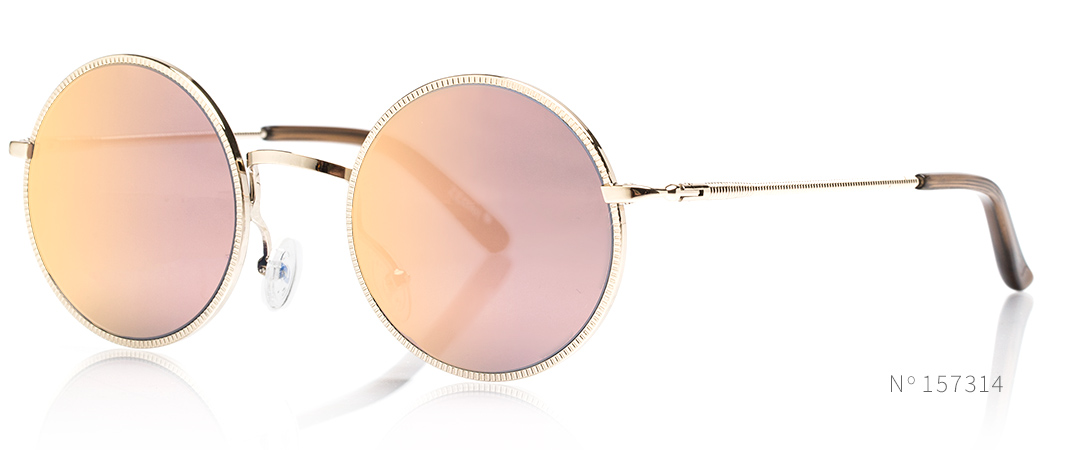 CLASSIC AVIATORS
There's nothing like a good ol' fashioned wardrobe staple especially when you're looking for something to wear to a music festival! At Austin City Limits, you can't go wrong with a pair of our signature, premium aviators. We've compiled our favorite ACL street style looks to give you a little style inspiration. For a feminine festival look, try wearing aviators sunglasses with florals, kimonos, or fringe pieces.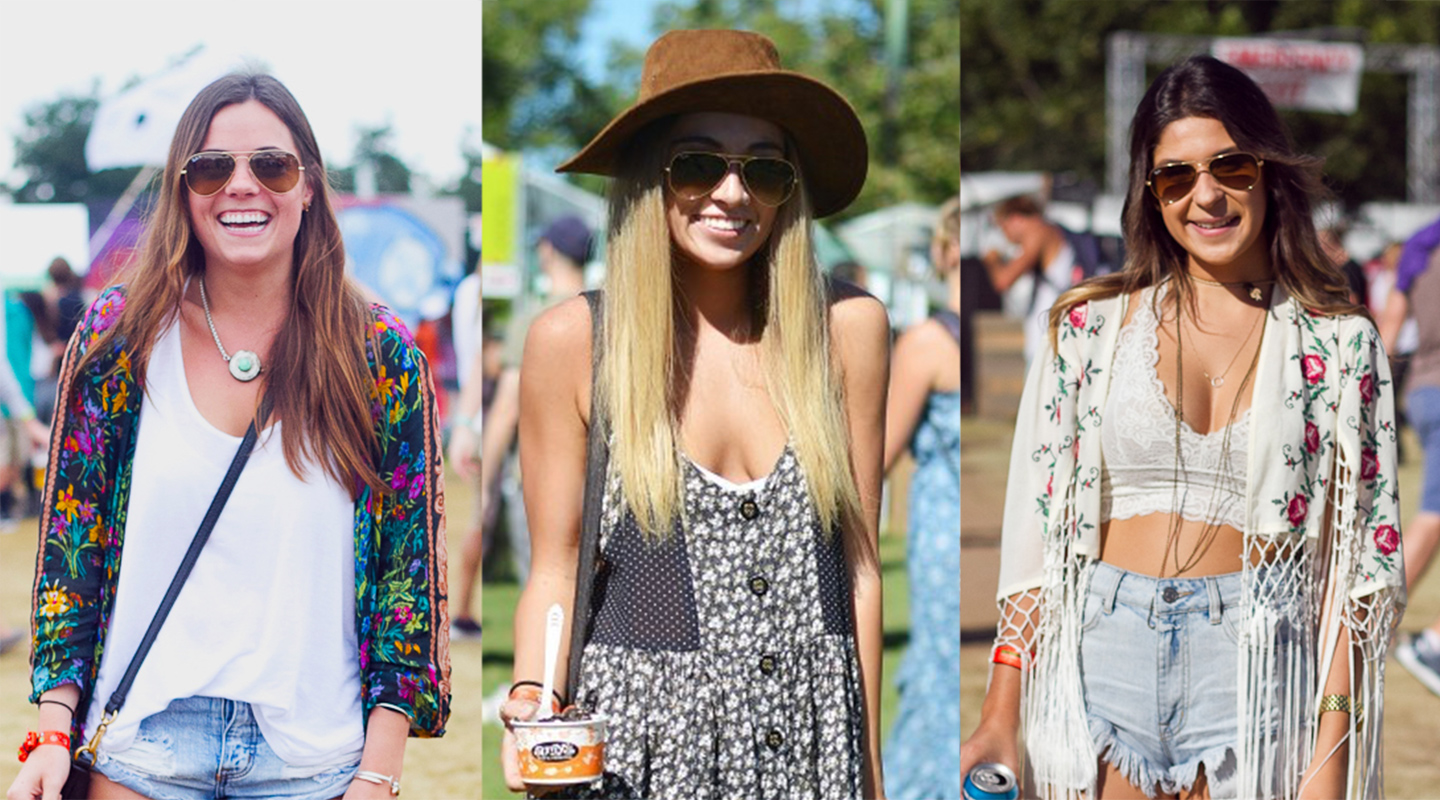 Image credit: ATX Street Style
For a casual yet equally stylish look, try aviator sunglasses with your favorite denim cutoff shorts and concert-ready top. Zenni approved!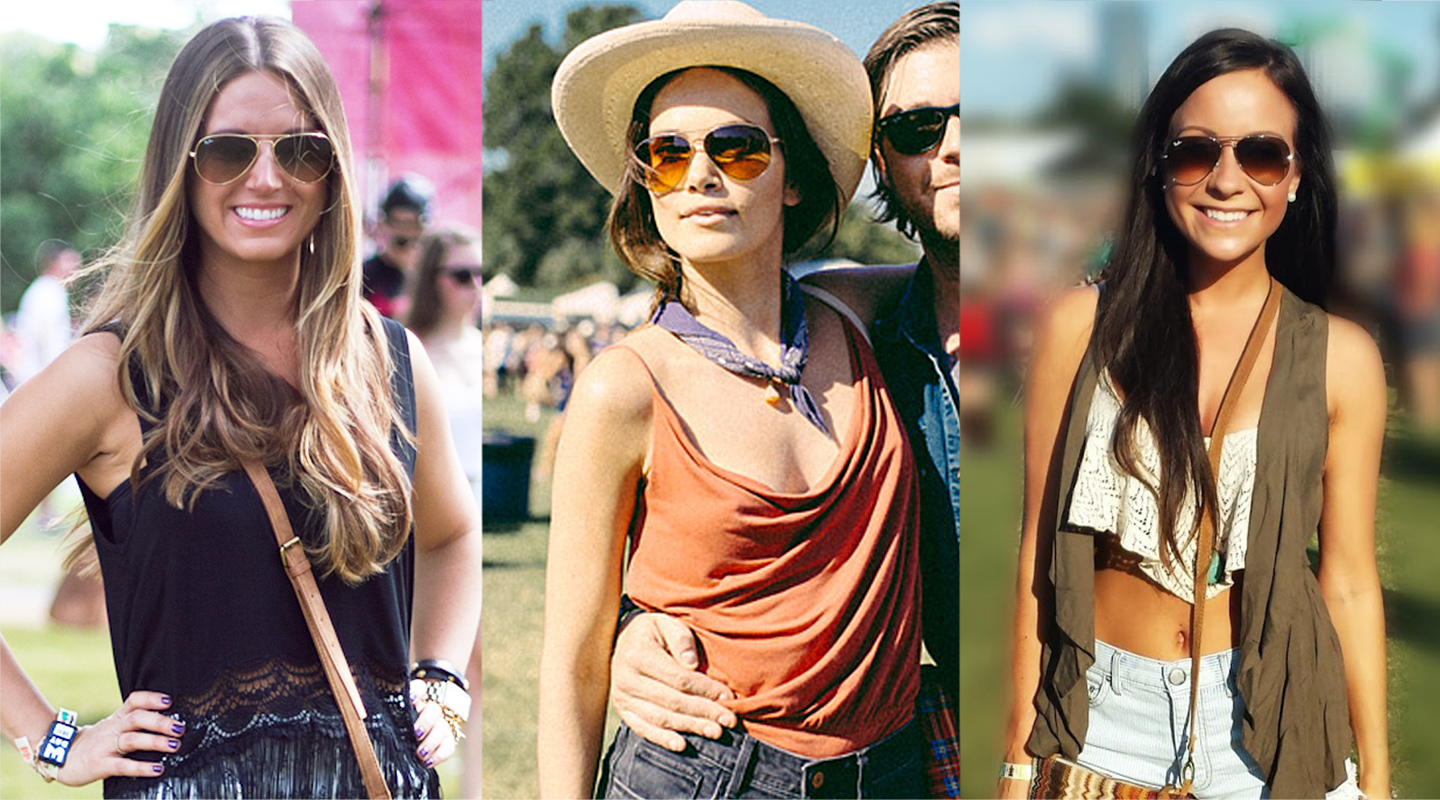 Image credit: Keep Austin Stylish, Free People, Y&I
TRY: Classic, oversized gold aviators with a gradient amber lens are a versatile option for rocking out in Texas.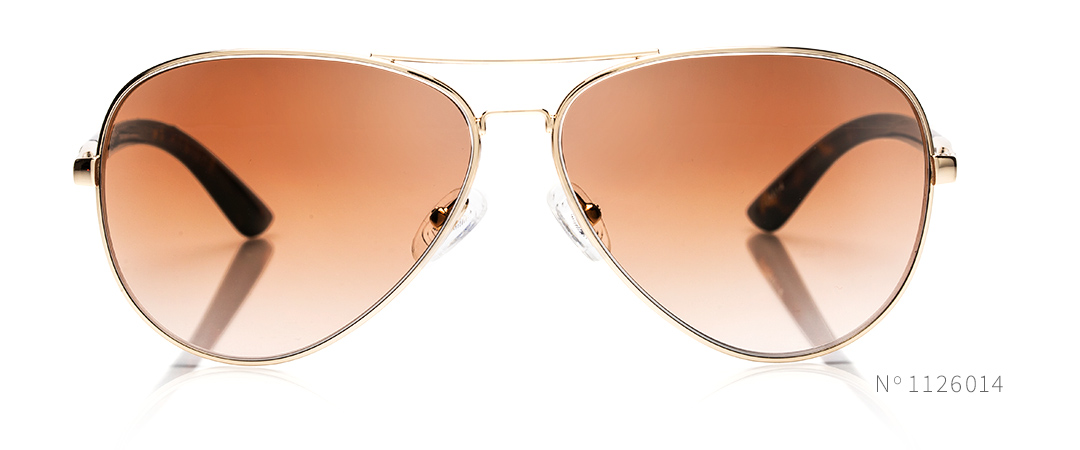 OVERSIZED FRAMES
Larger than life frames in vibrant colors and bold patterns are a fashion favorite at Austin City Limits for ladies who are willing to take style risks. From ACL headliner Jenny Lewis to trendsetting music lovers, we've spotted oversized acetate sunglasses all over Zilker Park at past festivals. This year, add a rich hue or textured frame to up your festival game.
Image credit: , Zimbio
TRY: Stand out from the crowds at Austin City Limits in bright blue acetate sunglasses paired with a matching blue gradient lens.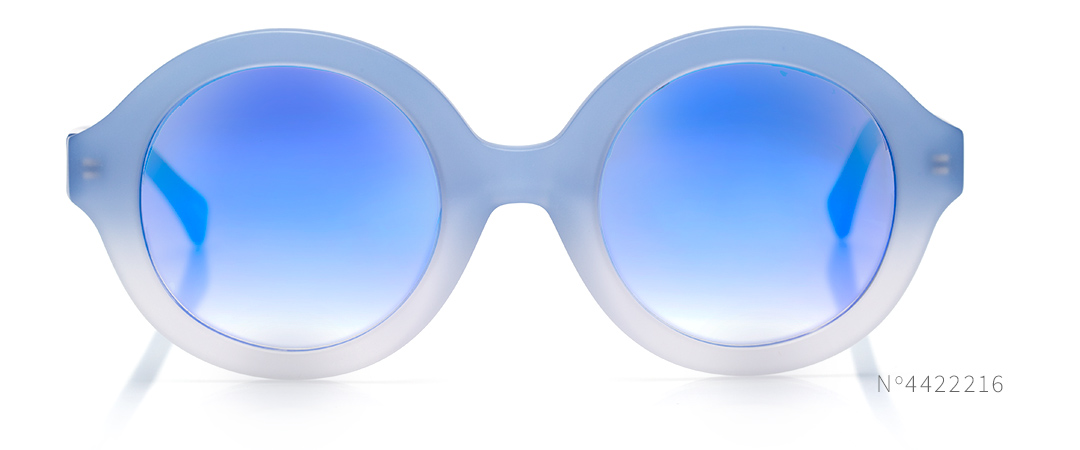 OR: Oversized and super stylish, textured frames featuring an amber gradient lens will effortlessly complete your festival look.
BROWLINES
ACL street style would not be complete without a mention of the ever-popular retro, browline frames. Year after year, festival goers have chosen this vintage-inspired style to watch their favorite musicians perform. And it's easy to see why, browlines work so well with both feminine outfits and edgy festival style. This fall, step away from traditional browlines, for new rounded shapes and gorgeous patterns. Festival fashion insider tip: pair browlines with floral numbers, lace dresses, and rompers for a softer feel.
Image credit: ATX Street Style
For an edgy festival look, browline style sunglasses work well with bold patterns and neutral colors.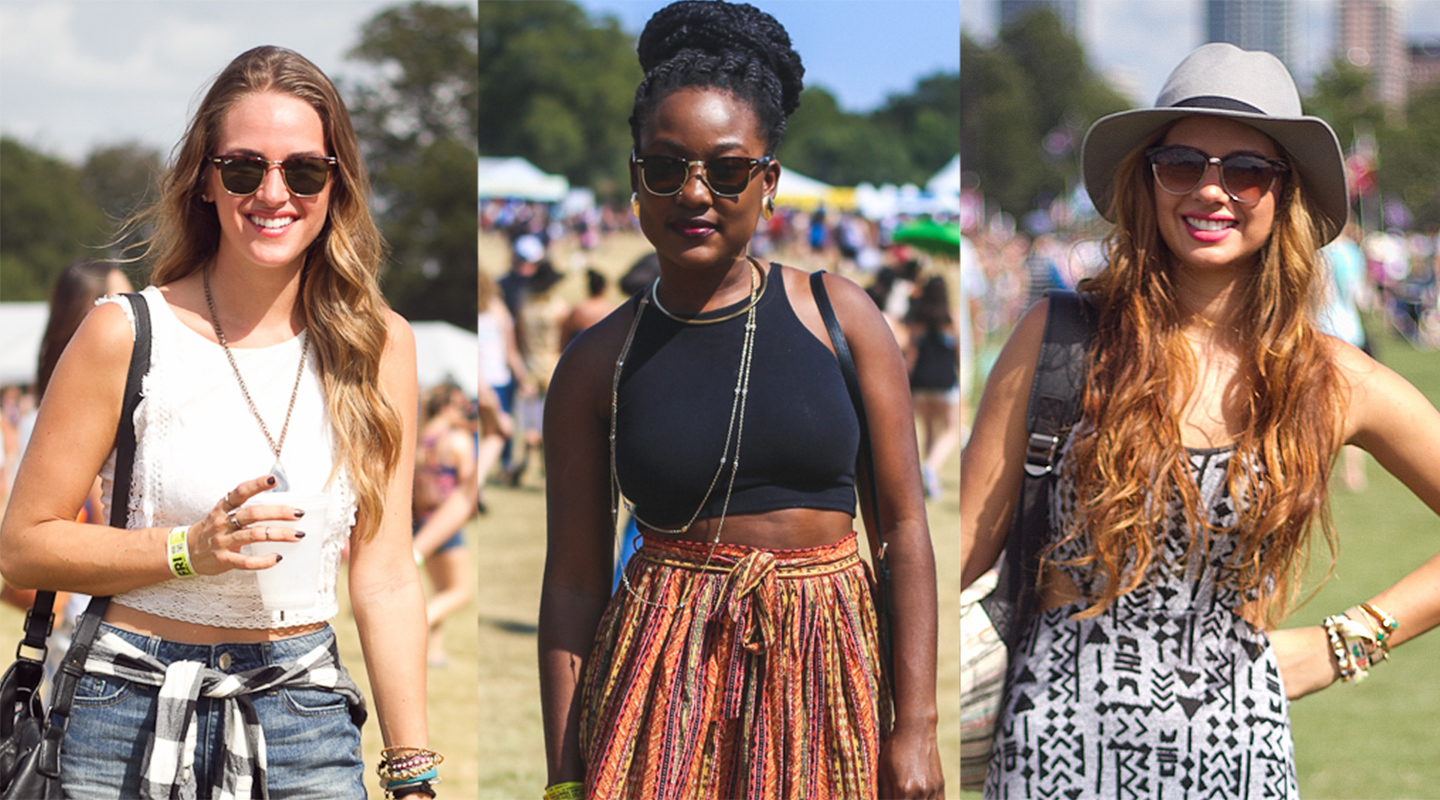 Image credit: ATX Street Style
TRY: Make a stunning statement in gold-rimmed frames accented with a patterned browline detailing and gold temple arms. Yes, please!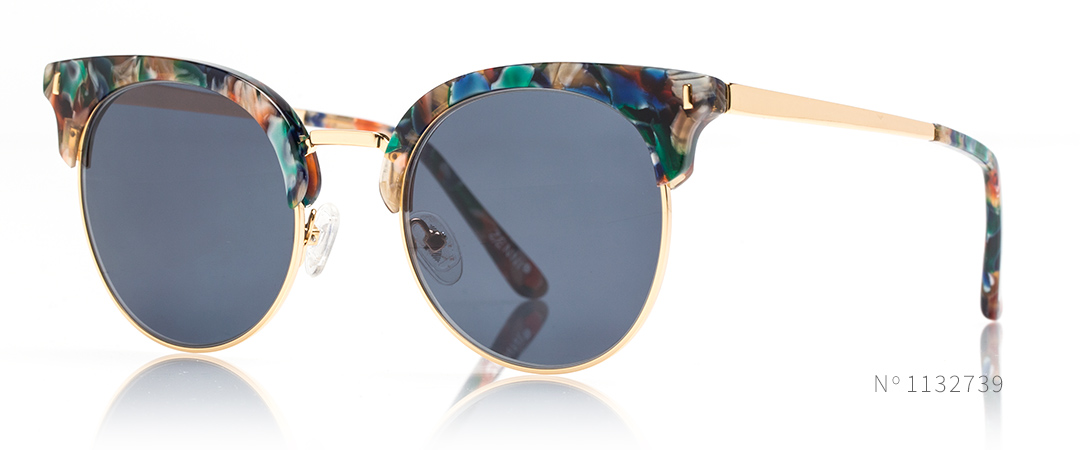 FOR MEN
ROUND SHADES
The stylish men at ACL have fully embraced the round frame festival trend in a variety of shapes, tints, and materials. For guys seeking that retro appeal but wanting a modern feel to their festival wardrobe, round shades make for a great option. At Zenni, one of our favorite festival looks for ACL is combining a bold print shirt with sleek metal frames.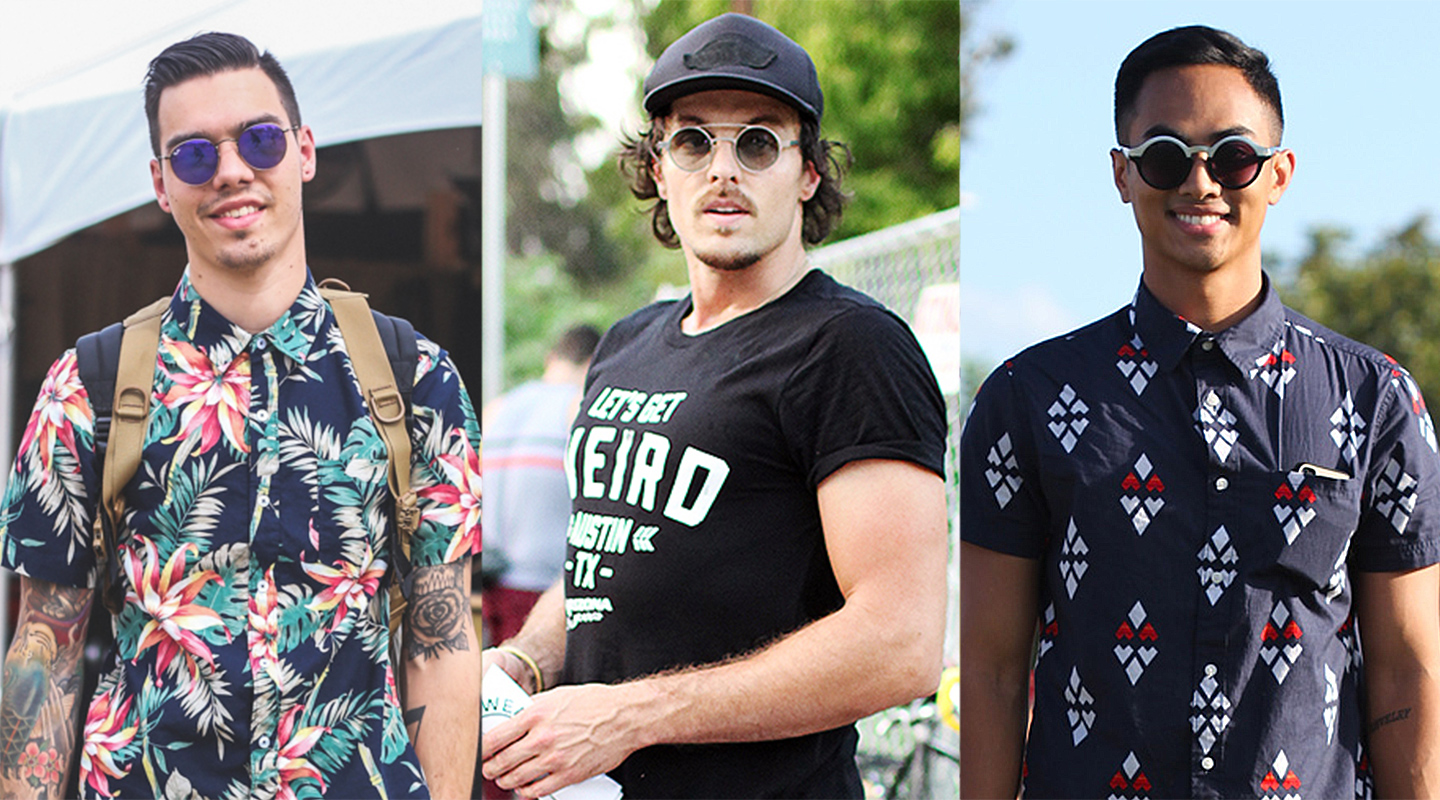 Image credit: ATX Street Style, JC Penny, Fashion Magazine
TRY: Round metal frames with a colorful, reflective mirrored finish maintain a vintage-feel with a modern update.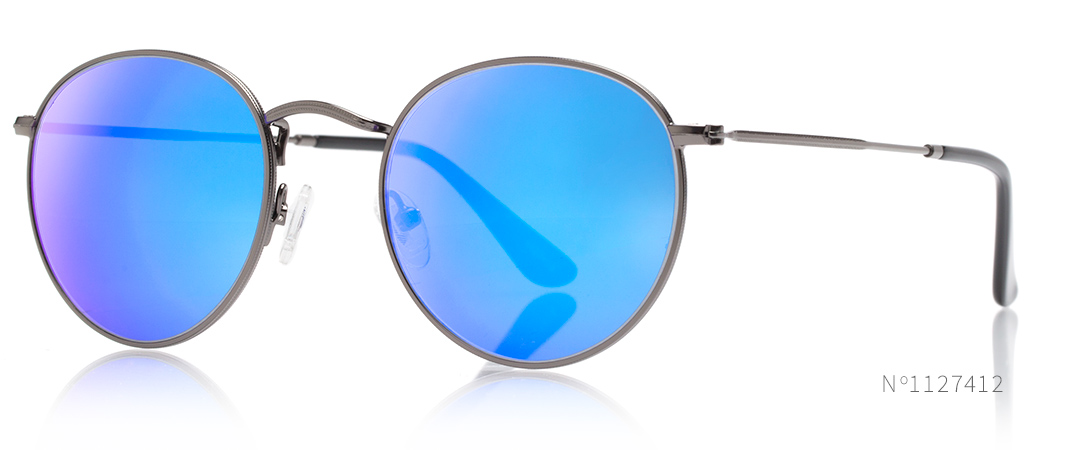 BROWLINES
Retro browline sunglasses are always a popular choice with the festival crowd. We're all about the texture and polished feel of tortoiseshell browlines for ACL. Not only is this rich pattern the perfect addition to any fall wardrobe, the color pallette is complementary to a variety of skin tones and outfit choices. Garrett Borns of Børns and festival goers favor the look of tortoiseshell browlines at Austin City Limits.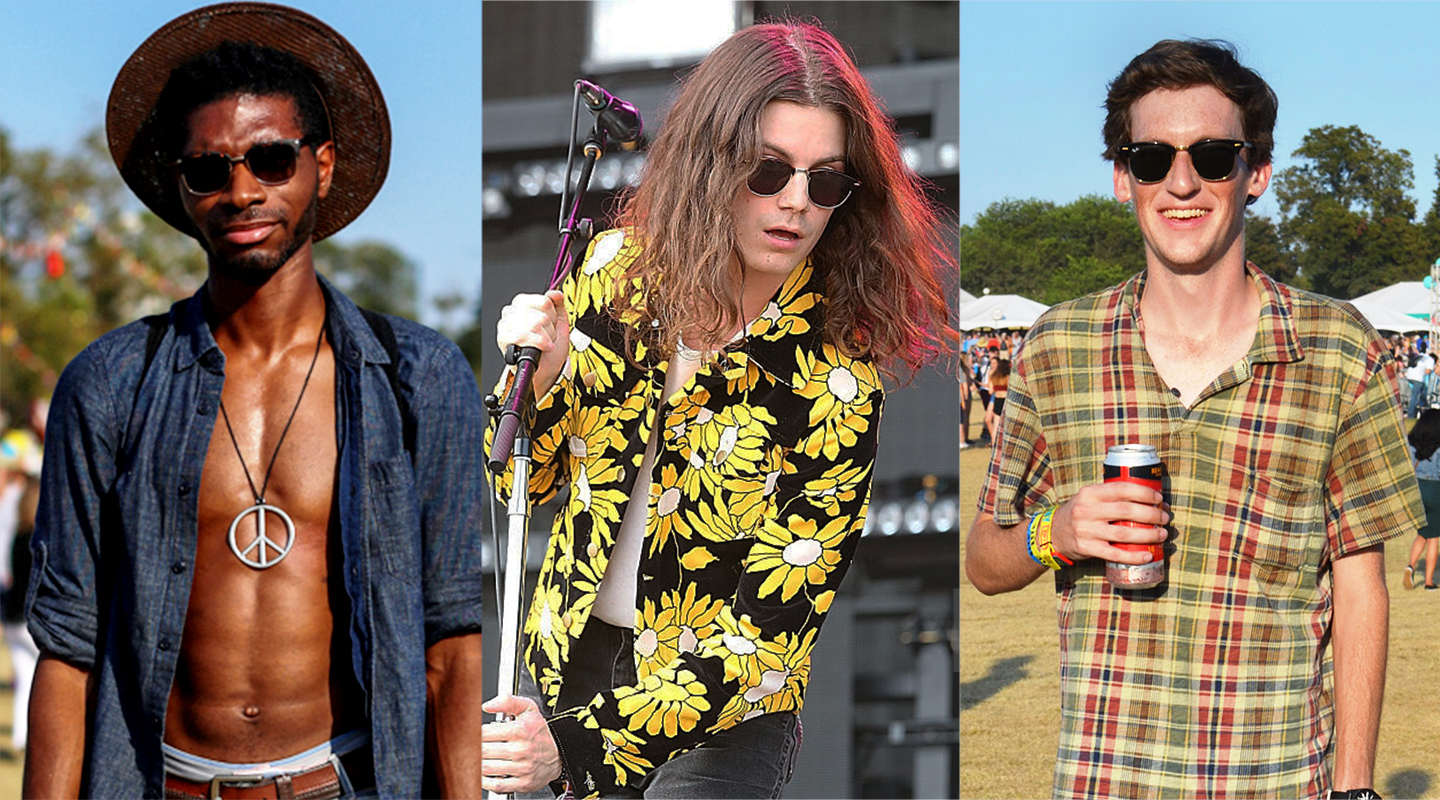 Image credit: Fashion Scoop, ATX Street Style
TRY: Sure to be an ACL festival fave, rich tortoiseshell browlines add texture and style to any festival look.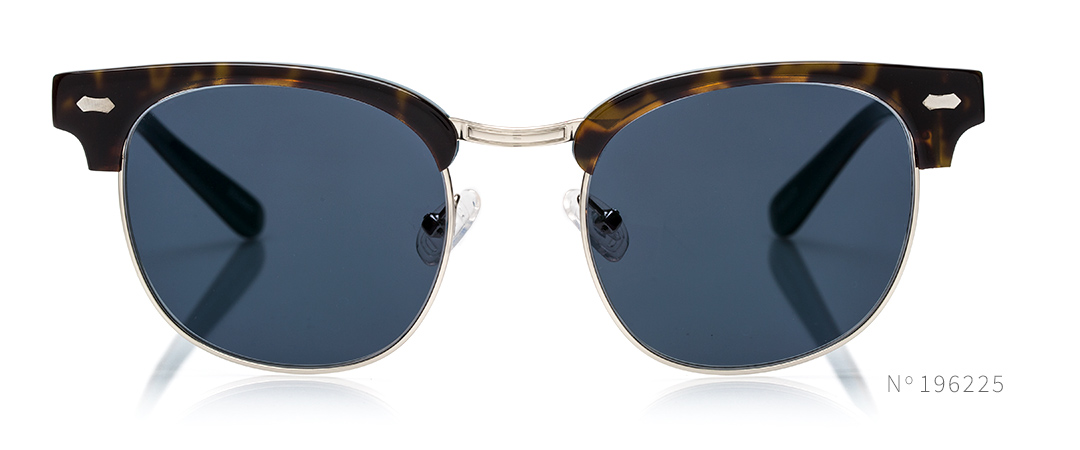 AVIATORS
Gold rimmed aviators are a festival staple amongst the crowds at Austin's Zilker park. Wear them with a short sleeve button-up shirt, a bright pattern, shorts and you are festival-ready. For those who love color, adding a reflective, mirrored finish to your aviators is a simple and easy way to make your festival outfit stand out.
Image credit: ATX Street Style, Esquire, Fashion Scoop
TRY: Classic aviator frames with a gray gradient lens and tortoiseshell arm detailing are an easy, no-fail style option for Austin City Limits.
OR: For some festival flair, add a reflective mirrored finish to brighten up polished aviator frames.
SQUARE
Nothing says cool like pair of sleek, square sunglasses. It's no surprise that these are go-to frames for musicians and performers! There's just something about the angular shape paired with a classic, dark lens that screams rock 'n' roll. DJ Zedd, Sam Smith, and Josh Carter of Phantogram all go for the square look while performing at Austin City Limits.
Image credit: Just Jared, Zimbio
TRY: Wide frame, square sunglasses in an ultra-cool, matte black finish for extra street-style points.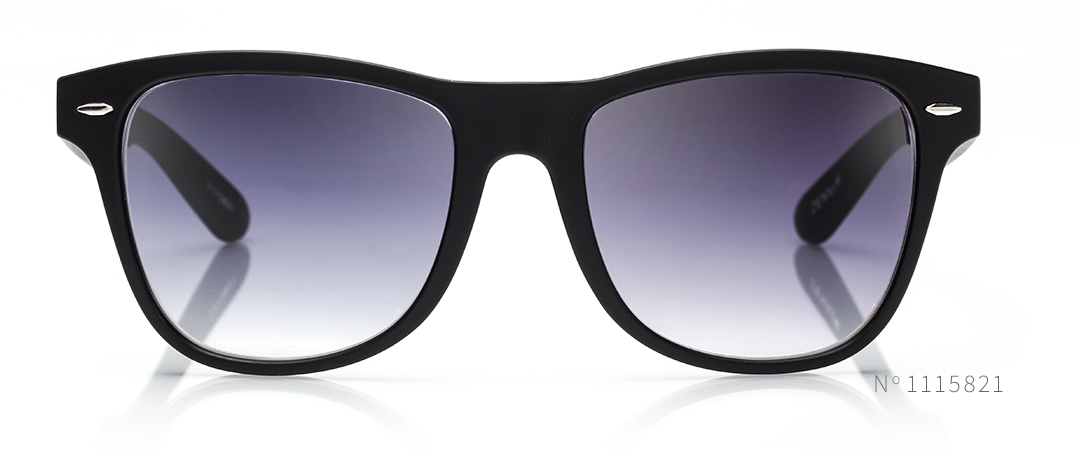 In need of a pair of stylish shades to complete your ACL festival look? Check out Zenni's festival sunglasses collection!
Are you attending any concerts this fall? Let us know in the comments below!