Flower Power Fashion For Winter 2013
Vintage 1960s fashion with its big bold colors and giant graphic prints is baaack, baby, for Winter 2013. Think Mod more than psychedelic with clean geometric patterns and bright solids. Body-skimming t-shirts and narrow-legged pants are all the rage in strong colors like Royal Blue, Emerald Green and Lemon Yellow. Well, let's also not forget the really juicy, refreshing shades of orange. Yum!
Adding white as well as some denim — and even leather! — mixes things up with the bright colors for contemporary style, but don't forget the funky flower power accessories. You can get into the groove with John Lennon-style round eyeglasses or go for intense color, arty pattern or thick frames — or all of the above! There are soooo many fun and inexpensive looks for everyone. Here's a totally groovy collection of fun, 1960s-inspired Zenni eyewear to wow up your Winter 2013 wardrobe:
Stand Out!

Get these Zenni Frames (110417) for only $27.95!
Ultra-large and funky, this multi-colored, women's acetate frame will boldly accent the Mod color scheme and clothing shapes trending this season. It's not for the faint of heart, but ideal for those who want to make a larger-than-life, super-style statement! (Oh how fun it can be to be large and in charge!)
Orange You Glad To Find Such Affordable Style?

Get these Orange Womens Frames (228022) for only $15.95!
Freshly-squeezed for Summer 2013, this medium-narrow women's frame couldn't be a more delicious shade of orange. Perfect for anytime you want a cute, fun look, this plastic, full-rim fashion frame also boasts an arty, wavy graphic print on the temple arms. Now we just need to find an orange and white striped beach bag and we're set for the season!
The Invisible Man (Or Woman)

Get these Rimless Titanium Frames (314915) for only $29.95!
This rimless John Lennon-style frame is unisex and appears nearly invisible when worn. It tends to suit a variety of face shapes and skin tones too and will work with many different fashion looks. The beautiful brown finish on the ends of the arms and the nose bridge give off a desirable, sophisticated kind of funky look.
Arty Arms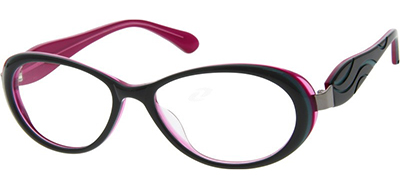 Get these Purple Full Rim Frames (624217) for only $29.95!
The textured and sculpted arms on this fashion-conscious, feminine frame are further accented by silver-toned squares at the temples. A wonderful green outer finish and a passionate fuchsia interior combine for a stylishly powerful look. This frame is an ideal pick for the creative types who'd fit right in with 60s flower power style.
Follow The Pattern(s)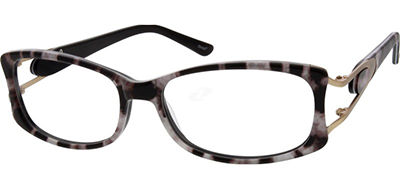 Get these Stylish Full Rim Frames (629745) for only $29.95!
This is one stylish Mod women's frame with its open metal design at the temples and a random pattern for even more appeal. You'll get great value since this frame is season-spanning and will work fashionably with all the trends for Fall/Winter 2013 (think tailored wool coats and/or sleek biker jackets!). Oh la la!