"Frame Friday" Roundup: Cool Moments for Jazz Appreciation Month
This time of year, most people are busy getting excited for the warmth and fun of summer, trying out their favorite sunglasses and dusting off beach bags. But if the cool is more your speed, or you aspire to cheeks like Dizzy Gilespie, April is Jazz Appreciation Month, the perfect time to put on some new glasses and go soak up some different vibes.
Jazz Appreciation Month is a relatively young celebration, having begun only 13 years ago when a Smithsonian National Museum of History curator named Edward Hasse wanted an annual event to pay tribute to jazz, as both a living, dynamic form of music and an important part of our country's history.
Most major cities put on free concerts, events, and educational programs during the month of April to foster community support of the celebration, and to give everyone a chance to enjoy one of the only uniquely American forms of music without venturing into a smoky jazz club.

If you find yourself taking the opportunity to enjoy one of music's cooler genres this month, don't ignore your eye wear, whether you're partaking of a public festival or crowding around a small table n the back of a small bar.
Some of the most famous, iconic jazz musicians in history made a hip pair of specs part of their image. Usually horn rimmed, often thin no matter how thick the glass, the jazz musician's glasses were an essential part of his visage.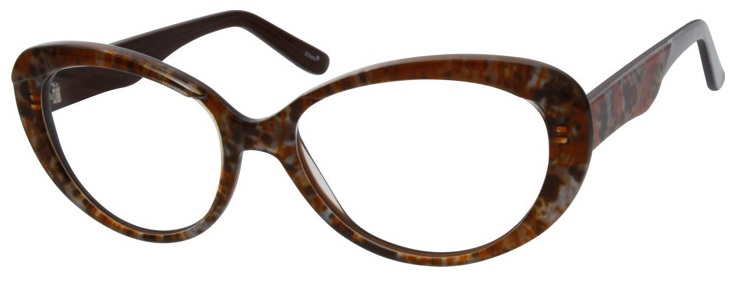 In the same vein, you can't ignore what your glasses mean for your face. You may not be creating a complete ensemble to complement your groundbreaking trumpet harmonies like Dizzy did through the years. That doesn't mean you should ignore how glasses change your face and portrayal.
This week's Frame Friday features a wide range of glasses and frames, varied in color, shape, and material, so you can find the perfect pair to channel the hep cat inside you.
And who knows. You might end up casually tossing a slightly off-balance beret on your head and sitting down to bang out a few bars on the old piano, only to find the jazz flowing from your fingers.
Just because it's spring doesn't mean we all have to skip down the street with a vapid smile on our faces. April is Jazz Appreciation Month, giving you all the excuse you need to slide into a pair of dark glasses, turn your voice down real low, and just chill for a while.