Frame Friday: Ugly Christmas Sweater Match-Up!
1. Elf Christmas Sweater
UglyChristmasSweater.com – $51.99

If you can't dress up as Santa this Christmas, try this elf sweater paired with simple black frames adorned with cunning silver stars. Aren't you precious?
2. Quirky, Yet Conservative
OK, a part of me is really reluctant to mock this sweater, particularly since it is in such lovely, muted colors. Still, it is a Christmas sweater, which is always problematic. Try pairing these lovely frosted blue frames below with this sweater and make a statement at your next holiday party.
3. Get Your Fat Pants Ready!
Ugly Christmas Sweater Party – $34.50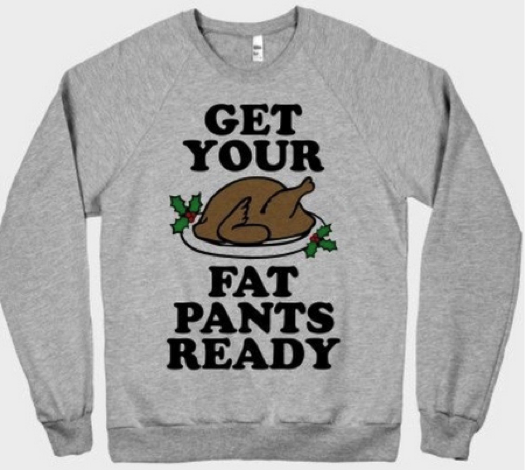 My main objection to this sweatshirt is that turkey isn't a terribly caloric meat, making the statement about "fat pants" untruthful. The problem is the side dishes, Christmas candy and sweet booze that we all love to consume this time of year. Still, our lovely tortoiseshell rectangular frames nicely pick up the color of an expertly roasted holiday bird.
4. The Other Ugly Christmas Pullover
This sweater took me back to the early 80s, when MTV played music and we got to play around with a LOT of bright colors. Pair this sweater with some denim jeggings and these purple frames for a fun party look!
5. The Sporty Look (available for all NFL teams!)
Sports fan? Show your team spirit with this sweater. Pair with some black wayfarers with blue accents and you'll be looking good this football season if you're rocking this Chargers sweatshirt.
6. The Adult Onesie
The time-honored Christmas adult onesie ensures that your 2-year old nephew won't get all the attention this year at your family's holiday cabin. Pair them with these sturdy black frames that won't fall off your face no matter how many arguments you and your sister get into.
7.  The Sasquatch
Like Santa, Bigfoot is a mythical creature. I can't think of any other parallels at this time, but I'm sure that contrarians will take great joy in wearing this Sasquatch Christmas Sweater along with these tortoiseshell frames. Deck the halls, everyone!
8. The Christmaster
Ugly Sweater Store – $110



Why settle for a mere sweater when you can have a whole Christmas suit! Liven up your family parties with this Christmas suit paired with the nerd-licious black wayfarers below. Try wrapping the bridge with some green duct-tape for the full effect.