Lady Gaga Seen Rockin' The Round Sunglasses
In the Far East at the beginning of this month for her "Born This Way" tour, Lady Gaga brought the far out round eyewear look of John Lennon back. Of course, Gaga added her own modern twist and certainly didn't stick to just one style of round shades. Sunglasses collection estimate: John Lennon 1, Lady Gaga 100.  She made sure to wear several variations of  circular shades in Asia to keep her style exciting as she always does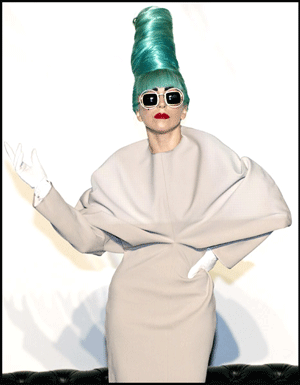 Are those ice scrapers on your glasses?
The most unusual of her round sunglasses choices has large, rectangular, attached side pieces that could double as ice scrapers. These angle down toward the cheekbones, so they really call attention to the face. Faces with large features like Lady Gaga's tend to suit these dramatic eyewear side sections best. Looking at photos of Lady Gaga in this kind of sunglasses, her large nose even seems to look smaller. It stands to reason then, that a tiny nose may look too small!
Gaga must love the drama as she's been photographed in at least three different versions of the ice scraper glasses this month. One pair is all black from the lenses to the sides. Another has mottled-printed, textured sides. My favorite pair though has transparent rims and sides.
Getting in shape
As for face shapes that tend to be flattered the most by round glasses, Lady Gaga has that too with her strong chin line. Diamond, triangular, square and oval face shapes can often pull off the look of round eyewear really well. Round on round – that is, round eyewear on round faces – doesn't tend to be as flattering. Long or oblong faces don't usually suit round lenses either.
On the side
Lady Gaga wore round sunglasses with regular sized sides in Hong Kong too These had rich black lenses, and thick white plastic frames. Gaga wore the shades with a Chanel styled black and white suit complete with metal buttons. A long, platinum blonde wig Gaga wore featured a gigantic bow on the top of her head made out of the same fake hair. This made her look like a doll – Over the Top Barbie, Gaga Edition.
Remember the flip-ups?
The round, flip-up glasses Lady Gaga donned in her "Paparazzi" music video also caused quite a fashion stir. The clear-lensed, black rimmed round eyewear has a hinge type of fastener on the top outer edge above each lens. Attached to these are black circular lenses that when flipped up look a lot like Mickey Mouse ears. Gaga did go to Disneyland Tokyo on her recent "Born This Way" tour, so maybe she brought these along. On second thought, does she wear things more than through one season?
Imagine the look
Lady Gaga is super sunglasses woman who can go from gigantic to tiny round shades in the blink of an eye. She can carry off even the classic John Lennon style with small round lenses with a narrow bridge strip and thin sides. I think I look more like Harry Potter in this style, but I like these shades on Gaga.
What's next?
With her "Born This Way" tour selling even better than expected, Lady Gaga is going to be spending a lot of time on the road way past the end of the year. She and her team added new shows to keep up with audience demand. After Asia, Gaga's set for Europe, then by November, she's scheduled to hit North America. This should be successful since her Monster Ball tour last year had much more U.S. sales than the likes of Britney Spears and Katy Perry. Go, go, Gaga!