Make a Statement with These Eyewear Trends
As an avid fashion lover, I love talking about personal style, fun trends, and shopping! When it comes to my personal style, lately I've been gravitating towards statement pieces and items that I can wear interchangeably through many different types of looks. What better way to do that than with accessories like eyewear?
I recently started wearing glasses because I honestly could not see as well as I used to. So, when I got my first pair, I was a little disappointed by the frame options. Either they were cheap and boring, or they were cute, but super expensive. One of the major reasons why I waited so long to get glasses was because I was afraid that glasses would age me. So, what If I told you that I no longer have that issue thanks to Zenni?
I personally love being able to switch out my eyewear based on what I am wearing. If I'm going to slay these streets, my glasses must match the vibe as well. Speaking of trends, I love that Zenni is very affordable, while keeping style in mind–because who wants to be boring?
Zenni's Online Trend Shop offers a curated collection of eyewear for three stylish trends: clear, aviator, and oversized. Each trend comes in different variations and styles that you can tailor based on what you are looking for.
Okay, so you are probably asking "well if these glasses are so stylish, then prove it." Oh honey, I got you! Here are three ways I styled my Zenni glasses, and the trends I chose with each look!
Selecting My Frames
So how does one even choose from these amazing trends? Easy! Zenni's website made it simple, and I love their Virtual Try-On feature. I chose the "create a try-on" which is a 3D option that scans your face so you can try on your frame in real time and from the comfort of your own home with your actual face! Genius, right?z
Okay, now that you know how easy it is to find your favorite selection, let's get into the fun part. How does one style such trendy frames?
With An Oversized Blazer
As you all know, blazers are classic essentials that I believe everyone should own. I particularly love an oversized blazer fit because it's fun and different. I paired this herringbone blazer with Zenni's Niner Gang aviator glasses in red! I mean just look at her.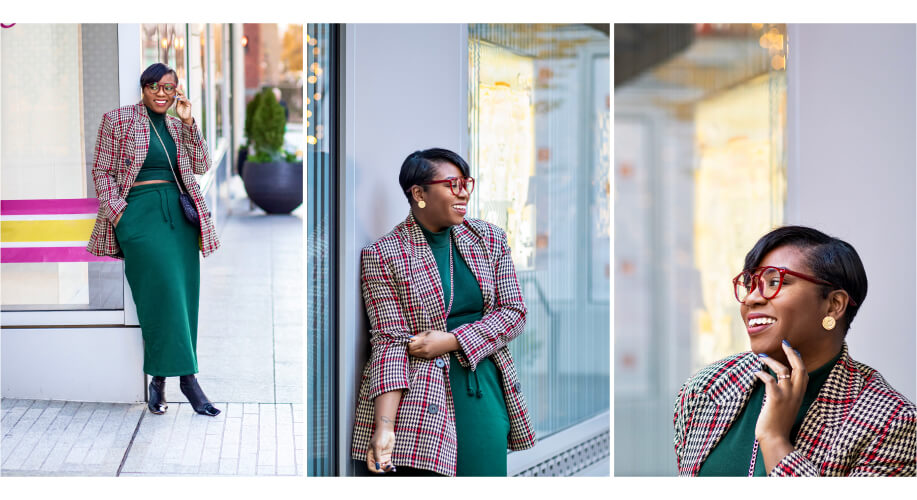 One thing I really love about the aviator style is the full rim which just screams "different" – it's not your typical frame, but I wanted to elevate this look with something that stands out just as much as this stunning blazer.
Zenni's is a great way to bring attention to your outfit and your face! In styling my blazer I wanted to create a monochromatic vibe with my statement items, so for this outfit, the red eyewear was the perfect accessory to my blazer with red details.
If you're looking for a more "modern" twist on the aviators, I think you would love this trend.
Dress It Up!
One of my favorite compliments to receive is "girl I never knew that you could dress it up like that." This is true with eyewear as well. Before I found Zenni, even though I needed my glasses, I opted to not wear them to fancy occasions because my glasses were so boring. Now that I have a trendier frame, I still feel cute and chic without compromising my outfit.
I've been loving the baggy straight leg trousers a lot this season. I feel like it's one of those items that you can dress up or dress down. For this look, I styled mine with a zebra print sweater, a simple bag, and some gorgeous designer heels.
For my glasses, I went with the Dahlia frames from Zenni's oversized trend collection. I picked these because of the cat-eye shape they have. My look was simple and chic, so the cat-eye frame brought it to life. This time I chose a more neutral color, because that was the aesthetic I was going for and I absolutely love that I did!
Keep It Minimal
Listen, I get it, some people aren't here for all the flashy details. I'm sometimes the same way! So, this is why you will love the clear trend glasses. When I think "clear," I think minimal, simple, and classic.
For my last look I wore some jeans and a simple cardigan top. When I want a more toned-down look, I always grab a pair of jeans! I chose to style this look with the square glasses. Even though it's very minimal, the pointed square frame added enough "pop" to bring attention to my eyes.
These make a great "grab & go" frame because you can never go wrong with wearing them! At the end of the day, when it comes to fashion, the number one rule we always go by is "Less is More" and the clear trend does just that!
STYLE TIPS TO TAKEAWAY
When it comes to styling your glasses, you always want to remember that it's all about bringing attention to you! Each of these trends can be picked out in a way that emphasizes how you want to look, feel, and show up! So, here are some tips to help you select the right pair!
Oversized: This trend is perfect if you're trying to add a little glamor to your outfit. If you love a simple outfit and you want to bring some class to it, this frame is perfect for you!
Aviator: What I love about the aviator style is the unique shape and fit. If you want something that's universal and interchangeable with your looks, I highly recommend this style.
Clear: This trend is very minimal and classic. I'd say if you have a minimalist style and your aesthetic is simple, you will love these frames.
So, who says wearing glasses is boring? I absolutely love my Zenni glasses, because now being in style is no longer limited to just my clothes! Hopefully sharing how I styled my picks inspired you to add a little touch of style with your own pair of Zenni eyewear!