Don't Let Your Glasses Come Between You and Your Beauty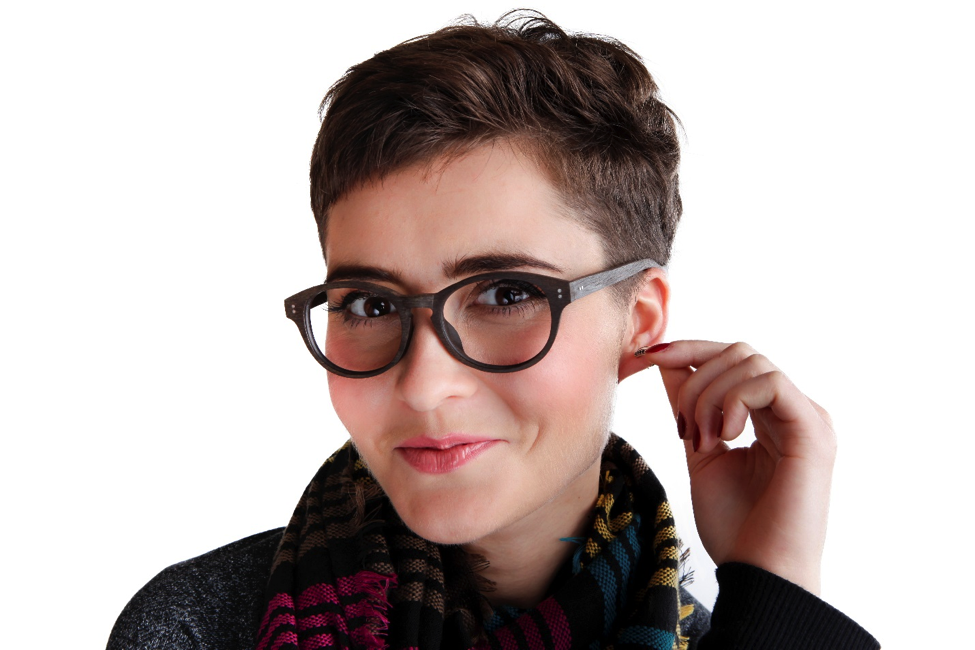 Frame number: #629015
Makeup artist Joel King shares tips to help you create your perfect put-together look!
Photographer: Aneta Cherykova, Model: Alena Pavachka

Don't let your glasses come between you and your beauty.

No matter what type of eyeglasses you wear – oversized translucent square frames, tortoiseshell browlines, or jeweled cat-eyes – your makeup and your glasses should have a friendly conversation, not an argument.

So how do you get your makeup and glasses to complement each other and let the most beautiful you shine through?

To get the answers, we asked San Francisco Bay Area makeup artist Joel King for some tips to let your makeup and eyeglasses come together to create your perfect put-together look.

Joel took us through the whole process, beginning with the first step, applying the foundation, and ending with the last, putting on your eyeglasses.

Foundation

In areas where foundation has a tendency to settle or build up, such as the bridge of the nose, primer could be used instead. It blurs flaws without the heaviness of foundation.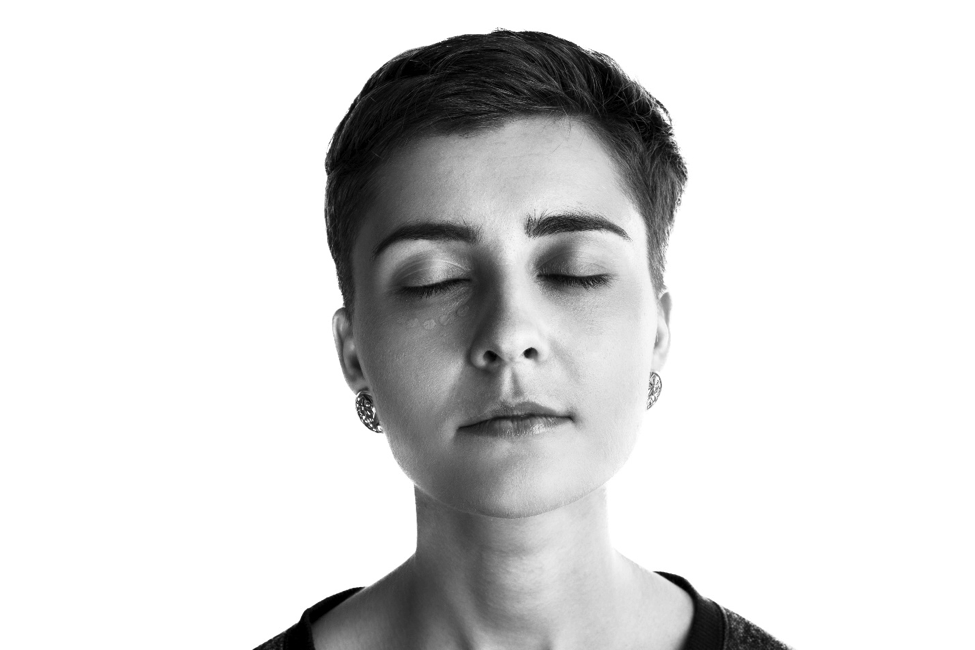 Under-eye concealer

Next comes the areas under and around the eyes.

Lenses can magnify and bring attention to under-eye darkness. Use a yellow-based liquid concealer under your eyes to neutralize that.

"Some women mistakenly use a concealer that's lighter than their skin tone," Joel points out, which can give your eyes the infamous "deer in the headlights" effect.

To avoid that, use concealer that matches your skin tone.




Eyebrows

Even though you're wearing eyeglasses, don't neglect to groom your eyebrows.

Your eyebrows give your face definition. Shape them in a way that complements your face.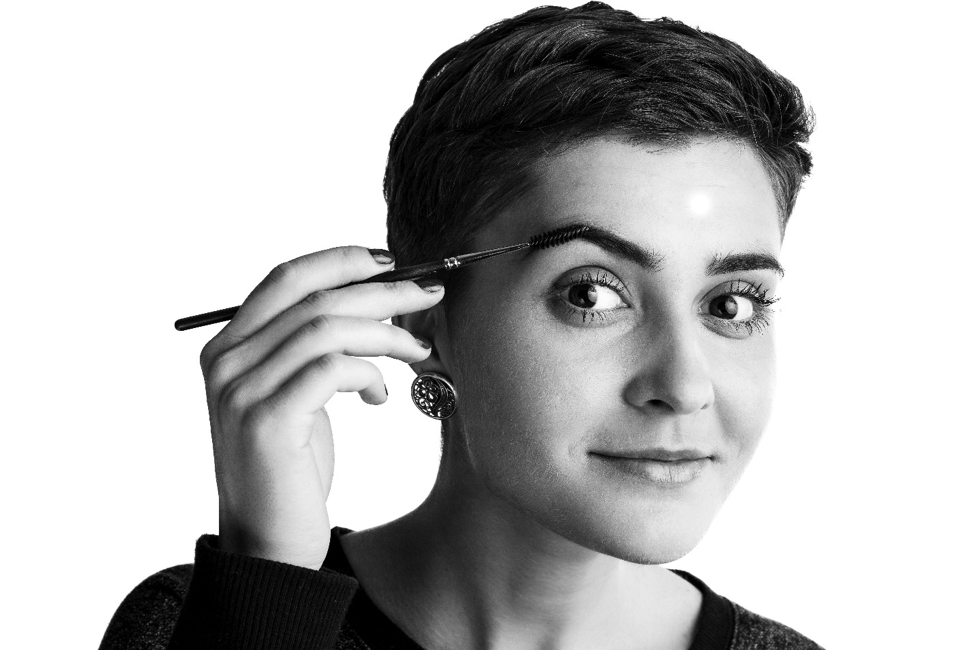 Eyelashes

Curling your eyelashes really opens up your eyes! If you're wearing a heavy frame, it helps to draw attention to the eyes and makes you look more awake.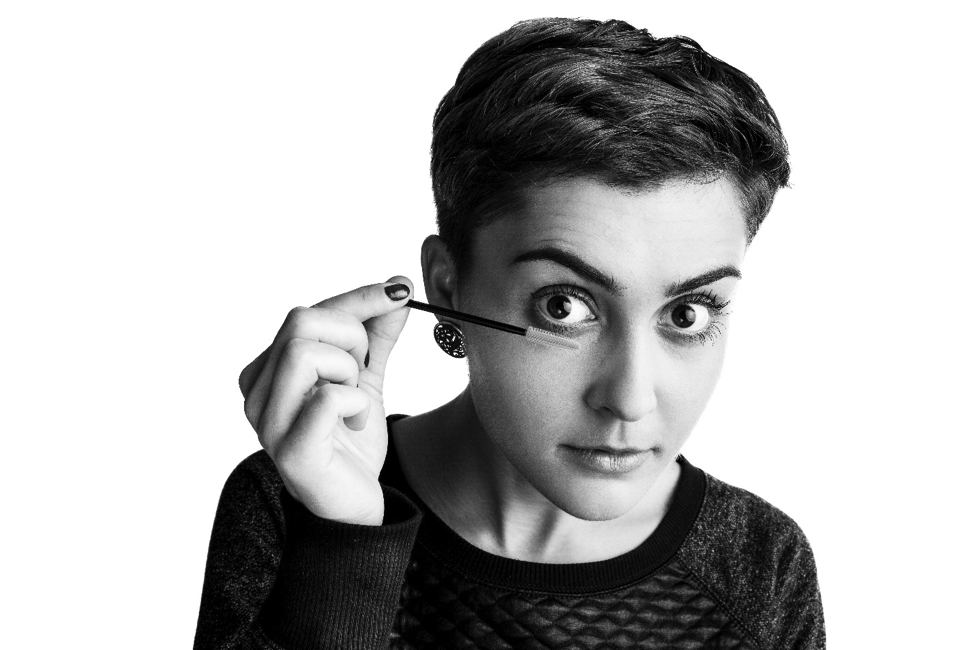 If you're wearing false eyelashes, tailor your eyelashes to the glasses. You could take one eyelash out of a pair, cut it in half, and just use one half of one lash on the outer corner of each eye. That prevents your lashes from fluttering against your lenses.

Here's a special eyelash tip for women wearing cat-eye glasses:

Put individual eyelashes on the outer corner of the eye, at an angle, in the direction the cat-eye goes.




Eye shadow

Coordinate your eye shadow to complement your eye color, instead of matching it directly with your frame, which can be overpowering. For blue eyes, try champagne or bronze shadows. "Brown and green eyes look great with plums," Joel says.

If your prescription is magnifying, deeper shades of eye shadow can help to counter the effect, as dark colors recede.

But if you have small or deep-set eyes, try a lighter color on the lids. Then pat a matte white shadow in the inner corner of the eye, between the tear duct and the bridge of the nose, to provide a bit of openness to the area.

Smoky eyes can look great with wide, light colored, or clear frames.

Instead of black shadow, try smudging a mauve or taupe shade all around the eyes. Blend well with a clean brush, and follow with a generous amount of mascara.


Frame number: #662817

Eyeliner

Use your eyeliner to mirror or reflect the frame shape. If you have a thick frame, mirror that in the line of the eyeliner. If you have a thin frame, do a thinner line. The amount of eyeliner you use would depend on the occasion.

If you're going to the office, you probably wouldn't want to wear full eyeliner all the way around your eye, unless that's the look you're going for – a smoky eye, or something a little edgy.

In general, for an everyday look, keep it to the upper lid.

In addition, a flesh-toned waterproof pencil on the lower eye line – the "waterline" – really helps open up the eye.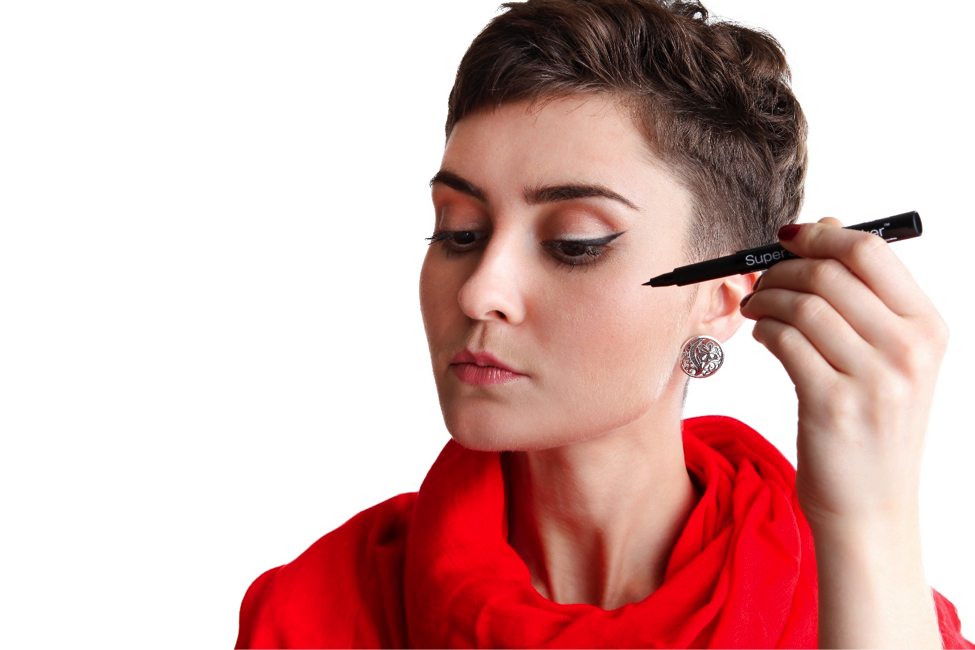 Apply the mascara at the roots of the eyelashes and really work it into the roots, as opposed to the tips.

"If you focus on the tips, it can smudge on your lenses or on your upper eye," Joel says. "It's important to apply mascara to the root and then wiggle it through the lashes and up and out. That will negate that problem."


Frame number: #628534

Blush

If your frame is rimless, use a "light hand" with blush. However, with a heavy black frame, a little bit more color in your cheeks can bring things forward to pop a little more.

You don't want a cool-toned blush with a warm-toned frame. If your frame is orange, don't wear a light-pink blush. "A coral blush could look really nice with a turquoise frame, because they're complementary colors," Joel says.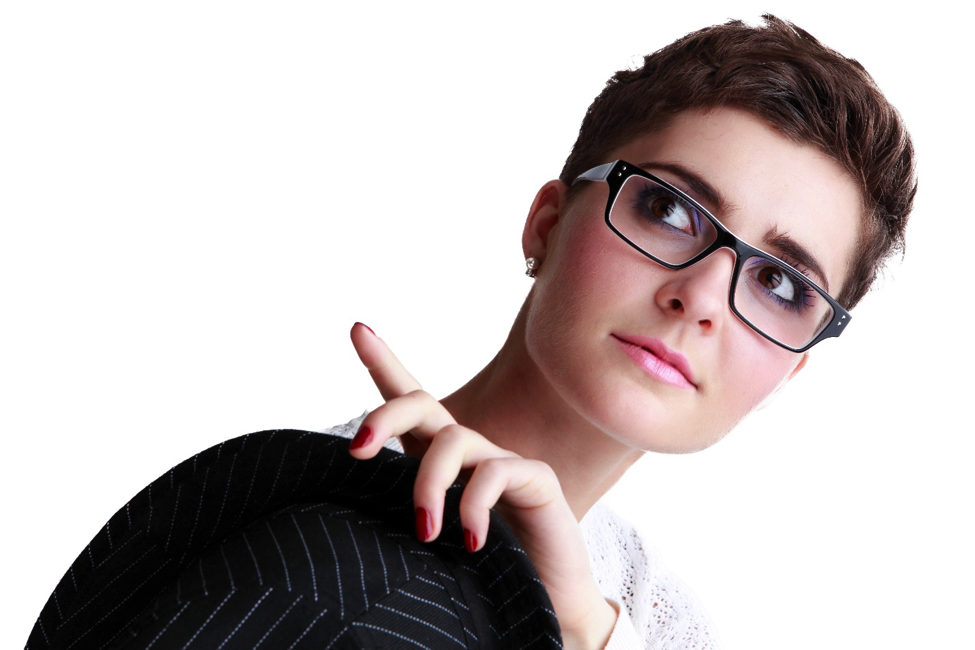 Frame number: #630831

Lipstick

A lot of popular eyeglasses frames are multicolor, like tortoiseshell. For multicolor glasses, leave most of the face fairly simple and nude, and concentrate on a bright lip instead of heavy eye makeup.

Blue-based red or pink lipsticks are best for women wearing glasses, because they bring out the white in your teeth and your eyes.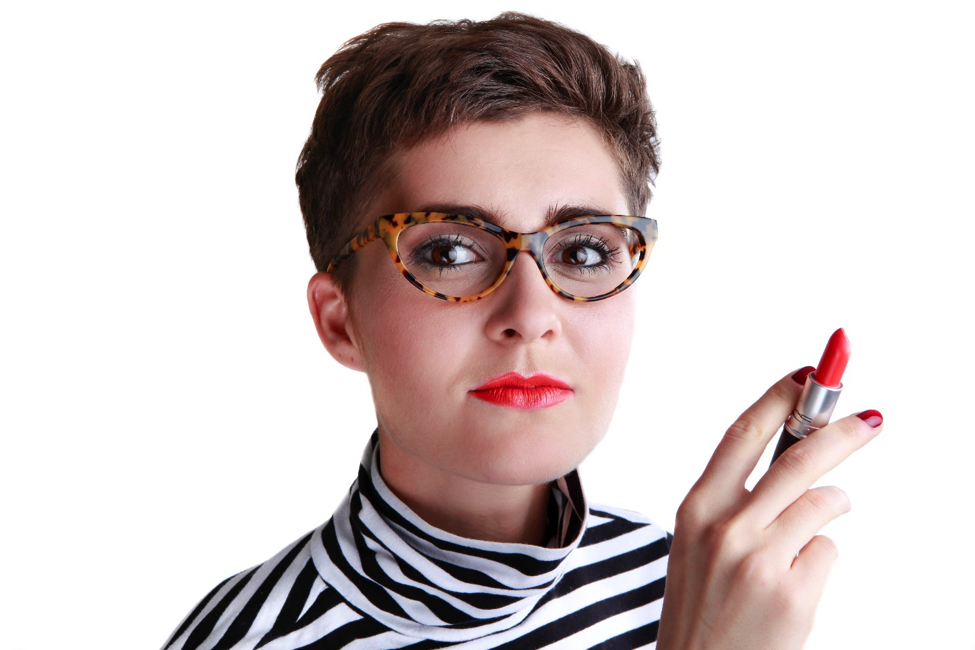 Frame number: #626325

Now let's take it a little deeper, with individualized makeup tips for each popular style of glasses.

Cat-eye

Mirror the shape of the cat-eye with the eyeliner, going up and out. Keep it on the top lid only.

If you're wearing cat-eye glasses, and you're also wearing a nude color lip, bring out your cheeks a little more. Maybe wear a coral or pink blush. Conversely, if you're wearing a bright red lip, scale back your cheek. Don't wear blush.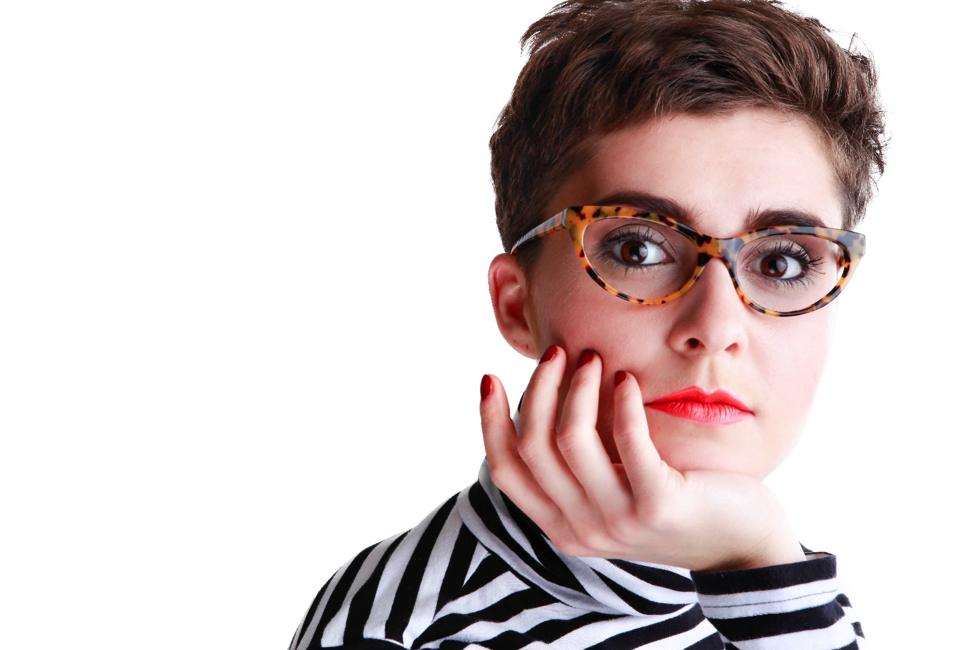 Frame number: #626325

Tortoiseshell

Tortoiseshell looks great on everybody. There's so much going on with the tortoiseshell, you don't have to do a lot with the eyes. Instead, direct people's attention to your lips, maybe with an orange-based red lipstick, which would look great with tortoiseshell.

Square

Since women like to wear square styles in black, bold colors, or even translucent pastels, you should adjust the blush according to the frame color.

"If it's a translucent frame, I would scale back," Joel advises. "With a solid, bold color, I would bump up the blush a little bit, to even out the tone."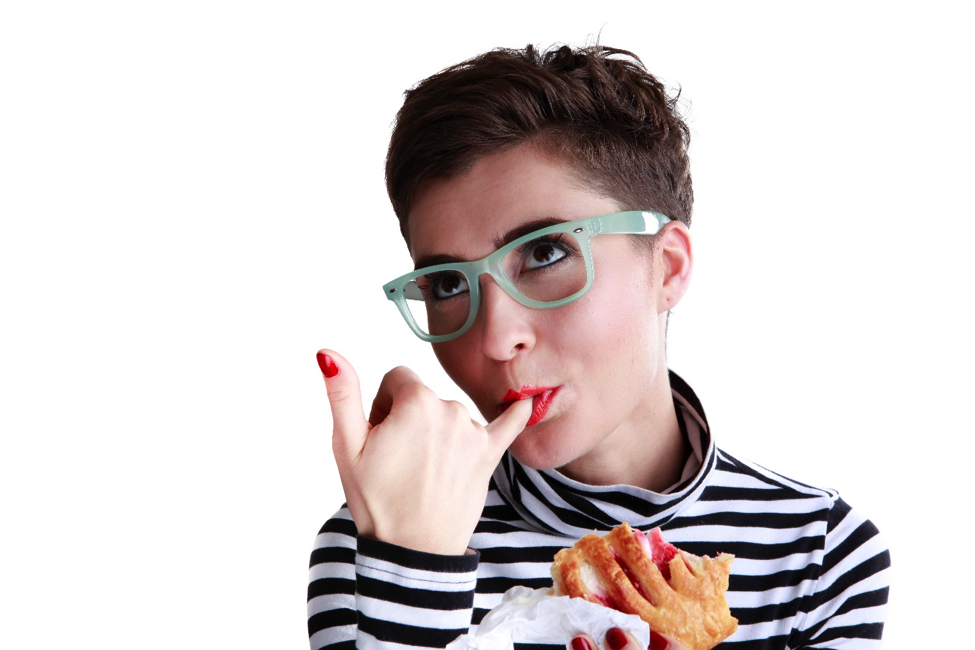 Frame number: #270516

As far as eye makeup for square glasses, just mascara looks great with that. Not a lot of eye shadow, just mascara on the top and bottom lashes, and a bold lip color.

"That always looks great with square-style glasses," Joel says.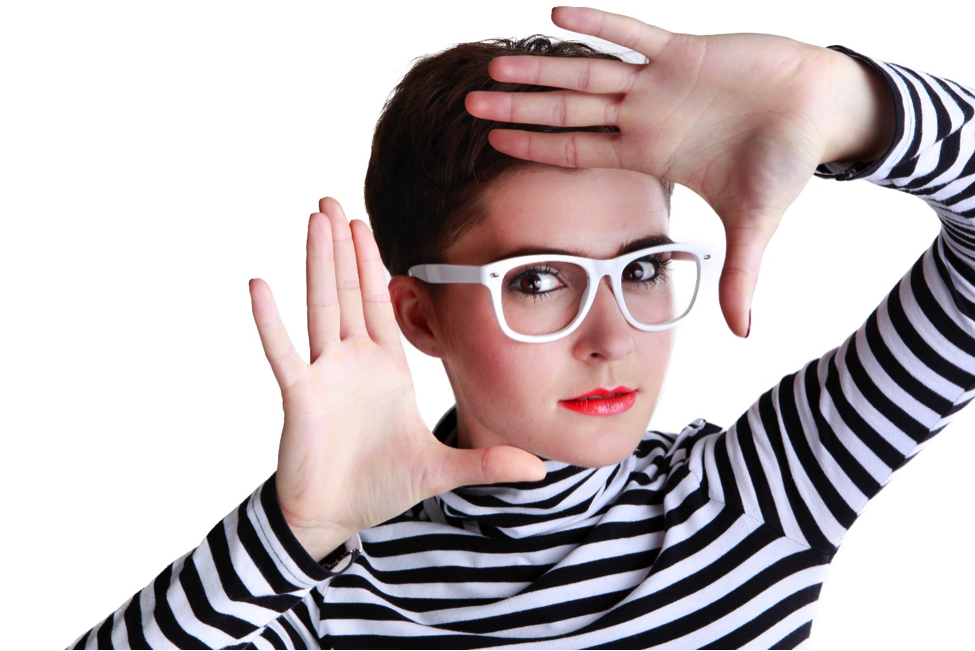 Frame number: #237430

Browline

Bump up the blush, and scale back on most of the rest of the colors on the face.

"That will still draw attention to the top half of your face and eyes, without making it too much," Joel says.


Frame number: #631817 (similar to #304121)

Delicate, full-rim, filigreed oval

With any frame that is lightweight, you want to bring definition back to the eye. Smudge a black liner into the root of your lashes and focus on darkening the eye a little bit, so your eye area doesn't look washed out.

Specific tips for ladies who wear bifocals or progressives:

"One of the first things you lose as you age is definition in the eye area," Joel points out. "Your eyebrows and eyelashes thin. You would want to bring back definition a little more than a younger person would, especially if the frame is a light color."

Half-rim

Definition on the bottom half of the eye would be good. Put mascara on the bottom lashes, and maybe some eyeliner underneath the bottom lid. That would balance that look.

Rimless

Make sure you groom and define your eyebrows, so you have something that frames your face.


Frame number: #308421

Different skin and hair colors

We asked Joel about specific tips for African-American, Asian, or Latina women.

For yellow-based skin tones, a warmer style of glasses would look good. You might not want to pick a cool-toned frame. "African Americans look fantastic with bright colored frames," Joel says. "They can pull off almost any color."

For Latinas, it's best to pair the color of the frame with the undertone of your skin.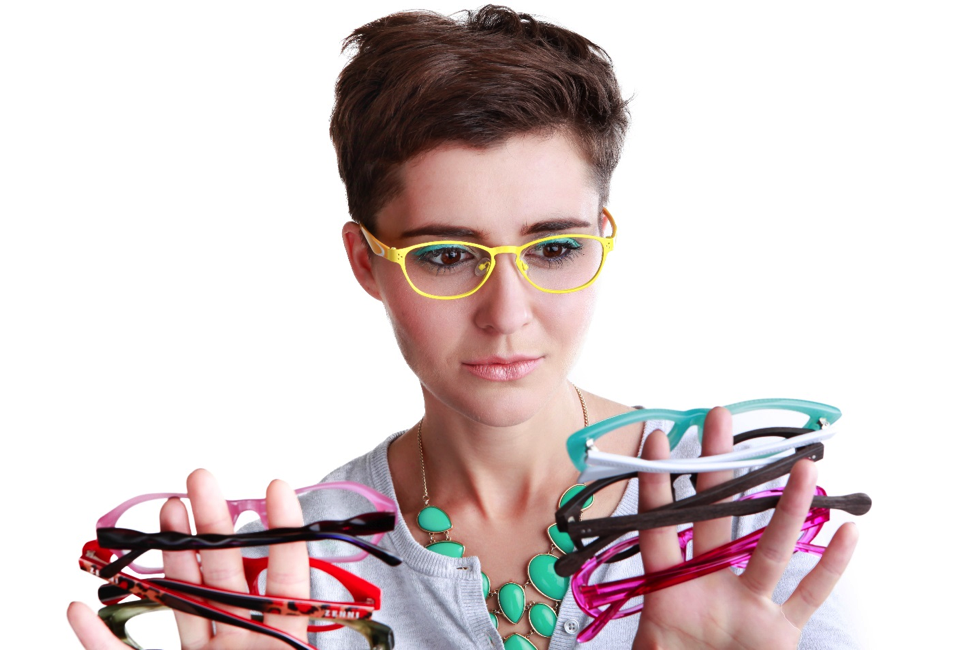 Frame number: #538922

Caucasian redheads, brunettes, and blondes.

Redheads – try cool tones. "We all love green with redheads," Joel says. "Something like a mint color looks great. White also looks great on redheads. For brunettes with black hair, purple looks fantastic. Green, too.

Tortoiseshell and red frames look especially striking on blondes," Joel adds. "For makeup, I would suggest keeping the eyes fairly simple, with curled lashes and mascara, while playing up the lips. Blond complexions can easily get washed out, and mirroring the strength of the frame by adding a complementary lip color provides a nice balance to the face."

Striking a nice balance between your makeup and your glasses. That's what it's all about. We're finished at the makeup mirror, we've slipped on our glasses, and we're good to go!