National Aviation Day: Aviator Frames!
Today is National Aviation Day, when we celebrate flight and the men and women who pilot aircraft. Here at Zenni, we are also excited about our aviator frames, available in a variety of materials and colors.
As the name suggests, aviator frames (also known as "aviators") were originally developed in the 1930s as sunglasses that could protect the eyes of pilots. Eventually they were popularized by General Douglas MacArthur during World War II. The frames continued to enjoy popularity through the 20th century, peaking in 1986 after the release of Top Gun. Today, the aviator frame remains a classic: Flattering to most face shapes, wearable by men and women, and providing ample eye protection (remember, here at Zenni we offer FREE UV coating on all our glasses!).
Thinking about getting a pair? Here are some frames to check out:

These bendable titanium glasses offer a classic look, perfect for flying, driving or even doing business. The frames are bendable and hold their shape well, something that's important if you lead an active lifestyle and are afraid of breaking your frames.

Classic styling with a twist is probably the best way to describe these stainless steel aviators. Check out the subtle cut-outs on the temples to see what I'm talking about. Sure, you can wear these to work, but I'd also keep them on hand for date night.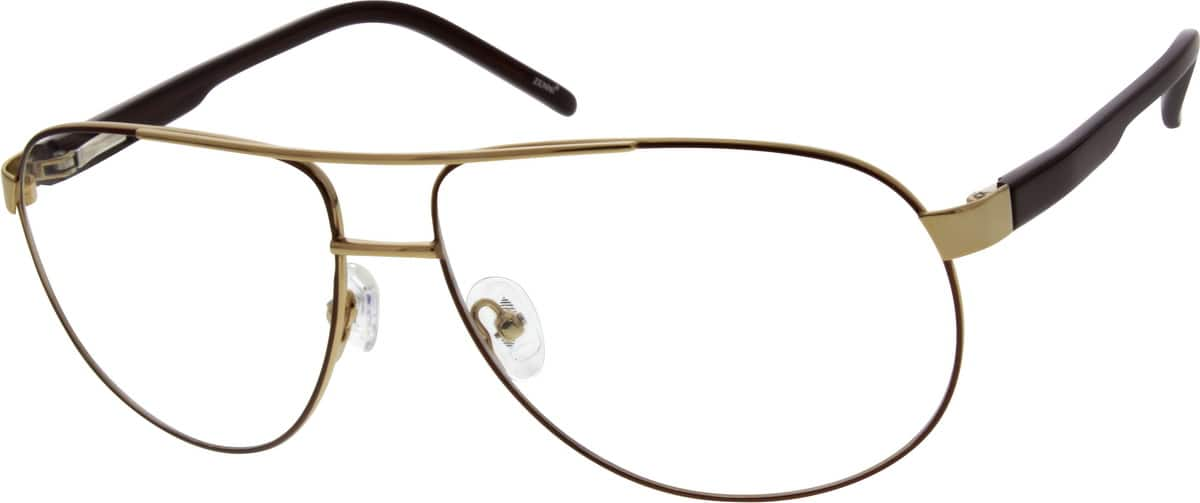 Men who like a lot of eye coverage should go for this pair: Goldtone stainless steel rim with black acetate temples suggests luxury while the large lenses give you plenty of privacy.

These plastic framed aviators are a sturdy, affordable alternative to metal sunglasses. Even better, this style comes in three different colors (red, white and green) so you can easily match them to your car, plane, swimsuit or outfit.

No-nonsense ladies should check out these brick-red ladies' aviators. They may not go with everything in your closet, but you could surely rock a pair of jeans and a black t-shirt while wearing these. Or try wearing them while out for a jog.


Here's another alternative take on the classic aviator, this time in different shades of gray. Metal rims, plastic temples and a bit of contrast in color and texture throughout.
By the way, while aviators were originally sunglasses, you don't have to order them with tinted lenses if you don't want to. Zenni's ordering system will help you select the exact lens treatments (including tints) that you want and need!
Also, be sure to check out our latest infographic to help figure out what frame size you should get!