The Many Shades of Tom Cruise: Sunnies Were Made For This Guy
When we think of Tom Cruise, we think of a walking poster boy (poster man!) for cool looking shades. His Top Gun, Ray Ban, classic deep aviators trimmed in silver couldn't have suited him any better and Cruise brought this eyewear back in style big time. What Mary Tyler Moore did for Capri pants in the 1960s, Tom Cruise did for aviator sunglasses in the 1980s. But, Tom seems to look better than most people in every shape, size and color of sunnies under the sun. Here's a fun round up of other shade styles Tom's been spotted wearing over the years.
I'm A Star, Baby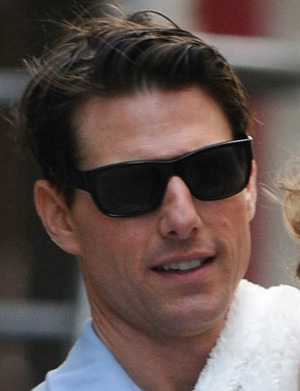 Glamorous Gucci's, all black with large lenses and thick sides, just seem to scream "I'm a movie star!" You are, Tom, you are. These are fabulous for facing the paparazzi when getting in and out of matching black limos because they don't show the angry eyes! Oh wait, that would be Sean Penn, not Tom Cruise.
It's Something Persol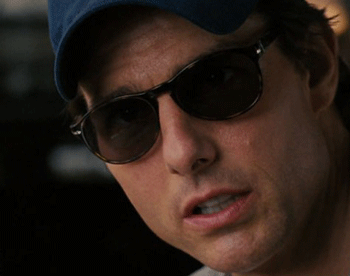 Neat and tidy, rectangular-lensed, dark Persol sunglasses really seem to bring out Tom Cruise's facial features. Maybe it's because they're small, so more of his gorgeous face stands out. Or maybe he really does look hot in every kind of sunglasses known to man. In any case, these rival the Top Gun aviators as not being able to look better on any other human being.
Hip To Be Square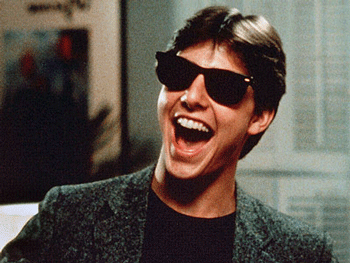 Even in big, boxy, black shades, Cruise is still beautiful. Of course, these square sunnies aren't just any glasses, but stylish Ray Ban's with polarized lenses and a double metal crossbar accent. These are squares with flair to be sure!
What Goes Around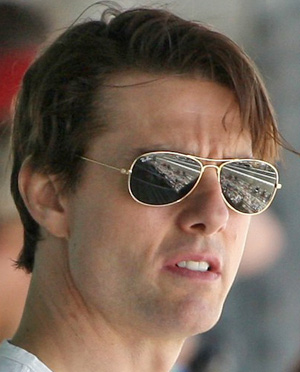 Never one to shy away from different shaped shades (a good thing when you have a face that can wear anything!), Cruise even wears rounder lenses on occasion. He's been seen rockin' some sweetly round-edged Persols.The black square style of classic summer eyewear really suits Tom Cruise. He goes for Gucci in the dark, iconic sunglasses shape popular with men and women. Tom looks sophisticated and sporty all at once in these shades. And as an interesting change from his typical black lenses and cool toned metals, Tom is striking in Ray Ban's warm-toned version of aviators. The metal trim of these classics is all gold and the lenses are a greenish gray color. Hot!
Bare Essentials
In Mission Impossible, Cruise wore a few different, ultra-small, ultra-sporty Oakleys. Those black, tiny Oakley Eye Jacket sunglasses covered only Tom's eyeballs, yet he looked fabulous. Once again, Tom Cruise helped fuel an summer eyewear craze. Guys were wearing these shades all over the place after the movie came out.
Living Large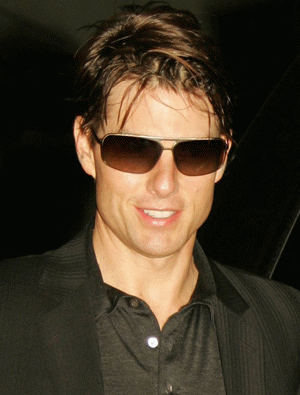 Really proving that he can carry off any shape and size of sunnies, Cruise just rocks the goggle-like, Dior 0087/5 shades. These huge, rimless sunglasses are all fashionably black with a thick metal top crossbar for glamor. He looked so incredibly amazing that he probably got anything he wanted when he wore these babies!
Justin Case
Just in case his eyewear seems to be even remotely predictable, Tom seems to really switch things up every once in a while. A case in point is the Justin designer shades that Tom's been seen wearing. These are gold-toned, metal trimmed lenses of a unique kind of tilted rectangular shape by designer Loree Rodkin. They're inspired by aviators, yet don't have the low-dipping lenses. As usual, Tom Cruise can carry these more unusual shades off, no problem. We wonder what kind of sunglasses style he'll choose for fun next. Bring it on, Tom!