Celebrate the Timo x Zenni OOO Collection Launch Pop-Up in New York
Attention New York City! Are you in search for that 'weekend getaway' look that's both chic and stylish? Well you're in luck because we have the must-have frames for you.
Zenni Optical is popping-up shop to celebrate our exclusive new collection with Timo in the heart of your city! Come see our latest frames in the Timo x Zenni OOO (Out of Office Eyewear Collection.. 
This one-of-a-kind pop-up will run from September 21-23 from 12 p.m. to 6 p.m. and showcase the newest frames from our collaboration with Timo.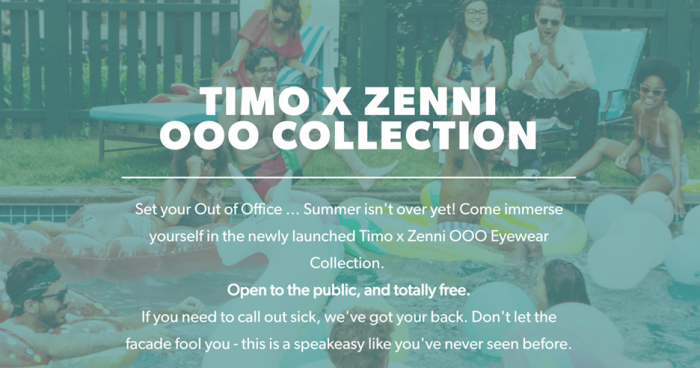 Summer isn't over just yet so set your schedules for out of office and join us at 326 Canal Street, New York. Our pop-up is totally free and open to the public! Come for a 'check-up' – leave with a new (out)look.
This pop-up will provide you with the chance to try on Zenni's in person. It's the perfect opportunity to grab a drink, try on our OOO collection and enjoy the Zenni vibes.
We can't wait to see you at the pop-up, and as always, remember to show off your favorite Timo x Zenni frames on social media!