Trends Of 2013: Geek Chic Continues
If you haven't embraced the fun of Geek Chic yet, get your big glasses and buttoned-to-the-neck shirts now. Don't be shy because you don't have to go "full Urkel" but instead go more "glam geek" like Anne Hathaway or Erica America if that's more your style:
When you're this glamorous, you can wear your geek glasses a little askew for effect. Way to go, TV/radio hostess with the mostess, Erica America (Erica Hayden)! We love the hair swept to one side and a glam drop earring on the other side. Natural-toned eye makeup and lipstick are a must for this gorgeously-geeky look that Erica wears so well.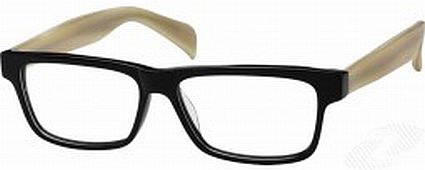 Zenni Women's 604721 $27.95
"Hand me my Zennis" we would say before going on stage if we were TV hosts or movie stars. (We like to dream big here at Zenni Optical.) Well, this Zenni 604721 Geek Chic frame hits the mark for trendy nerdy fashion to be sure. The black front is accented with cream temple arms for a contemporary twist on a retro-classic style. This acetate, full rim women's frame is also available in bifocal and progressive prescriptions as well as single vision and it's a smart looking choice to wear anywhere.
For those ready for the extreme female Urkel experience, rest assured it comes trend approved from the Mercedes-Benz Spring 2013 Fashion Week held in New York in September, 2012. We find this J. Crew look a little scary. Is that a men's western pajama top she's wearing with shrimp-toned lipstick? Even worse, did someone wrap her glasses in duct tape? Still, if you adapt the ideas to your own (good) taste, you can't go wrong.

Zenni Women's 234912 $15.95
To keep you headed in the right Extreme Geek Chic fashion direction, this fabulously geeky Zenni women's 234912 frame will give you grey Geek Chic gracefully. The green temple arms add contemporary, trendy contrast and it's very much a Steve Urkel color. (See his cardigan in the photo below.)
For male Urkel wannabes, a tone down in the eyeglasses department is also recommended. Here's a great Zenni pick that's both geeky and good-looking:
Zenni Men's 246425 $19.00
Tortoiseshell geek glasses are hot in 2013 and this Zenni Men's 246425, medium-fit frame is geeky without the goofy. Instead, it just looks smart and is also made of flexible plastic for maximum comfort.
Here's Usher on The Voice a few weeks ago. He's wearing big, black geek glasses in honor of contestant Michelle Chamuel on Team Usher. You know though, we'd love to see Usher in these Zenni Brown/Green/Black Geek Chic glasses to bring out the brown/tans of his outfit:
Adjustable silicone nose pads make this great-looking geek frame super-comfortable. Brown, green and black add a nice change over plain black for this trendy men's frame.
Singing her heart out on The Voice and wowing the audience as a real favorite, we don't think Michelle should change her signature look. But she should definitely order from Zenni and try out this women's Geek Chic New Arrival frame that's just her style:
Also available in brown (Zenni Women's 286015), this black, New Arrival Geek Chic frame tends to look super-flattering on most faces. You can upload your face photo into Zenni Frame Fit to see how Michelle Chamuel's look would look on you, or just view this frame on different stock photos. (Click on the glasses image above to get into the Zenni catalog with the Frame Fit on the right hand side.)