Insights and Innovations: Zenni at UC Berkeley Optometry's EyeChat Club
EyeChat Club at UC Berkeley is not your typical student organization. Dedicated to exploring alternative career paths beyond the classroom, this optometry student organization recently hosted an enlightening and interactive presentation by optometrists from Zenni Optical. Dr. Steven Lee, Dr. Mori Goodyear, and Dr. Sophia Moh, along with Mr. Phernell Walker on behalf of Mitsui Chemicals, came together to share their experiences, knowledge, and insights with the students of UC Berkeley School of Optometry.
Dr. Steven Lee: A Visionary in Eye Care and Telemedicine
Dr. Steven Lee is a luminary in the world of eye care and telemedicine, known for his innovative approach to the field. He specializes in complex contact lens fittings, ocular disease treatment, and dry eye management. What sets Dr. Lee apart is his ability to combine formal training, engineering expertise, and a deep commitment to mentorship and research. Currently, he serves as the Head of Optical Product at Zenni Eyewear, where he leverages over a decade of telemedicine experience to enhance patient care and innovation.
Dr. Mori Goodyear: A Passion for Affordable Eye Care
With a background that includes graduating from the New England College of Optometry and a decade in private practice, Dr. Mori Goodyear brings a unique perspective to the world of e-commerce eyewear. She is especially passionate about affordable eye care and helping underserved communities. In 2021, she started working as a part-time consultant with Zenni, eventually transitioning to a full-time program manager. Her journey and commitment to making eye care accessible resonated strongly with the EyeChat Club members.
Dr. Sophia Moh: Guiding the Next Generation of Optometrists
Dr. Sophia Moh, a recent graduate of UC Berkeley School of Optometry, stands as a shining example of the new generation of optometrists. During her presentation at UC Berkeley's EyeChat Club, Dr. Moh shared invaluable insights with aspiring optometry students on how to break into the industry as a fresh graduate. Her tips, which included the importance of attending conferences, building a robust network, and seeking internships, resonated with the UC Berkeley optometry students. Dr. Moh's journey has led her to her current role as a full-time Optical Product Manager at Zenni Optical, where she channels her dedication into driving innovation in the eyewear industry. Her unwavering commitment to making affordable, high-quality eyewear accessible to everyone underscores her passion for the field and her desire to make a positive impact on the world of eyewear and eyecare.
Learning About Mitsui Chemical's Hi-Index Lenses
During the Zenni Optical optometrist presentations, the EyeChat Club had the opportunity to learn about hi-index lenses, whose monomers are sourced from Mitsui Chemicals. Phernell Walker, a legendary ABO Master, delivered a presentation on this remarkable advancement in eyeglass lens technology. Hi-index lenses are thinner and lighter than traditional lenses, making them a popular choice for individuals with higher prescriptions. Mr. Walker, an internationally recognized educator in the field, provided valuable insights into the world of hi-index lenses.
A Message from EyeChat President Briana Yik
"The presentations from Dr. Lee, Dr. Goodyear, Dr. Moh, and Mr. Walker were so interactive and insightful! I appreciated learning about Zenni's dedication to affordable and high-quality glasses, and about the speakers' passion for working in this field. I also loved having the glasses demos and being able to see the effect of the blue light lenses firsthand!"
– Briana Yik, President of EyeChat Club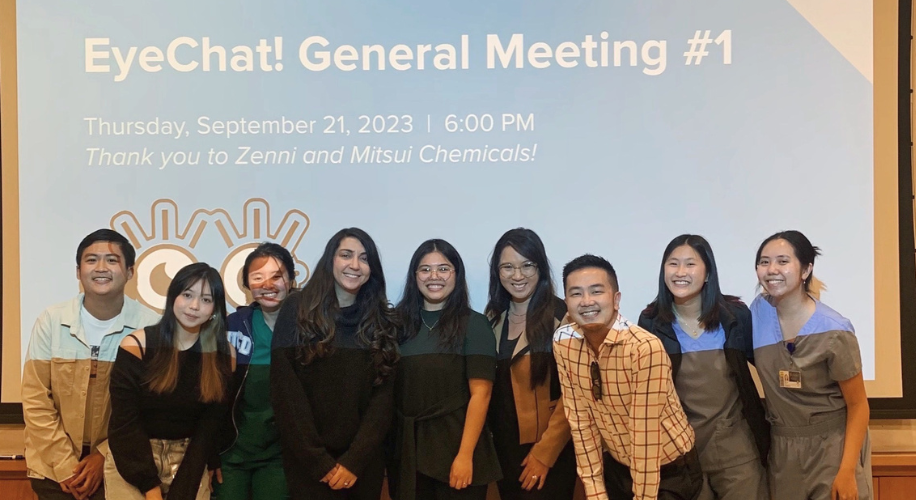 Michael Huang (Treasurer), Susanna Tan (Public Relations), Jenny Huynh (Secretary), Briana Yik (President), and Vy Vy Lu (Vice President
The presentations by Zenni Optical Optometrists at EyeChat left a lasting impression on the optometry students at UC Berkeley. From the visionary leadership of Dr. Steven Lee to the passionate dedication of Dr. Mori Goodyear and the guidance provided by Dr. Sophia Moh, the students were inspired and enlightened. The insights into hi-index lenses, courtesy of the knowledgeable Phernell Walker, further broadened the students' understanding of cutting-edge eyewear technology. EyeChat President Briana Yik's words encapsulated the sentiment of the entire event, emphasizing the profound impact of Zenni's commitment to affordable, high-quality eyewear. This collaboration served as a beacon of innovation and education for the future of optometry, underlining the limitless possibilities within the field.