Unleash Your Style with Cool Sunglasses: Trends and Tips
Elevate Your Style with Chic Sunglasses: Discover Trends and Tips
Hello, style seekers! Let's dive into the world of sunglasses—a blend of fashion and functionality that not only shields your eyes but also speaks volumes about your unique style. Join us on this journey as we unveil the latest trends in sunglasses and guide you through the art of picking the perfect pair that matches your face shape, skin tone, and personal flair.
Where Style Meets Function
Sunglasses are more than just eye protection; they're your style signature. Think of them as your fashion accomplice, adding an extra dash of coolness to any look. Ready to dive into the shades that elevate your style? Let's go!
Trending Now: The Sunglasses Edition
Hold onto your hats (or frames), because the world of sunglasses is buzzing with endless choices. From timeless classics to daring futuristic designs, the options are as diverse as your fashion tastes. Here's a sneak peek into what's setting the trend radar on fire:
The Timeless Charm of Classics
Classics never fade—they just get cooler with time. These versatile picks are the backbone of any eyewear collection:
Aviator Sunglasses: They've been a style icon for ages. Teardrop-shaped lenses and slender metal frames create an effortlessly cool look that suits both genders and every face shape.
Shop the style: Foldable Aviator Sunglasses 1160911
Wayfarer Style Sunglasses: Bold and chunky, these classics bring a retro vibe to your ensemble. Perfect for square and oval face shapes, they've been stealing the show for decades.
Trendy Delights: Where Bold Meets Beautiful
If you're all about setting trends, these sunglasses styles are your calling:
Oversized Sunglasses: The ultimate glam factor. With their larger-than-life frames, these shades add a hint of mystique and allure. Ideal for round and heart-shaped faces.
Cat Eye Sunglasses: Embrace your inner feline with these charming choices. The upswept temples and winged edges bring a touch of retro chic to your style. Oval and heart-shaped faces, you're in luck!
Shop the style: Cat-Eye Glasses 7813819
Boldly Futuristic: Where Imagination Takes Center Stage
For those who dare to be different, futuristic sunglasses are your runway-ready choices:
Mirrored Sunglasses: Reflect your individuality with mirrored lenses. Not only do they shield your eyes, but they also inject a burst of edginess and color into your look.
Shield Sunglasses: Fun and modern, these single-lens wonders are a symphony of sporty meets avant-garde design. Perfect for making a bold, trendy statement that suits most face shapes.
Shop the Style: Half-Rim Sunglasses A10161518
Choosing Your Perfect Pair: A Few Gems of Wisdom
Now that you're well-versed in the trends, let's dive into the art of selecting your sunglasses soulmate:
Face Shape Harmony: Every face shape has a sunglass BFF. Round faces rock angular frames, while square faces adore rounded or oval designs. Experiment to find your match made in eyewear heaven. Check out our Face Shape Guide for more.
Colors that Pop: Your skin tone plays a role in choosing the right hue. Warm tones love earthy shades like brown and tortoiseshell, while cool tones embrace black and silver.
UV Shield: Keep your eyes safe and sound. Always opt for 100% UV protection, ensuring not just style but also the well-being of your peepers.
Occasion and Style Fusion: Different styles for different occasions. Classic for formal events, trendy for casual outings—your style, your call.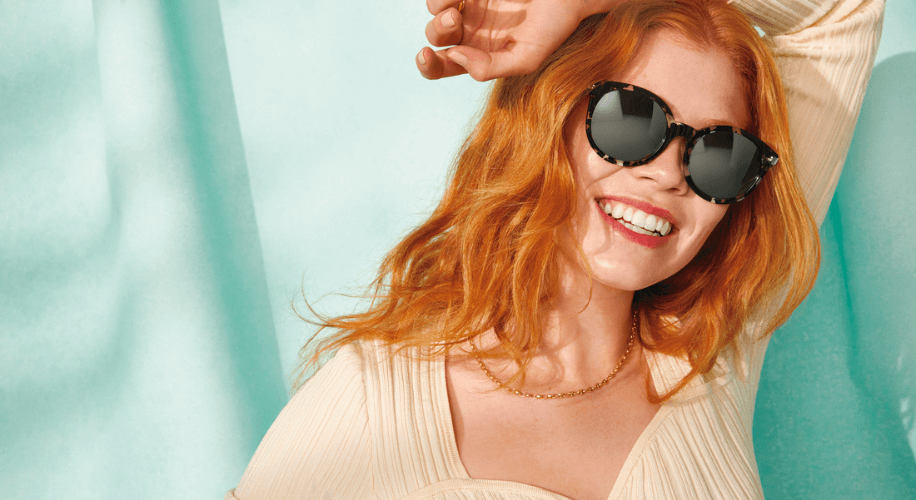 Your Sunglasses, Your Statement
Sunglasses aren't just accessories; they're personal expressions. They speak volumes about your unique style and personality. So, are you ready to own your style and make a statement? Let your journey begin with Zenni Optical, where an array of stylish, affordable sunglasses awaits to take your style game up a notch. Explore, embrace, and unleash your style wherever you go!