Using Flexible Spending Accounts At Zenni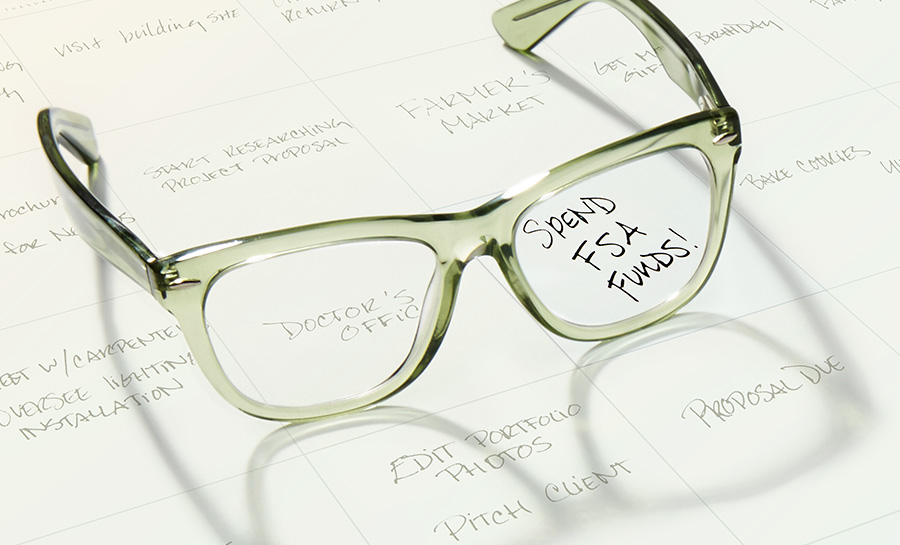 When you shop for prescription eyewear at Zenni you can secure great deals on a variety of styles to accessorize your favorite looks. Did you know that if you enroll in a flexible spending account (FSA) through your employer, you can use the pre-tax funds to buy your prescription glasses and accessories?
It's true! When you enroll in an FSA program there are even more ways to save at Zenni. Of course, the devil is in the details. Let's dive into the specifics and find out how you can use your FSA for prescription eyewear.
What Is FSA, and How Does It Work?
A flexible spending account (also known as a flexible spending arrangement) is an account you can choose to set up through your employer and your health insurance plan that allows you to set aside money from each paycheck. These funds will help pay for medical expenses that aren't covered through insurance.
One of the great benefits of an FSA is that the funds you deposit are excluded from taxation. That means each dollar has more spending power than those that you get from your paycheck! The big caveat is that most FSA plans are "use-it-or-lose-it," meaning you have to spend the amount you contribute before the end of your coverage period or the funds are depleted.
FSAs are useful for paying for purchases that your medical, dental, and vision plans don't cover, including prescription eyewear. Not sure if your employer offers an FSA plan? Simply contact your human resources (HR) department.
Can I Use My FSA for Glasses?
Yes! Prescription glasses are qualified expenses for most FSA plans. Of course, each plan is different, so it's important to read the details of your FSA plan before making purchases. The majority of FSA plans cover costs including prescription glasses, contact lenses, and yearly eye exams.
Your FSA plan allows you to choose the amount you contribute from each paycheck so you can budget your yearly medical costs to your liking. There is no limit to how many prescription glasses you can purchase should you have leftover funds. If you're nearing the end of the year, don't let those funds disappear – find some new styles of frames to complement different aspects of your wardrobe. Just be sure you have an up-to-date prescription before ordering glasses.
Can I Use My FSA for Sunglasses?
Yes! Prescription sunglasses are also qualified expenses under most FSA plans. Any type of prescription lens is covered under an FSA plan, from sunglasses with an Rx to contact lenses. With an FSA you can order sunglasses that shield you from harmful rays, enhance your vision, and elevate your style. Sunglasses without a prescription, however, won't be covered.
This goes for regular glasses as well: you need an Rx in order to have the frames covered by your FSA plan. An FSA will pay for most prescription options. Don't need another pair of sunglasses or everyday glasses? Consider ordering a pair of reading glasses or computer glasses or with blue blocker to help reduce eye fatigue while on your electronic devices.
Can I Use My FSA for Eyewear Accessories?
Yes! You can use your FSA to purchase care and repair accessories.Zenni is proud to be the first to offer this FSA eligible selection of accessories to pair with your prescription glasses or sunglasses. This includes Zenni's silicone nose pads, repair kit, lens spray, lens cloths, and cleaning wipes. This is a great way to add select accessories to keep your glasses their best. 
How Do I Use FSA?
Want to checkout with your FSA at Zenni? If your plan comes with a debit card that is affiliated with Visa or MasterCard you can simply use this card at checkout as you would any other credit card. However, not all FSA plans come with debit cards.
In this situation, you should keep a digital copy of your Zenni invoice and file a claim through your plan with the receipt attached in order to get reimbursed. Every company has a different filing procedure, so guarantee your costs are reimbursed by contacting your HR department for details.
Why Use FSA at Zenni?
If you use your FSA at your optometrist's office you may spend hundreds of dollars for one pair of prescription glasses. Use your FSA at Zenni to make your funds go much further! You can take home multiple pairs of glasses at Zenni, ensuring you can accessorize your signature looks and always have a pair of prescription eyewear that matches your outfit. Our quality frames and lenses will deliver optimal vision clarity for a fraction of the price you pay elsewhere.
You can look amazing and save money by using your FSA at Zenni Optical. Browse our top-rated, trending glasses under $20 and newly curated accessory line. With $200 in your account at the end of the year you could order 10 new pairs of frames without paying a dollar in taxes.