Utterly Usher — What He's Up To / Get His Look
What's New With Usher These Days?
Usher has decided to turn down the offer to stay on as a coach on NBC's The Voice in favor of starring as boxing legend Sugar Ray Leonard in his first leading role in a film called "Hands of Stone." We can see why he'd accept this kind of opportunity, especially as the movie also features Robert De Niro. Yet, he'll be missed on The Voice for all of his funny little ways like keeping his leg up on his chair, but also for being just a damn good coach to the Hollywood hopeful singers. He seems to be a great dad to his two sons, Usher 5 and Naviyd 4, too. During a spot on The Tonight Show  with Jay Leno last month, Usher told "the chinned one" that he tries to prepare multi-cultural meals for the boys to widen their horizons food-wise. Usher himself may not be eating too well for long though as he's reported to have to lose 25lbs for "Hands of Stone" set to begin filming in Panama this October.
How Can You Wear Usher's Look?
Many guys would like to emulate Usher's up-to-date, urban style. To be sure, there's a lot more to his popular fashion picks than just a lot of black clothing, silver chains and red boots. He always looks so beautifully groomed and chooses clothing that suits his personality and body type. (Is gorgeous a body type?) Of course, Usher wears beautiful eyewear that always coordinates with whatever else he's got on.  Here are our very favorite Usher looks:
Smooth Operator
We like how Usher looks smooth even in a cap — literally. His look isn't rough and sloppy, but neat and pulled-together. He tends to wear pieces in clean, geometric shapes that fit close to the body without being overly tight. We've happily noticed that Usher picks eyewear that really enhances the style of whatever outfit he's wearing. Here's a trendy tortoiseshell frame in a similar shape as Usher's in the photo above. Remember, you can order tinting to create sunglasses from almost any Zenni frame from only $4.95.

 

Zenni 610425    $29.95
Embrace Usher's love of silver with the silver-toned metal fashion stripe on each temple arm of this stylish frame. Tortoiseshell frames are trending for both Spring/Summer and Fall/Winter 2013, so this Zenni 610425 frame with durable spring hinges offers great value along with an up-to-date appeal.
Chic Geek
The Geek Chic trend looks good on Usher, who adds his signature silver chain along with a properly-nerdy plaid shirt. Notice how neat his collar looks! There will be no buttoning up the shirt right to the neck for him though or even fully doing up the buttons. Usher prefers to wear a t-shirt underneath. We love the geeky glasses on him and have a close Zenni match to his eyewear here: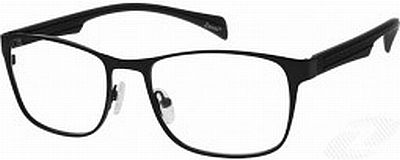 Zenni 769721    $29.95
With stylishly-sculpted temple arms made from flexible, TR90 plastic for maximum durability,  this medium-sized black metal alloy frame is fashionably nerdy to be sure. It's available in progressive and bifocal as well as single vision prescriptions. The adjustable, silicone nose pads add extra comfort on an already comfortable frame!
"I Am Titanium"
A white t-shirt and the omnipresent silver chain make a fine summer look for the fine-looking singer, actor and coach on "The Voice." Jeans and red boots could finish the ensemble.  Eye-catching aviator sunglasses in silver are the perfect finishing touch. Here's a great silver titanium aviator frame from Zenni to honor Usher choosing members of his team on The Voice to sing David Guetta's "Titanium" recently. You can order the Zenni 521711 frame below with different options to turn it into Usher-like sunglasses.
Zenni 521711    $45.95
With a pure titanium bridge and temple, and titanium alloy half-rims, this is one solid, yet comfortable eyewear frame! This powerful-looking, Zenni 521711 men's fashion frame includes spring hinges, black-coated temple ends and silcone nose pads for a perfect fit. Zenni sunglasses tints are only $4.95. You also may want to consider changing the glasses into sunglasses with polarized clip-ons at just $3.95, or instead go for photochromic or magnetic clip-on sunshades from just $19 and up. Click on the frame image above to search for information and also try on frames in our Zenni Frame Fit if you upload your photo.