Valentine's Day: Capture The Passion All Year!
Valentine's Day. What's not to love? Even if we're not in a romantic relationship at the moment, we can still send cute little valentine cards to our friends and family. We can still enjoy the seasonal candy like those pastel "conversation" ones with fun messages on them like "Be True" and "Hug Me."


The history of what Valentine's Day has now morphed into — buying our loved ones gifts to symbolize our affections and sending romantic or cute cards — dates back to Rome's third century.

Legend has it that a Roman priest named Saint Valentine rebelled against Emperor Claudius' ruling that young men were no longer permitted to be married as he wanted them to be soldiers. Saint Valentine married off these men anyway as a matter of justice, principle — and yes, for the sake of love as well.

When Claudius found out about Valentine's secret marriages, he ordered the Saint to be jailed and killed. The stories hold that Saint Valentine was in love with a young woman himself and they exchanged touching letters and heartfelt gifts when she visited him in prison. The letters were said to have been signed "from your Valentine" which led to the idea of expressing love in written form. Great Britain has celebrated Valentine's Day since the 17th century. Australia, The United States, Mexico, France and Canada also celebrate this day. Valentine's cards, rather than letters, started becoming popular by the early 1900s with romantic colors, plus floral, heart and lace motifs.
Valentine's Day can help us be more passionate and affectionate throughout all of the days of the year. What better way to feel the love than add luscious shades of red, pink or purple to our wardrobe? Here our some of our favorite passionately-colored Zenni glasses to capture that lovin' feeling:

You Make My World Go Round
410019 $6.95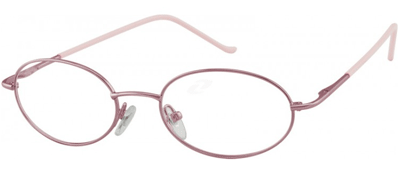 You'll have so much style for such a little price with these cute and sweet round frames in metallic pink. These frames aren't just pretty in pink, but practical too, with nose pads to keep the glasses in place and spring hinges for durability. The lightweight look and feel are perfect for sweetening up any spring or summer outfit.
Red-y For Love
458518 $14.95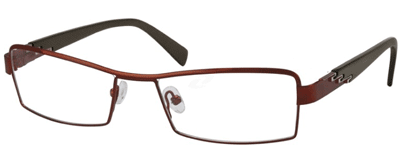 In the perfect shade of dark red for both style and sophistication, these fashionable medium-wide frames have a cool accent detail at the temples. These deep red frames can be worn with a wide range of clothing and are a classy accessory to wear year round for a bargain price.
Hot Date
244917 $15.95


In a passionate purple with five, sparkly, diamond-like stones set in the front of each temple, these are definitely one of our favorite dress-up frames. They're a wardrobe must for dinners out, special events and yes, date nights too. These larger, acetate frames have a wonderfully glossy finish to them to add extra class and style.
Lacy For You
401519 $23.95

This ultra-romantic frame with lacy cut-out arms is also fashionable and ideal for prettying up any spring or summer look. The beauty of the pink stainless steel frame combines with the sophistication of rimless lower lenses to make a stunning spring/summer style statement. Nose pads keep the lightweight glasses in place and the arms are adjustable for a comfortable fit.
The Power Of Love
280118 $12.95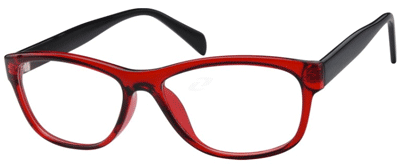 The translucent finish on these strong red, beautiful frames coordinates perfectly with the black arms. These stylish and sophisticated frames will add a confident look to any outfit from work clothes to dress wear.
Clearly Passionate
807117 $12.95


In a shade of purple that we can only describe as delicious, these medium-narrow, short-lens frames put the focus on your eyes. Whether or not you have anyone to stare into them — your eyes, that is — these passionate purple frames will add a lot of pizzazz to your look.
Fun Loving
338524 $6.95

Let the happy colors of green and pink combine for a truly fun, fashionable look for spring and summer. The color accent of the pink at the outer corners of the eye, with the rest of the front of the frames in green, can flatter many faces. Have a little flirty fun at a low, low price!