Wedding Day Eyewear: How To Go For It!
Some brides, and even a few grooms, feel they should switch to contacts and ditch their glasses for the big day. (Giving up vision correctors altogether may be dangerous as it poses the risk of marrying the best man!) But, seriously, the available eyewear out there these days means something amazing for everyone, so there's no need to resort to contacts unless that's what you prefer.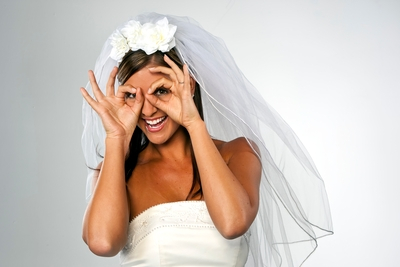 The thing to do is consider choosing prescription glasses that work with a wedding dress or tux, and more importantly, bring out the best in you by flattering your face. Of course, some stylish sunglasses are also necessary for destination or beach weddings as long as they're not worn full time. You shouldn't cover up the emotion in your and your beloved's faces and mostly this will come through in your eyes.
Tips for Choosing Wedding Eyewear
A great suggestion is that the wedding couple shop for glasses together. After all, the day is about these two people and as long as they like the eyewear on each other and themselves, that's all that really matters. Of course, it's necessary to not wait until the last minute to shop for wedding day eyewear, but there's also no reason that the glasses can't be worn before as well as after the wedding. It's also crucial to allow enough time to pick the eyewear without having to rush it. The idea should be to choose wedding day eyeglasses as carefully as you do the clothing, shoes and other accessories for the occasion.

Pick clear lenses and a frame style that suits you as well as fits in with the theme of your wedding. For instance, antique looking frames for an antique wedding and modern frames for a modern wedding are going to work best. If you're having an off-beat, funky kind of casual wedding, go ahead and choose ultra-cool, unique frames, but otherwise wow the vows with elegant, tasteful eyewear. Remember that you're going to have the wedding photos for a long time, so eyewear that is flattering rather than attention-getting is usually the best choice for everyone. Classic or modern, black-rimmed or partly rimless, tasteful, eyeglasses can look striking with any style of white wedding dress.
What About Sunglasses?
While the traditional summer wedding season certainly calls for sunglasses, especially beach themed or destination weddings, wearing shades during the ceremony and reception is pretty much taboo. It's just not appropriate as, again, it's a day of letting your emotions show big time. The one exception would be that funky, off-beat type of wedding where you can really get away with just about anything. To really do it justice, though, you'd have to go heavy on a sunglasses theme right down to shades for favors and tiny sunnies on the little couple on the wedding cake!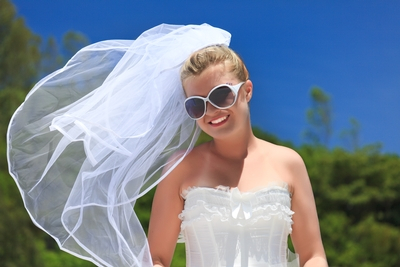 Keep in mind that the wedding photographer's job is to capture facial expressions, including the eyes, or what fun would reminiscing later over the photos of the big day be? Sure, a few pictures outside with the wedding party all in cute sunglasses would be fun, but that should be the minority of pictures taken, not the majority.
Sunglasses can also make wonderful groomsmen gifts, or even for bridesmaids too, for summer, beach or destination weddings. Letting everyone choose their favorites from an online gallery of shades is a great idea. As a nice touch for sunglasses given as fun favors for guests, a case personalized with the wedding couple's names or initials can make for a special keepsake. If you keep the personalized sunglasses cases in the same colors and style of your dining room decorations, the favors could fit right in at each place setting at your reception.