Glamor Unleashed: Dive into Zenni's Oversized Sunglasses Collection

Step into the world of glamor with Zenni Optical's stunning collection of oversized sunglasses. From the timeless cat-eye frames to trendy oval styles and vintage-inspired geometric shapes, our oversized sunglasses are designed to make a statement. Let's take a closer look at a few of our favorites and discover how you can elevate your style with these chic accessories.
Black Cat Eye Sunglasses – A Purr-fect Choice
Alissa Castleton effortlessly exudes edgy, cool vibes in our Black Cat Eye Sunglasses. These oversized cat-eye glasses are a blend of sophistication and glamor. Crafted from glossy TR90 plastic, the lightweight frame boasts a bold yet simplistic design that is surprisingly comfortable. Choose from gray tinted lenses or gray polarized lenses to complete your look. Available in red, black, or tortoiseshell, these purr-fect cat-eye glasses are sure to turn heads wherever you go.
Explore the Black Cat Eye Sunglasses
Trendy Blue Oval Sunglasses – Stay Ahead of the Curve
@satkinsongrier showcases the epitome of trendiness with our Blue Oval Sunglasses. Stay ahead of the fashion curve with these flattering oval frames made from glossy hand-polished acetate. The thick outer rims and wide temple arms, adorned with the distinctive "Z" Zenni logo, add a touch of drama to any outfit. Whether you're dressing down or buttoning up, these trendy blue oval sunglasses are the perfect accessory to make a stylish statement.
Discover the Blue Oval Sunglasses
Oversized Geometric Sunglasses – Boho Chic Vibes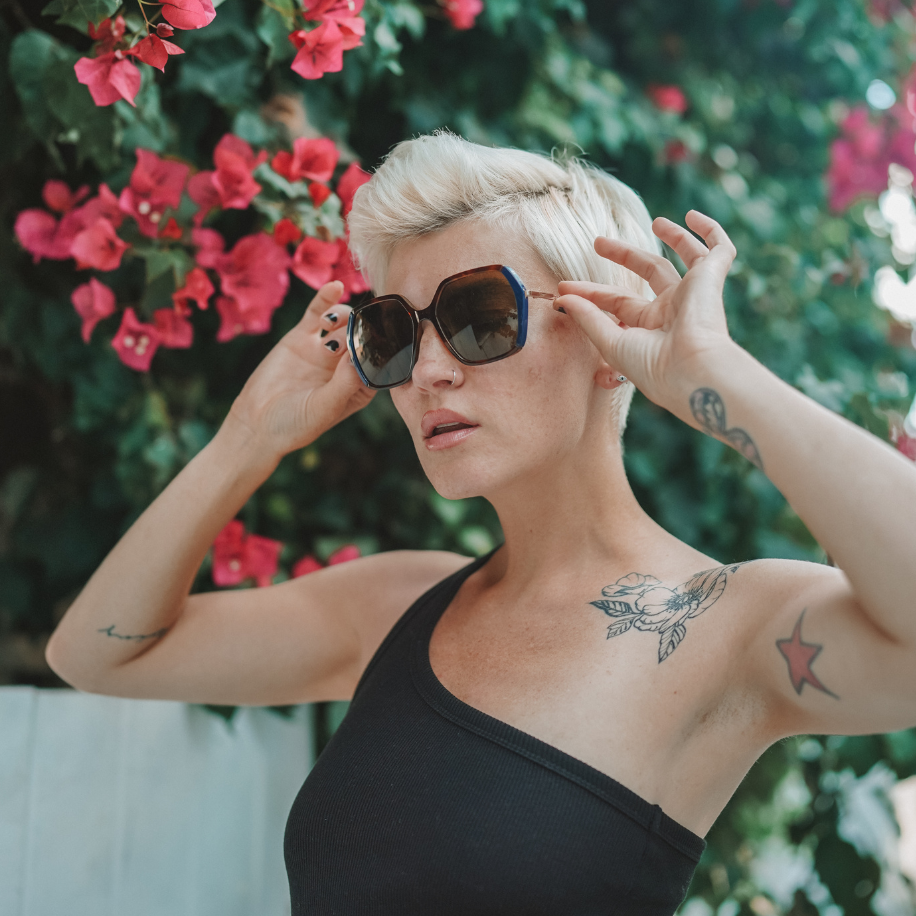 Alissa Castleton brings out the glam in our Oversized Geometric Sunglasses. Add a touch of boho chic to your eyewear wardrobe with these vintage-inspired geometric frames. Crafted from glossy TR90 plastic, the exaggerated shape and slim temple arms create a look that seamlessly blends retro and modern styles. These oversized sunglasses are perfect for lounging by the pool or adding a unique flair to your everyday ensemble.
Explore the Geometric Sunglasses
Elevate your style and embrace the glamor with Zenni's oversized sunglasses collection. We have the perfect oversized sunglasses to complement your unique style at Zenni Optical!
Explore Oversized Sunglasses

Dr. Sophia Moh, OD, is an optometrist based in the Bay Area, California. She holds a doctorate from UC Berkeley School of Optometry and has worked in various eye care settings, including primary care optometry, general ophthalmology, community health clinics, and Veterans Affairs. Dr. Moh is dedicated to improving global vision health by making high-quality, affordable eyewear accessible to all. She is also a certified American Board Optician (ABO) and actively contributes to optical education through training and lectures.