How to Wear and Style Glasses
Before you start your glasses hunt, it's a good idea to determine the right style for your face shape. No matter what you're looking for this season–from trend-driven pairs like ski-goggle-inspired sunnies to classic shades–Zenni has you covered with both stylish new designs and fresh updates to the classics.
Knowing when to wear sunglasses and how to incorporate them into your daily wardrobe takes a little planning. Eyewear can make you look stylish, and help you improve your personality. It is important to match your glasses with the perfect outfit and accessories to get the best looks.
A lot of people make the mistake of putting on all the accessories they own at once. When it comes to accessories, less is usually more. Sometimes you don't even need to add any jewelry pieces to your outfit. Eyewear can be the only accessory in your look, especially if clothing pieces speak for themselves because the shades will get the most attention.
FIND THE RIGHT FIT FOR YOUR FACE SHAPE
Different face shapes suit different styles of glasses. Nothing you do to look good in glasses will have a greater impact than just finding the right pair of sunnies that accentuate your features and face shape. Every face is different, so it's important to choose glasses that fit correctly and are comfortable.
Anna is wearing Square Glasses 4448723 in Clear.
MATCHING COLORS
There is no rule that says you need to match the color of your glasses with your clothes. If you don't have the clothes to match your frame, you shouldn't panic because there are many other ways to create "harmony" in your looks. For example, you could match the color of your eyewear lens or frame with any of the accessories. The important thing is that the pieces in your outfit should complement each other. It's not necessary to match head to toe.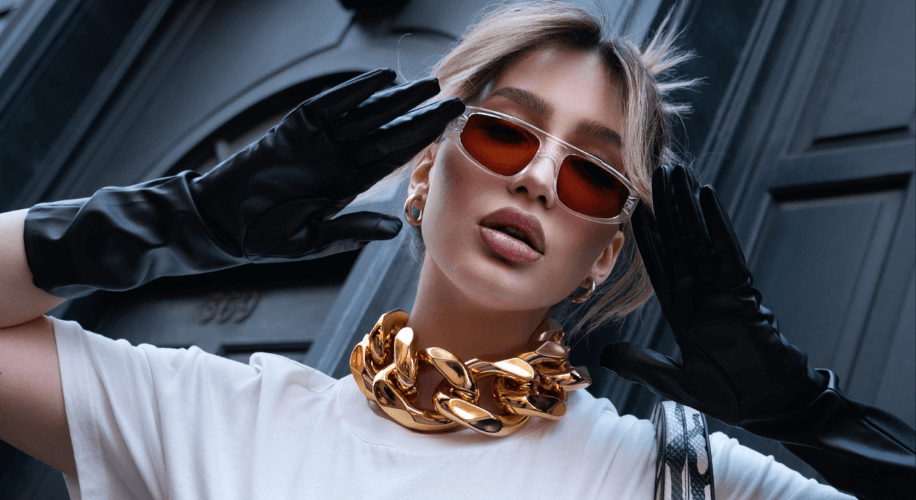 Anna is wearing Aviator Glasses 2037123 in Clear.
EXPERIMENT WITH SHAPES
This is where personal preference, confidence levels, and your sense of style really come into play. Choose from oversized sunglasses for a timeless movie star look, aviator shape for an edgy look, skinny sunglasses, abstract designs that display independence, or clear glasses for a clean look. The choices are infinite!
My three favorite styles from Zenni are oversized, aviator, and clear. Each of them makes a different statement, but there is one thing they all have in common: a strong appearance.
Anna is wearing Premium Geometric Sunglasses 1133015 in Taupe.
OVERSIZED
You may wonder if oversized sunglasses are still in fashion, and the answer is a resounding yes! They are often seen as a fashion statement. And they make a big statement without you needing to say a single word. Oversized sunglasses speak for you. They share your mood with the world while hinting at the nonchalant attitude of movie stars.
I like to mix styles in my outfits. For this look, I decided to pair oversized sunnies with an oversized blazer and wide-leg jeans, to give the outfit a more modern taste. Dark green lenses, which are a few shades darker than the mint color of the blazer, and a bralette top complement each other perfectly. A pop of color with the earrings, shoes, and bag add a finishing touch to the whole look.

Anna is wearing Aviator Glasses #2037123 in Clear with an Amber Tint.
AVIATOR
Aviator sunglasses with this new, elongated shape are going to be a timeless piece. You can wear them with anything and you will always stand out, whether it's straight-leg jeans and a tee, long-sleeve bodycon dress, or a wool wide-leg pantsuit.
I decided to style these shades in an edgy and chic way, by pairing them with statement jewelry and a bag, as well as incorporating a corset and leather gloves for a flirty touch.
CLEAR
There are plenty of ways you can style clear eyeglass frames, also known as transparent frames. These frames are great for people who don't know which color to choose, or those who prefer to have glasses that can go with any outfit. If you fail to find the right glasses from your wardrobe for a specific occasion, clear glasses will be your best fix since they are unisex and go with almost every look.
As a fan of monochrome, I styled this look in different shades of gray and silver. This draws the focus to the silhouette and shape of the outfit and to the shape of the glasses. A structured corset and oversized blazer match the lines of the frame shape and make a bold fashion statement.
CONCLUSION
When it comes to glasses, you don't have to choose between style and function. With Zenni's affordable eyewear, it's easier than ever to elevate your style with different looks, from sophisticated frames to fun, oversized styles.
Anna Lavo is a Wardrobe Stylist and has been inspiring and empowering clients with over 7 years of experience delivering innovative styling techniques to over 500 clients. Photo shoots published in various fashion magazines.