Trendspotting: San Francisco Street Style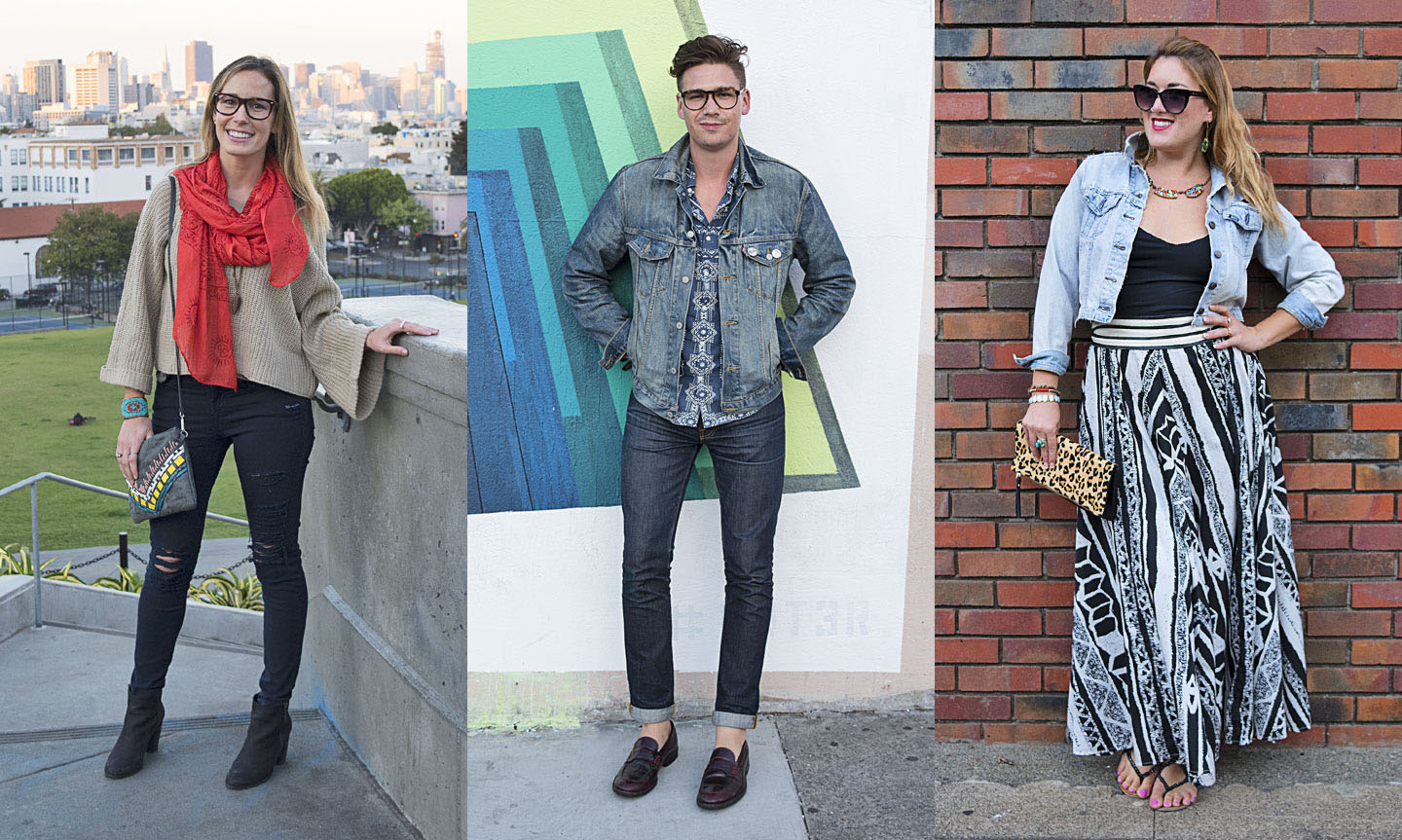 The #Zenniroadtrip has made it back to our beautiful hometown city of San Francisco. It wouldn't be a Zenni pit stop in the City by the Bay without a few college campus visits, amazing city street-style looks, and some great local fashion, right? From Dolores Park in the Mission to hip SOMA, and finally Potrero Hill, we hit some of our favorite SF destinations to bring you the latest in fashion trends and eyewear styles straight from the streets.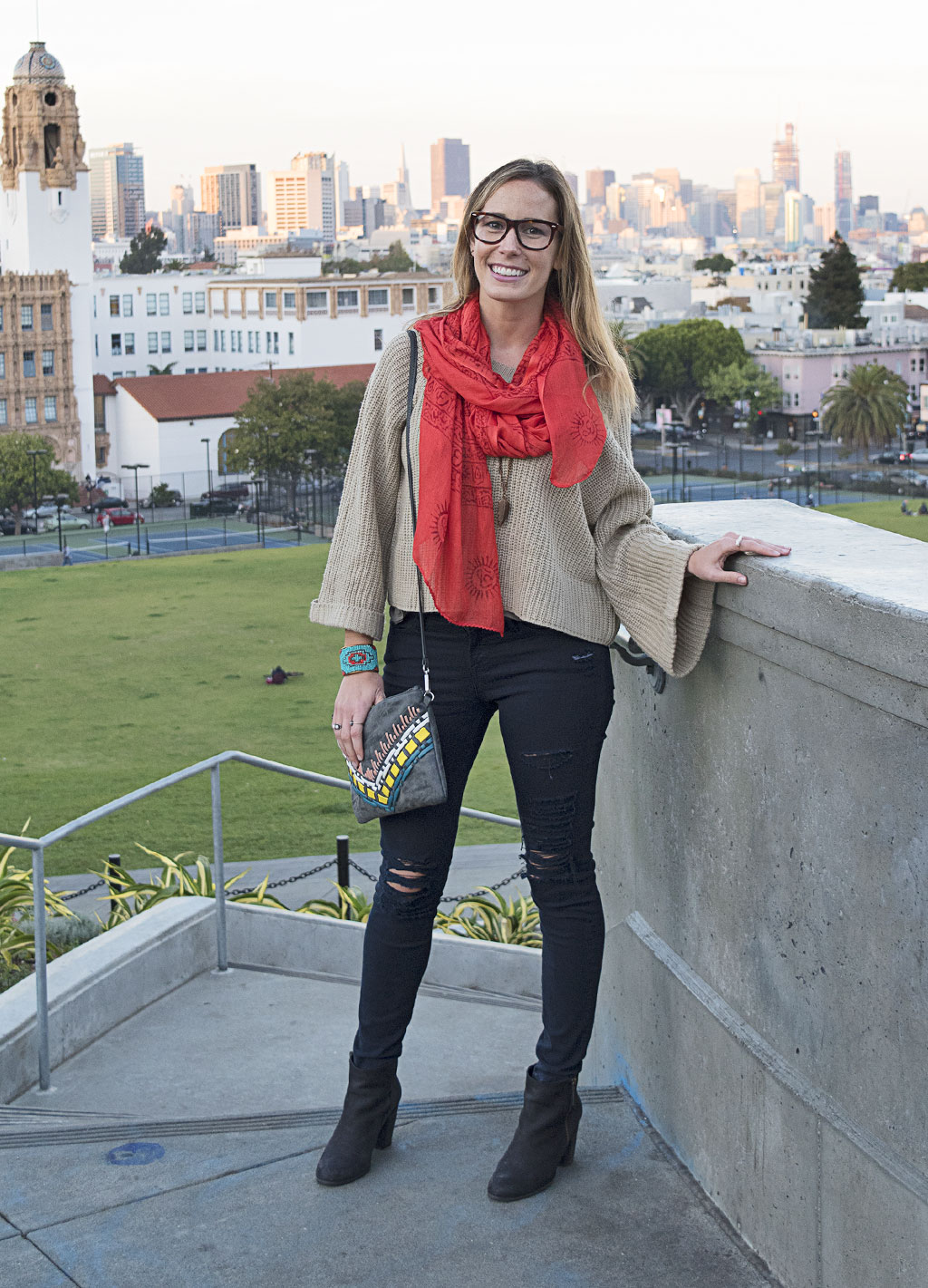 Image credit: Natalie Valls
Name: Anna Gilbert
Occupation: Director of Account Management at Looksharp, a tech company that helps college students launch their careers.
Spotted: Dolores Park in the Mission
Where are you from: I moved to San Francisco around four years ago. Originally, I'm from Marin County which is just north of SF.
What she likes most about SF: Definitely the festivals. From the Cherry Blossom Festival in Japantown to Hardly Strictly Bluegrass in Golden Gate Park, it feels like there's something fun (and free!) going on every weekend. I've decided there's no better people-watching than the eclectic mix you get here in SF.
What she does for fun: I get together with a dance group once a week to learn Beyoncé choreography. It's kind of embarrassing but we don't take ourselves too seriously. I also like hiking in the Presidio and hopping over the Golden Gate Bridge to explore the trails in Marin County.
Outfit: Today, I'm wearing a casual outfit that I wore to work. Since I work in tech, just about anything I want to wear is fair game. My ripped jeans are by Paige. I don't buy designer clothes that often but I make an exception for jeans because they fit me so much better. I like Paige, Joe's Jeans, and Rag & Bone. I got my Ellison sweater from X-Generation, a small boutique on Haight Street that's super affordable and really funky. It's warm and cozy and I love the big bell sleeves (some of my co-workers nicknamed me "Grandma" because I love wearing oversized knit sweaters). My bag and bracelet also came from Haight, from a boutique called Ambiance. I love how the colors and geometric patterns of my accessories add a little something to my otherwise simple outfit. I got my necklace at Urban Outfitters, it's actually a locket that has a picture of my dog in it. My booties are from BP at Nordstrom and I basically live in them, they're super comfortable. I got my scarf on a trip to India this year. I love buying accessories when I'm traveling because they remind me of the adventures I've had.
Personal style: I'd call my style Urban Bohemian. I like edgy elements like leather and metal accents, paired with pieces I find at local craft fairs or while traveling. I always put comfort and warmth first when deciding what to wear. The weather in SF can change on a dime, so I've gotten really into layering. Throwing a cute scarf and jacket over an outfit makes me feel more put together, so I actually look forward to the cooler months. I probably own about 60 scarves, it's becoming a real problem. As for SF trends, I've noticed a lot of people rocking enamel pins and patches on their jean jackets or bags lately. They'll have an ice cream cone or a unicorn, or I saw one that said "Riots Not Diets." I think they're pretty awesome and rock n' roll, so I hope the trend sticks around.
Where she shops: I find a lot of good stuff on Etsy and I can spend hours walking around and shopping on Haight Street. I always find interesting pieces that I know I won't see on anyone else. My favorite boutique there is Ambiance. They have great accessories and the staff is incredibly helpful. Other shops I like on Haight are Clobba and X-Generation. I like supporting smaller shops rather than big retailers. And if you haven't been on Haight Street yet, go because it's a trip. It's credited as being the birthplace of the hippie movement in the '60s, so you definitely still get those free-spirited, flower child vibes.
What's in her eyewear wardrobe: I have a narrow face so I like to offset it with wider frames. I wear my prescription glasses just about everywhere and I have a great pair of Zenni sunglasses I ordered a couple months ago. The style is called 'Alamere' [from the North Coast California Collection] and I added a green mirrored tint. I just love them!
Eyewear: Anna shows off her Bay Area roots by wearing Zenni's 'Bodega' frames from our North Coast California Collection. This vintage-inspired, square frame features a tortoiseshell finish and metal temple detailing.
TRY: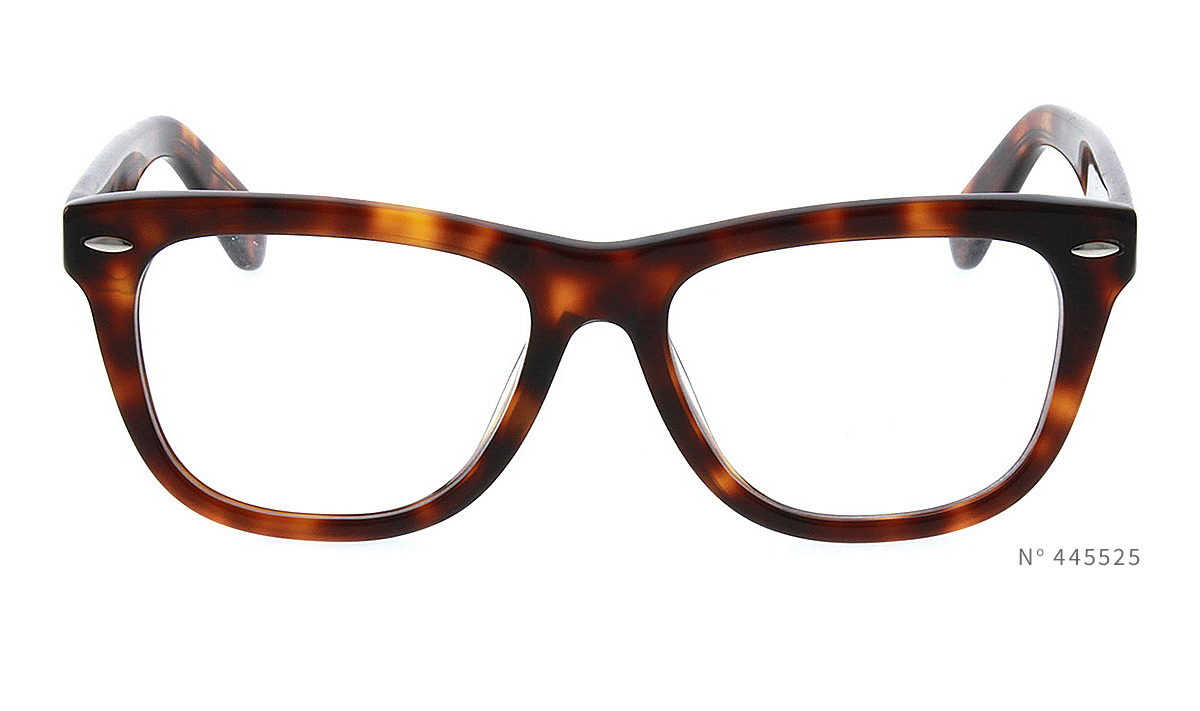 Image credit: Natalie Valls
Name: Wilson
Occupation: Digital Advertising Account Executive
Spotted: Potrero Hill, just around the corner from the legendary Bottom of the Hill club.
Where are you from: I'm originally from Minneapolis but I've been living in San Francisco for almost four years. Currently, home is in the Dogpatch neighborhood.
What he likes most about SF: I love how much is jammed into such a small city, every neighborhood is different and has its own unique look and feel to it; you can walk a few blocks and feel like you're in a different city.
What he does for fun: I see a lot of live music. Of course San Francisco attracts a lot of big names but the city has its own solid music scene as well. I also spend a lot of time checking out new restaurants and bars. I love Italian food and Seven Hills, for me, takes the cake in SF. I also love Just For You Café in Dogpatch. It's unassuming and unknown to people outside the neighborhood and it's great for a casual breakfast or brunch. My favorite bar in the city is Columbus Café in North Beach. It's a great dive bar that has a jukebox and a pool table – my top two qualifications for a quality dive. They also have the best happy hour in the city, every day of the week. I love to drink at The Ramp in Dogpatch, it's almost always sunny in that area and the bar is right on the water.
Outfit: I'm wearing penny loafers by Ben Sherman, raw denim jeans by Nudie, and a watch by Citizen. My jacket is Levi's and my shirt is by Banana Republic . For the most part, I like to keep things simple but I'm a sucker for patterned shirts, paisley, floral, you name it.
Personal style: My style is pretty eclectic, I'd have a hard time pinning down a name for it or a style "type." I love rock 'n roll and draw a lot of inspiration from that culture and aesthetic, but it really runs the gamut, everything from hippie to punk. I somewhat have my finger on the pulse of what's currently popular, but I tend to dress fairly conservatively and try to err more on the classic and timeless side of things.
Where he shops: I like vintage shops since they harken back to the eras that I draw my style inspiration from and I like smaller stores as their stuff is usually more unique. Old Vogue in North Beach is my favorite vintage store. It has the kinds of pieces you won't find at the run-of-the-mill vintage stores in the Haight. I'm a creature of convenience when it comes to shopping and at this point I do most of my buying online. I hate malls. I'm not a fashion snob so if I see something I like, I'll buy it. I don't really care where it's from.
What's in his eyewear wardrobe: I love sunglasses. I have three pairs that I wear in equal rotation. I like classic looks but I also like to mix it up. I have browlines and round shades in a tortoiseshell finish. I also have a pair of gold aviators. As for eyewear, I have terrible eyesight and have managed to put off getting glasses until a couple years ago. Since it took me so long to start wearing glasses, I really had no idea what I wanted or what I'd look good in but I knew I wanted it to be bold. I mostly wear large, circular frames. I have a larger face so smaller frames look ridiculous on me.
Eyewear: Wilson is wearing Zenni's 'van der Rohe' eyeglasses from our Metro Collection. With a refined, tortoiseshell finish and keyhole bridge detailing, these classic, oversized frames are sure to stand out.
TRY: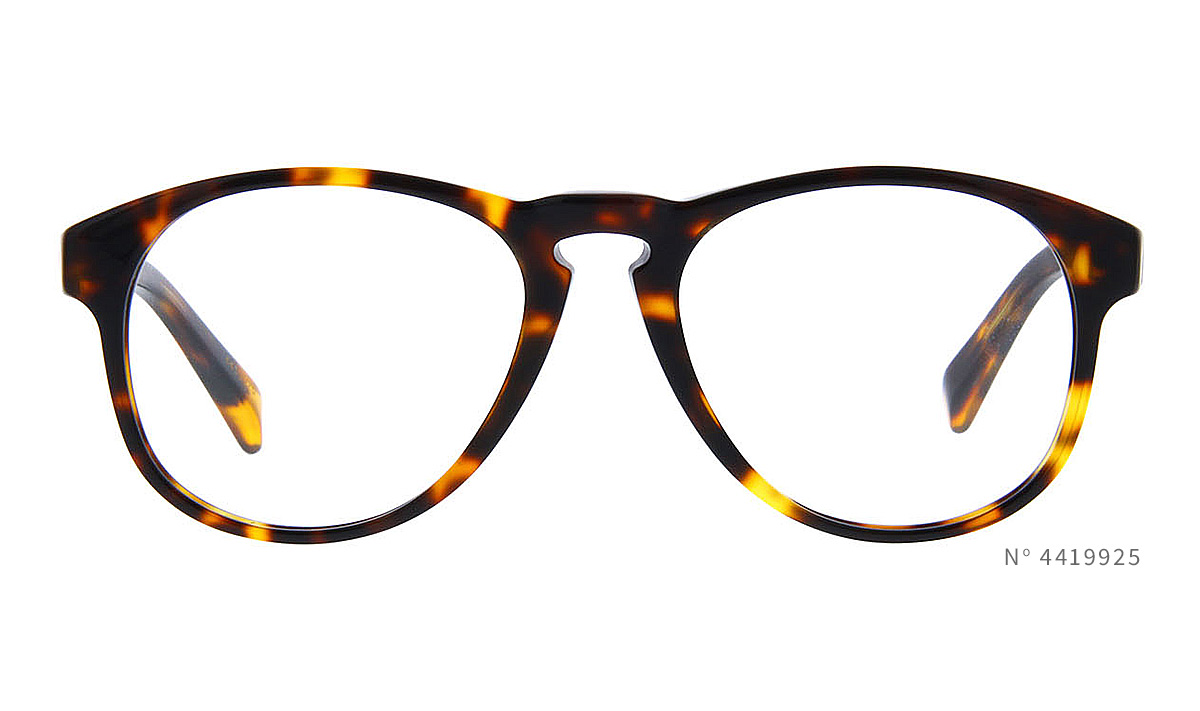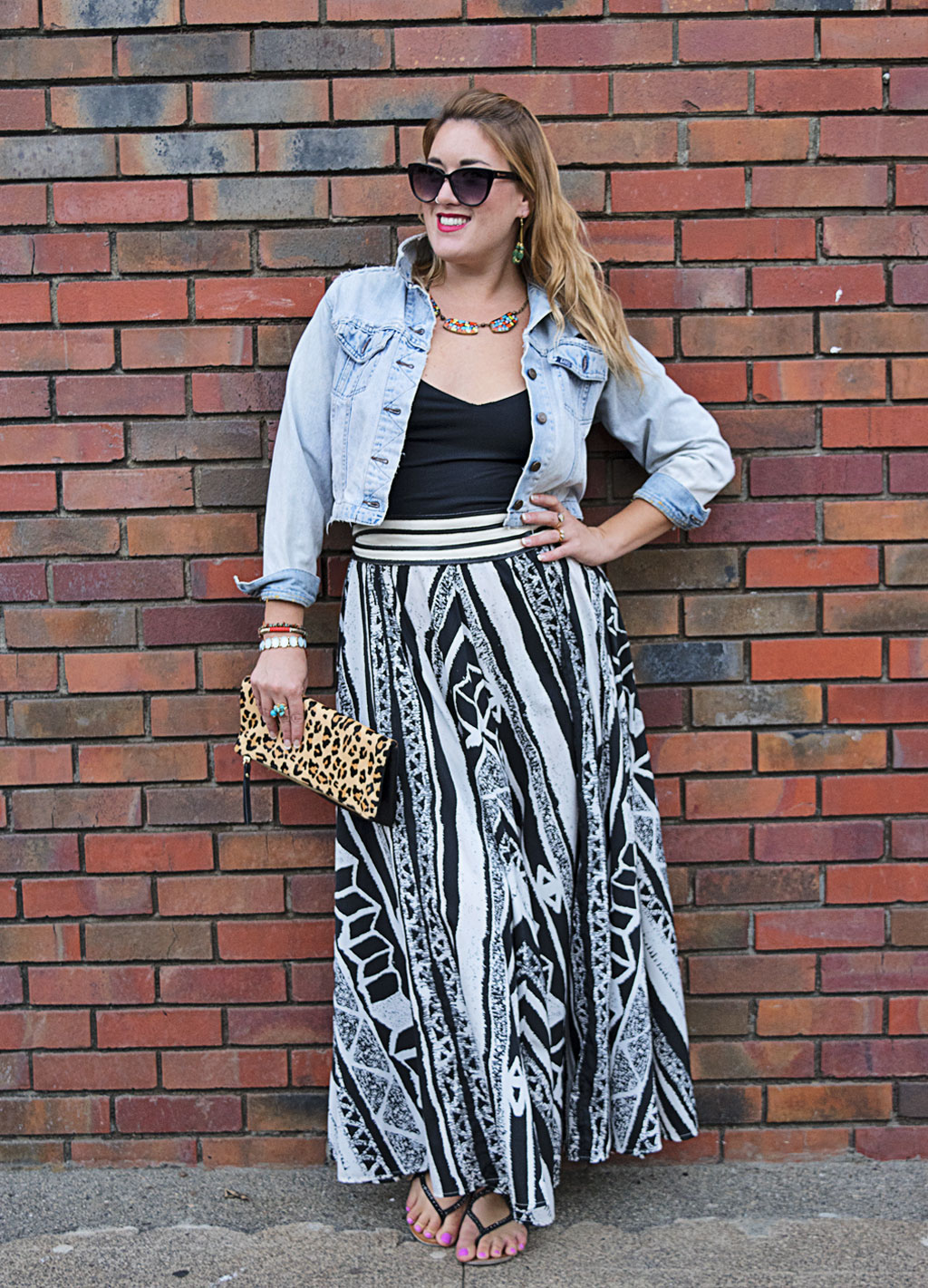 Image credit: Natalie Valls
Name: Maxine Mannion
Occupation: Closet organizer, stylist, artist, and author of the Mermaid Coloring Books.
Spotted: SOMA
Where are you from: I live in San Rafael, where I was born. I love the sunshine and the proximity to SF. My best friend lives in the city so we have happy hour dates on Friday evenings. This week, we're going to 21st Amendment in SOMA.
What she likes most about SF: I love how the intricate architecture and vibrancy of this city is perfectly complemented by the intense natural beauty that surrounds it. There's always something new to discover whether it's a new restaurant or a new hiking trail.
What she does for fun: I love when friends come to town and I get to play tourist. I'm also always down for some karaoke. My favorite karaoke spots in SF are Encore on Polk and Mint on Market. I like karaoke bars where the whole bar is included. I don't like private rooms. I like to pick a stranger and dedicate songs to them because it turns the bar into one big party. For me, karaoke is more about the performance and making people laugh than it is about hitting every note perfectly (but I try for that too!).
Outfit: Most of what I'm wearing today came from thrift shops. My skirt is from Buffalo Exchange. I got it at the location on La Brea in LA while visiting my sister (she's an actress and you can watch her on HBO's Sunday night show Insecure). My denim jacket is from Out of the Closet on Polk in SF. I love the easy lived-in look of this jean jacket. I tend to over dress myself, so I love throwing on a distressed jean jacket to dress myself down and funk-up my look. My belt is from Goodwill. All my jewelry tells a story and holds memories. I found my necklace at a thrift store in Brooklyn a few years ago while on a girls trip.. The turquoise ring I scored for four euros in Bodrum, Turkey. I wish I had bought everything in the shop. I love finding unique items while on vacation. It's my own personal version of souvenirs. My light blue bracelet is from Francesca's in Charleston. I got my leopard clutch on a super sale during Memorial Day weekend at the Banana Republic outlet in Petaluma.
Personal style: I would describe my personal style as funky-feminine. What I'm wearing greatly affects my mood, so I make sure to pay attention to the way I feel when I put something on. I do a lot of browsing on Pinterest for style inspiration and I run a blog called Confidence and Compliments to reflect my own personal style and the trends that speak to me. To me, a flattering outfit is always in style.
Where she shops: I love thrift stores because there are always unique items to make you feel beautiful and cool. All you gotta do is dig. It's a treasure hunt, there are some gems in there if you look hard enough. My sisters and I all love thrift shopping because there's no where else you can find so many cool items for such a steal. I love the idea of clothes finding new life with a new owner. It's sometimes hard for me to give clothes away unless I find a friend who will love them more than me. Thrift stores are the same way. I find pleasure in bringing new life to discarded clothes. Maybe its because I have two older sisters and I grew up on hand-me-downs! Clothes don't have to be brand new to be new to me.
What's in her eyewear wardrobe: When I'm not wearing contacts and some killer cat-eye shades, I'm sporting my thick tortoiseshell glasses or my oversized, retro square frames. I've worn glasses since fourth grade and I've only just recently discovered the beauty of owning more than one pair!
Eyewear: Maxine is wearing Zenni's larger-than-life, cat-eye frames in a glossy black finish paired with a gradient gray lens.
TRY:
What's your favorite San Francisco street-style look? Let us know in the comments below!