How To Order Tinted Glasses
Updated: March 20. 2023
How to Order Tinted Glasses
Select Your Frames. Tinted lenses can be added to any Zenni frame. Pick out the frames that you would like to purchase and add them to your cart.
Enter Your Prescription Information. You will be prompted to enter your up-to-date prescription information, as well as your pupillary distance (PD). Consult your eye doctor for these measurements, or check out our /measuring-pd-infographic">measuring PD infographic to measure your PD at home.
Choose Your Lens Index. A lens index will automatically be suggested based on your prescription. For more information about lens index options check out our affordable lens buying guide. Note that 1.59 Polycarbonate and 1.74 High-Index lenses cannot be tinted.
Tint Your Lenses. Choose a standard or gradient tint, then select the color from the drop-down list. We also offer a variety of mirror finishes to add to your tinted lenses.
Complete Your Order. Once your order is complete, we will start preparing your new eyewear and ship it out to you ASAP.
Tinted lenses are great for outdoor enthusiasts, athletes, and anyone who wants to add a pop of color to their life. In addition to making your environment appear brighter, they reduce glare, improve contrast, and enhance your depth perception.
Whether you want a light tint for a more fashion-forward look or darker tint sunglasses that comfortably shield your eyes from the sun, adding a tint to your next pair of Zennis is easy.
Standard vs. Gradient Tints
Standard tints are one solid color from the top to the bottom of the lens. For outdoor use, a darker sunglass tint is best. Zenni offers the following sunglass tints: dark gray, dark amber, and dark green.
Our fashion tints have a light tint (varying between 10-50%, depending on color) and can be worn indoors or outdoors. While they don't offer much shade from the sun, they will add a colorful pop to everyday glasses. Zenni offers the following fashion tint options:
Light Gray
Light Amber
Blue
Light Green
Fuchsia
Lavender
Rose
Yellow
Gradient tints are darkest at the top of the lens and gradually get lighter toward the bottom. They are a chic choice for outdoor sunglasses. Our gradient tint options include
Smoke Gray
Dusk Blue
Sage
Golden Amber
Desert Rose
Ultraviolet
Neon Pink
Electric Blue.
Related: Tinted vs. Polarized Glasses – What's Better?
Which color is right for me?
GRAY
Gray tints help provide true color perception, as well as reduce fatigue and glare. It is the most popular tint for general-purpose use, providing the best sun-blocking and anti-glare protection on bright, sunny days.
AMBER
Amber is a good all-purpose sunglass tint because it enhances contrast, especially outdoors. While amber tint can distort the "true color" of the objects you're seeing, many wearers prefer the warmth it adds to their vision.
PINK/ROSE
Pink tints help reduce eyestrain, improve depth perception and road visibility, and aid in contrast adjustment. They are great to wear for sports that involve speed, such as biking or racing, and for situations where you need to be sure of your footing, such as running, hiking, or rock climbing.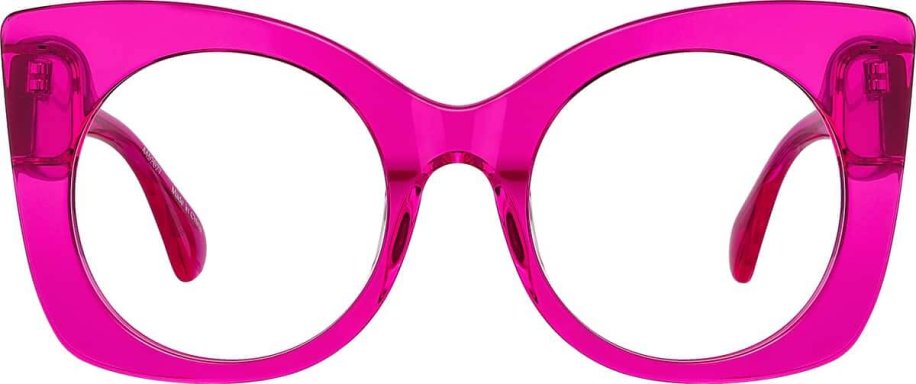 Check out our Barbiecore Pink Glasses and your next pair of custom Zenni sunglasses
BLUE
Blue tints help reduce glare and enhance color perception, making them popular among golfers and skiers. Blue has also been said to have a calming effect for those with anxiety or "visual stress."
GREEN
Green tints are great for low-light conditions since they help to diminish glare, brighten shadows, and are known to help improve visual sharpness. They are great to wear for baseball, golfing, and fishing.
YELLOW
Yellow-tinted glasses provide additional sharpness and contrast to your field of vision in outdoor or indoor environments. Yellow-tinted glasses are a great choice when skiing, doing target practice, and even playing video computer games.
PURPLE/LAVENDER
Purple tints balance color perception and provide contrast against green backgrounds. They provide natural color perception while shading the eye, making them a great choice for golfers.