Which Eyeglasses Are Right For You? A Guide To Find The Perfect Pair
Eyewear has changed a lot over the years. Today there's a wide variety of  frames and lenses to fit your specific needs. With so many options, it can be hard knowing where to start when it comes to finding the right glasses.  Browse below to learn about everything from frame style and materials, to lens types and coatings.

Frame Size, Style, & Color 
Frame size  is typically the first feature to consider when on the hunt for a new pair of glasses. If you already have a current pair of glasses or sunglasses that fit well, then you are ahead of the game. Read more here to learn about Zenni's adult and kid frame sizes,  as well as how to accurately measure your frame. 
The next thing to take into consideration is frame style and color.  Ultimately,  there are no hard-and-fast rules when it comes to the right style or color. No matter what frame you pick, if you love it, you'll feel good—and feeling good always looks great. Popular shapes include  square, browline, round, cat-eye and rimless, while hues such as  black, clear and tortoiseshell are known to work well on most faces.  
One aspect to remember when shopping for new frames, is what style complements your face shape . If you're unsure of your face shape, try taking our  face shape quiz here. Then check out our /glasses-for-face-shape">face shape guide to see  which frame will work the best on you. Once you have landed on the size, style and color for your frame , you can use/tryon"> Zenni's virtual try-on tool to see how it'll look on your face from the comfort of your home – how convenient! 

Frame Materials and Features
Frames can be made out of many different materials, each of which give a unique look to the wearer. The most common categories are plastic, metal and mixed material. If metal and/or other eyewear materials give you contact dermatitis — which is when skin irritation occurs from contacting certain offenders — look for eyeglasses made with hypoallergenic materials. 
In addition to materials, there are  different features you can look for in the right pair of frames such as extended fit, petite fit and low bridge. If you like to make effortless adjustments to your glasses at home, look for frames with spring hinges  and adjustable nose pads. 

Prescription Lens Types 
Prescription lenses come in  different types based on the wearer's individual visual needs. 
Single Vision: the most common type of prescription lens and is used to correct vision at only one specified distance.
Distance: feature a single field of vision, or one prescription power throughout the entire lens. They can correct for nearsightedness (myopia), farsightedness (hyperopia) and astigmatism. Many individuals tend to use these lenses for all day wear and use.
Reading: may either be prescription or over-the-counter. Readers from a drugstore come in different strengths, also called powers, where both lenses are the same power. You will generally find them in ranges from +0.75 to +4.00. If you need prescription reading glasses, you can obtain this from your doctor or learn to calculate yourself. 
Intermediate (Computer): have half the  power of reading glasses and are tailored for viewing a computer screen anywhere from 20-40 inches away. If your eye doctor has not written a prescription specifically for your computer working distance, you can learn how to order prescription computer glasses from home.
Multifocal Lenses
Unlike single vision, bifocals and progressives are multifocal lenses that have more than one point of focus, such as distance and near. People who have numbers listed for the "ADD" portion of their glasses prescription need either bifocals, progressives, or reading glasses. This is because your eyes need ADDitional power added on top of your distance prescription to see up close.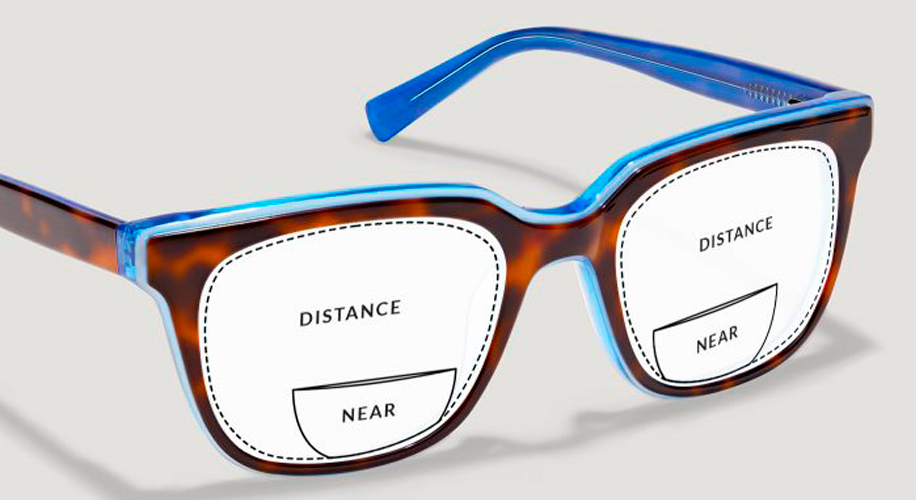 Bifocals: have two viewing areas divided by a visible line – a larger viewing area for distance and a smaller area for reading. If you haven't worn bifocals before, it can take some time to adjust to moving your eyes between the distance and reading portions of the lens.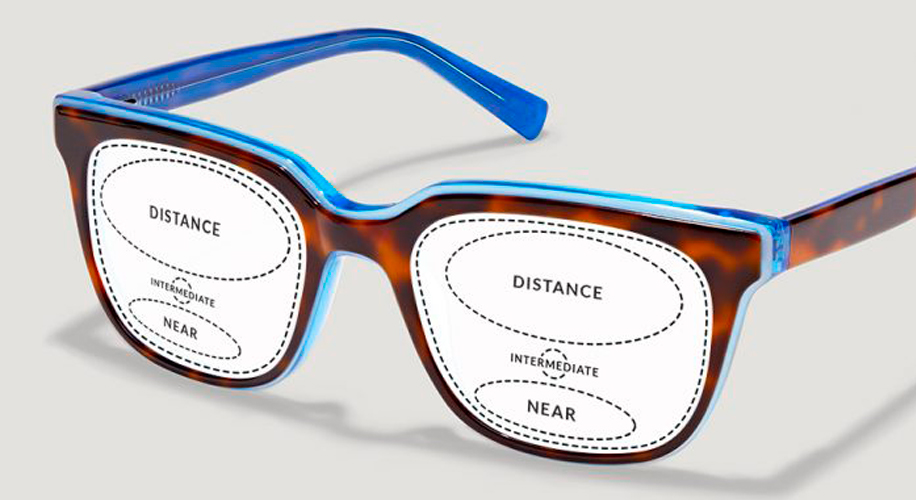 Standard Progressives: multifocal lenses with three viewing areas – distance-, intermediate-, and near-vision. They have a seamless, invisible design where the power "progressively" changes throughout the lens with distance viewing on the top and near vision on the bottom.  The clearest vision in a progressive is top to bottom through the center of the lens. Just like bifocals, it can take time to /blog/how-to-adapt-to-progressive-lenses/">adapt to wearing new progressives. For new wearers, build up wear-time every day for the first 2-3 weeks to adapt to the lenses.
Workspace progressives: specialized progressive lenses designed for up-close activities at work or home. Since workspace progressive lenses don't have distance vision, they're not recommended for driving. There are two types of /workspace-progressives">workspace progressives.

Near-range: designed for people  who spend long periods of time at a desk or other workspace and offer greater comfort and visual clarity within 3 feet. 
Mid-range: designed for people  who need enhanced up-close vision as well as to see the entire room more clearly.  They feature narrower near-range vision with greater mid-range vision for comfort and visual clarity within 10-14 feet. 

Sun Lenses
Sun lenses are great general purpose lenses that provide added eye protection from the sun. Sun lenses come in many flavors: tinted, polarized and photochromic. Below are the different types of sun lenses.
Tinted: reduce the amount of light coming through the glasses lenses to reduce strain on the eye. Zenni offers a range of/sunglasses"> hues and gradients for a unique take on fashion./blog/tinted-vs-polarized-glasses-whats-better/"> 
Polarized: great for beaches, driving, and other environments in direct sunlight or that may have extreme glare. They have a filter that reduces glare and provides an ultra-comfortable viewing experience.
Photochromic: a convenient way to protect your eyes outdoors from UV rays and bright light without having to carry around a pair of sunglasses. This special lens type starts out clear and turns  dark in the bright sunlight.
Mirror: a fashionable coating that's highly reflective and decreases the amount of light that passes through. You can /blog/mirror-sunglasses/">customize your mirror in a range of finishes to create a style all your own.

Blue-light Blocking Lenses
Blue light blocking lenses provide protection against  the /blog/seeing-believing-test-blokz-blue-light-pen/">harmful blue light emitted from digital devices, artificial lighting, and the sun. Prolonged exposure to high-energy visible (HEV) blue light can lead to eye strain and blurred vision. Zenni Blokz come in Trivex (perfect for kids), photochromic, and tinted options. 

Lens Materials
Lenses can be made from different materials to provide different features and functions. Lens materials are classified on an increasing /blog/get-thinnest-lenses-prescription/">index number scale. Generally,  the lower the index number the thicker the lens which is more apparent for higher prescriptions.
Basic Lenses: Zenni offers two basic lenses that are free with frame purchase – CR-39 (1.50) and Mid Index (1.57). CR-39 is great for low prescriptions and for people that primarily wear contacts lenses. 
High-Index Lenses: thinner and lighter than basic lenses and are recommended for higher prescriptions. They come in three different indexes: 1.61, 1.67, 1.74. These lenses are 20%, 30%, 40% thinner than the 1.50 lens respectively. 
Impact Resistant Lenses: great for kids, safety and sports. Zenni offers two different impact resistant lenses. Trivex (1.53) has superior clarity and is  ultra-lightweight. Polycarbonate (1.59) is an affordable  impact resistant lens suitable for all frames.
Learn more about lens indexes and materials in our /glasses-lenses">Lens Index and Material Guide.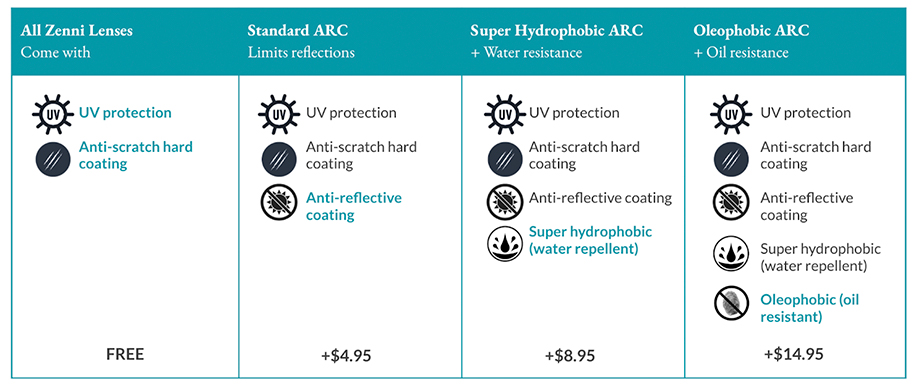 Lens Coatings
Picking the right lens options can help with prolonging the life and durability of your lenses. Coatings are primarily functional, but also have some cosmetic benefits as well. Features, like UV protection to shield from harmful UV rays and scratch resistant coating , are basic and essential for any quality pair of eyewear. 
Anti-reflective coatings help reduce bothersome  glare from sources like the sun or on-coming car headlights, as well as reduce reflections on the lenses to make them look crisp and clear. See the table below for information on Zenni's levels of anti-reflective coatings.

Special Use Glasses
In addition to everyday frame styles, there are also functional styles  designed to protect the eyes during specific activities. These different types of frames are useful for activities ranging from sports to occupations that require protective eyewear.
Safety Eyewear are specially designed to protect the eye from injury by impact, heat, chemicals, and radiation. They're  in compliance with the ANSI Z87.1 standards and also OSHA approved. ANSI stands for the American National Standards Institute, that sets the standards for eyewear to be considered safe for consumer wear.. Safety glasses can be prescription or non-prescription depending on your visual needs, but regardless will provide top of the line eye protection. Learn more /blog/safety-glasses-protecting-eyes-work/">here about specialty safety eyewear.  
Sports Goggles are created for high- impact sport activities, sports goggles that are ASTM  (American Society for Testing and Materials) tested have undergone rigorous testing to be certified as safe for use across a variety of activities. ASTM tested sports goggles should also come with impact resistance lenses such as polycarbonate or Trivex that can be made as prescription or non-prescription.  
Now that you are more than equipped to purchase your next pair of glasses, head over to/"> Zenni to start shopping!