Pawsitively Stylish: Dogs Modeling Zenni Glasses for a Fashionable Bark-ccessory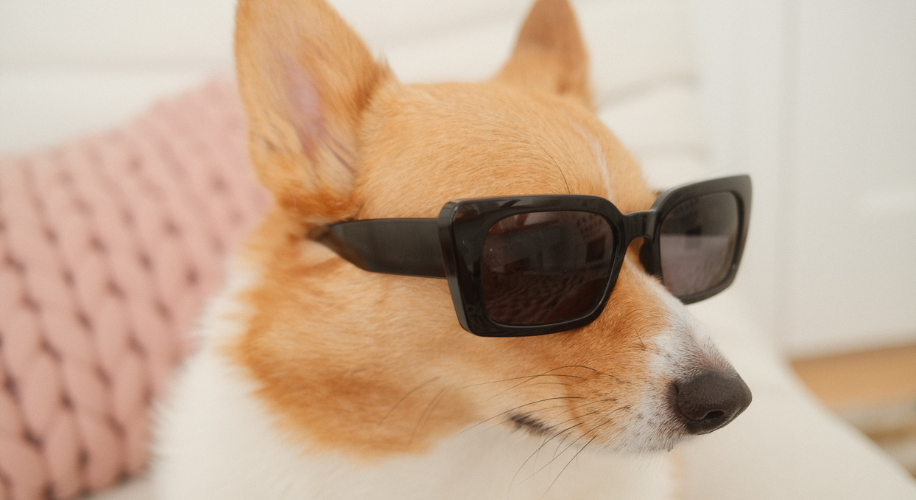 Welcome to the most adorable fashion show on four paws! At Zenni Optical, we've always believed that style should know no bounds, and our furry friends agree. In this blog, we introduce you to a delightful lineup of canine fashionistas who are rocking Zenni eyewear, proving that dogs can look just as chic as their human counterparts. These pups aren't just any models; they are changing the game when it comes to fashion-forward eyewear. So, without further ado, let's meet our canine models and their fabulous frames!
Skai the Mini Bernedoodle
Skai, the 10-month-old mini Bernedoodle, is stealing the spotlight in her cute taupe square glasses. These glasses not only complement her coat but also add an extra layer of charm to her already adorable look. Skai's frame of choice is the Taupe Square Eyeglass Frames. Whether she's playing in the park or attending a posh puppy party, Skai knows how to make a statement.
Drogo the Chubby Corgi
Drogo, the 6-year-old chubby Corgi, is a fashion icon in his premium square sunglasses. With a confident strut and an unmistakable flair, Drogo has us all swooning. His frame, the Premium Square Sunglass Frames, not only shields his eyes from the sun but also showcases his undeniable style. Drogo proves that eyewear isn't just for humans; it's for the coolest pups in town too!
Mowgli the Border Collie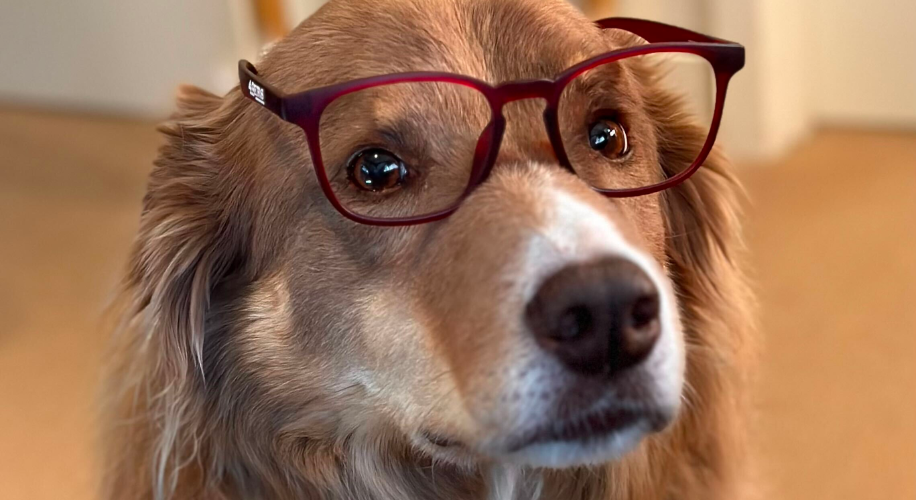 Mowgli, the 11-year-old Border Collie, is turning heads in his cool red glasses. With the stylish Red Square Frames, Mowgli demonstrates that age is just a number when it comes to staying fashionable. These glasses complement his sophisticated demeanor, making Mowgli the epitome of elegance in the canine world.
Chance the Cocker Spaniel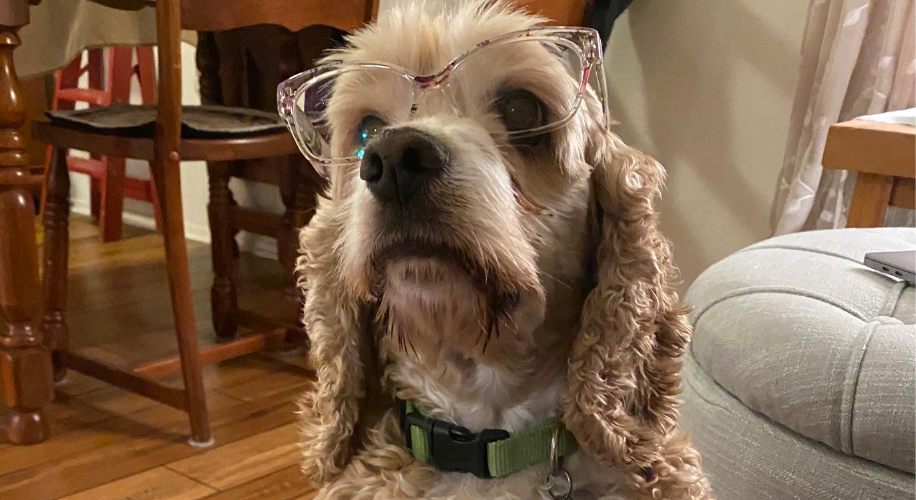 At 12 years old, Chance the Cocker Spaniel is a vision in our popular floral cat-eye glasses. These frames give Chance a timeless and stylish appearance. He's proof that sophistication knows no age, and a dash of floral flair can be the perfect finishing touch to any ensemble.
Sugar Plum the Rat Terrier
Sugar Plum, the 17-year-old Rat Terrier, is our trendy trendsetter in her clear glasses. These translucent frames perfectly match Sugar Plum's timeless charm. Her stylish eyewear elevates her look to a whole new level, proving that age is nothing but a number when it comes to being chic.
Iris the Labrador
Iris, the 3-year-old Labrador, has a playful spirit and a heart full of love. She's rocking the super cute heart-shaped glasses from the Iris Apfel Collection. These rainbow heart glasses bring out Iris's personality and lovable nature. Iris is here to remind us that embracing unique eyewear can be a true work of heart.
Our canine models have shown that style knows no boundaries! From Skai's charming taupe frames to Drogo's premium sunglasses and Mowgli's age-defying cool red glasses, these pups redefine fashion. Whether it's Chance's timeless cat-eye glasses, Sugar Plum's trendy clear frames, or Iris's playful heart-shaped spectacles, they remind us that eyewear is a fashionable bark-ccessory for all ages and breeds. So, let your pets embrace their individuality and shine as true fashion icons!
Disclaimer: Please note that Zenni Optical's eyewear is intended for humans, and the adorable dogs featured in this blog are modeling our glasses for fun and fashion purposes only. While our frames can add a touch of flair to your pet's style, we recommend ensuring their comfort and safety as the primary concern. So, let your pets shine as stylish models, but remember to prioritize their well-being above all else.

Dr. Sophia Moh, OD, is an optometrist based in the Bay Area, California. She holds a doctorate from UC Berkeley School of Optometry and has worked in various eye care settings, including primary care optometry, general ophthalmology, community health clinics, and Veterans Affairs. Dr. Moh is dedicated to improving global vision health by making high-quality, affordable eyewear accessible to all. She is also a certified American Board Optician (ABO) and actively contributes to optical education through training and lectures.