Add a Pop of Color with Red Glasses Frames
​​
There's no better way to make a bold, vibrant statement than with a pair of red glasses frames. These stylish, eye-catching frames can add a pop of color to any outfit and can serve as a statement piece in your eyewear collection.
Why Choose Red Glasses Frames?
Red glasses frames offer a unique blend of style, personality, and fashion-forward thinking. Here are a few reasons why you should consider adding a pair to your collection:
They're Eye-Catching: Red is a color that immediately draws the eye. Wearing red glasses frames can make you stand out and let your personality shine.
They're Versatile: Red glasses frames can pair well with a variety of different outfits and styles. You can wear them with a casual outfit for a pop of color or pair them with a formal outfit for a sophisticated touch.
They're Trendy: Red glasses frames are a popular trend in eyewear fashion. They're a great way to stay current and fashionable.
Choosing the Right Red Glasses Frames for You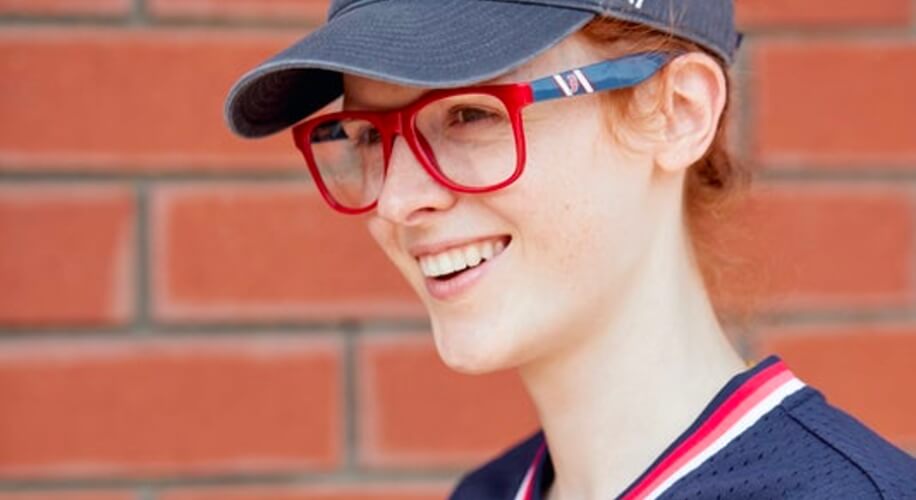 When selecting a pair of red glasses frames, it's important to consider a few key factors to ensure that they suit you perfectly:
Face Shape: The shape of your face plays a critical role in determining the type of glasses that will look best on you. For instance, if you have a round face, you may want to opt for rectangular or square frames. On the other hand, if you have a square face, round or oval frames may be a better fit.
Complexion: Your skin tone can also influence how well a pair of red glasses frames suits you. For those with warmer skin tones, a darker shade of red may be ideal. Those with cooler skin tones may find that lighter or brighter reds are more flattering.
Personality: Red glasses frames are a bold choice, and they should reflect your personality. If you're outgoing and love to stand out, a brighter shade of red might be a good choice. If you're more reserved, you might opt for a more subdued or darker red.
Top Red Glasses From Zenni
Red Square Glasses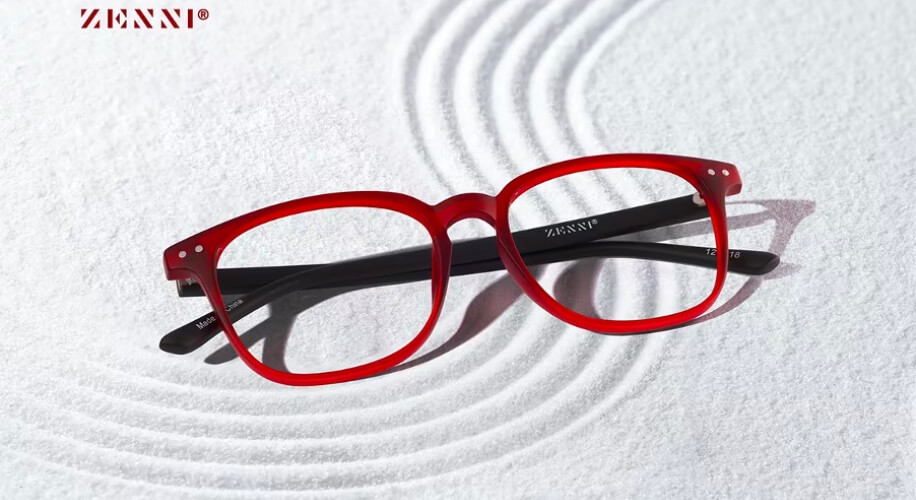 These square eyeglasses serve up plenty of style, comfort and value. The wide frame comes in three glossy color options and two matte options: black/brown pattern with multi-colored temple arms; clear with translucent tortoiseshell arms; tortoiseshell with translucent teal arms; matte translucent red with black arms and matte navy with tortoiseshell arms.
Red Browline Glasses
This retro browline style looks as fresh today as it did when it first arrived on the scene more than 50 years ago. The wide frame works equally well for hip, everyday glasses or sunglasses. It is available in the following colors: clear, black, white, tortoiseshell, red, and orange cream, with gold metal rim.
Red Metal Glasses
These stylish square glasses have a classic shape with a modern edge. The medium-sized frame is available in shiny rose gold, shiny red, satin purple, and matte black. Adjustable nose pads provide a comfortable fit.
Red glasses frames are a stylish and versatile choice for making a bold statement with your eyewear. Whether you seek eye-catching appeal, a trendy fashion accessory, or a way to reflect your personality, red frames offer a wide range of options. With Zenni's red glasses, you can effortlessly add a pop of color and style to your eyewear collection.

Dr. Sophia Moh, OD, is an optometrist based in the Bay Area, California. She holds a doctorate from UC Berkeley School of Optometry and has worked in various eye care settings, including primary care optometry, general ophthalmology, community health clinics, and Veterans Affairs. Dr. Moh is dedicated to improving global vision health by making high-quality, affordable eyewear accessible to all. She is also a certified American Board Optician (ABO) and actively contributes to optical education through training and lectures.