Personalized Eyeglasses with Custom Engraving: A Unique Holiday Gift Idea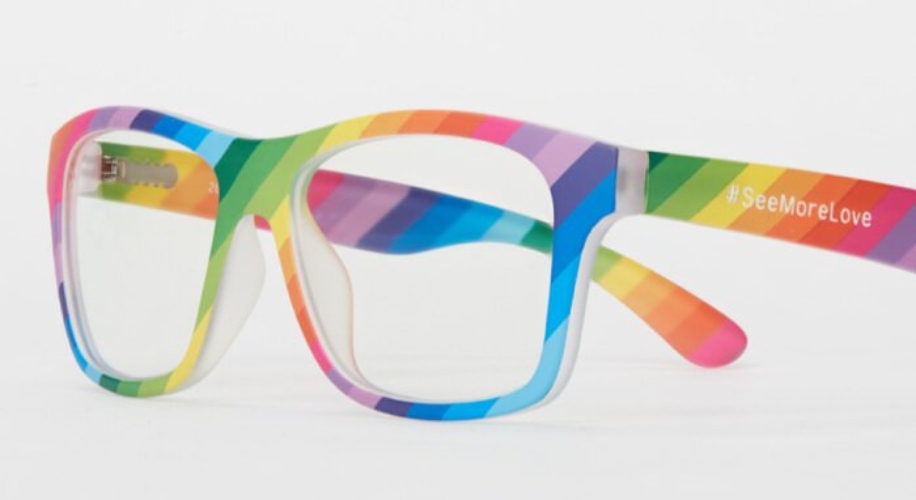 With the holiday season just around the corner, you're likely on the lookout for the perfect gifts to express your love and appreciation for your dear ones. This year, why not consider something truly distinctive and heartfelt? Custom eyeglasses with engraving have emerged as a fashionable trend in eyewear, allowing you to infuse a personal touch into your eyeglasses. Zenni Optical, renowned for its extensive selection of stylish and budget-friendly eyewear, offers you the option to add personalized engraving to your frames.
Reasons to Customize Engraving for Glasses
Show Your School Spirit:
Whether you're an alumnus or a dedicated sports fan, proudly display your school spirit with custom frames. Engrave your school's name, graduation date, mascot, or even your fraternity/sorority's Greek letters on the temples to stylishly represent your alma mater.
Label Kids' Frames:
For parents, keeping track of your child's glasses can be a challenge. Engraving your child's name or initials on the temple arms adds a personal touch and helps identify their glasses if misplaced during playdates or at school.
Show Your Favorite Saying or Mantra
Start your day on a positive note by engraving your favorite saying or motivational mantra on your eyeglasses. Phrases like "I am enough," "Love is love," or "You've got this" serve as daily reminders of strength and positivity.
Boost Your Gamertag:
Gamers can personalize their eyeglasses with their gamertag on the temple arms. Choose from a variety of fonts and colors to make your frames stand out and protect your eyes during extended gaming sessions with Zenni's Blokz blue light blocking lenses.
Create A Wedding Keepsake:
Enhance your wedding day by matching your frames to your attire and engraving them with your partner's initials, wedding date, or your chosen wedding hashtag. Engraved sunglasses make thoughtful gifts for bridesmaids and groomsmen.
How to Order Custom Engraved Glasses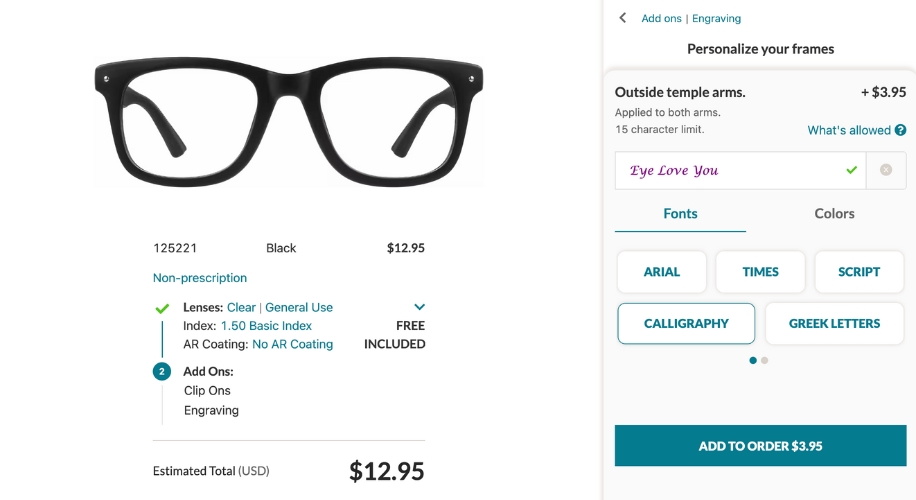 Find an Engravable Frame: When browsing for glasses, use our filter option. Look for "Extra Features" and select "Engraving." Alternatively, you can directly access the engravable frames here.
Select Your Lenses: Choose the lenses that suit your vision needs.
Personalize Your Frame: Depending on your frame selection, you can opt for inside engraving, outside engraving, or both. Inside engraving on the right temple arm is available for just $1.95, outside engraving on both temple arms for $3.95.
This holiday season, surprise your loved ones with custom eyeglasses featuring unique engraving that perfectly resonates with their individuality and style. Beyond stylish eyewear, you'll be gifting them a meaningful keepsake to cherish. Explore the world of personalized eyeglasses at Zenni Optical and make this holiday season a memorable one.

Dr. Sophia Moh, OD, is an optometrist based in the Bay Area, California. She holds a doctorate from UC Berkeley School of Optometry and has worked in various eye care settings, including primary care optometry, general ophthalmology, community health clinics, and Veterans Affairs. Dr. Moh is dedicated to improving global vision health by making high-quality, affordable eyewear accessible to all. She is also a certified American Board Optician (ABO) and actively contributes to optical education through training and lectures.