Adding a Fun Twist to Your Style with Rainbow Sunglasses
Who said eyewear has to be boring? With the wide variety of styles and colors available today, your glasses can become an essential part of your personal style. One trend that has been gaining quite some popularity recently is rainbow sunglasses. When you get rainbow sunglasses from Zenni, not only do they offer the necessary protection for your eyes against harmful UV rays, but they also bring an element of fun, boldness, and creativity to your outfit. Let's dive in and explore how you can spice up your style with these vibrant shades.
The Charm of Rainbow Sunglasses
Have you ever wanted to add a splash of color to your everyday look? Rainbow sunglasses might be the perfect accessory for you. With their vibrant hues and unique patterns, these glasses are a sure way to stand out from the crowd and express your individuality.
Here are a few reasons why rainbow sunglasses have become a popular choice:
Fun and Playful: The colorful lenses can instantly uplift your mood. They are perfect for beach trips, music festivals or any casual day out.
Versatile: These sunglasses can match with a variety of outfits. You can pair them with monochrome outfits to add a pop of color or with colorful clothing to create a harmonious look.
Fashion-Forward: Rainbow sunglasses are not only functional, but they are also a bold fashion statement. They are a great way to show off your adventurous and creative side.
Top Rainbow Sunglasses
Castro Sunglasses
As part of our collection honoring those who are Faithful to The Bay, show your pride with this limited-edition rainbow style. The wide frame is perfect for festive sunglasses or attention-getting glasses. The look is made with lightweight yet sturdy TR90 plastic with a modern matte finish.
Uptown Glasses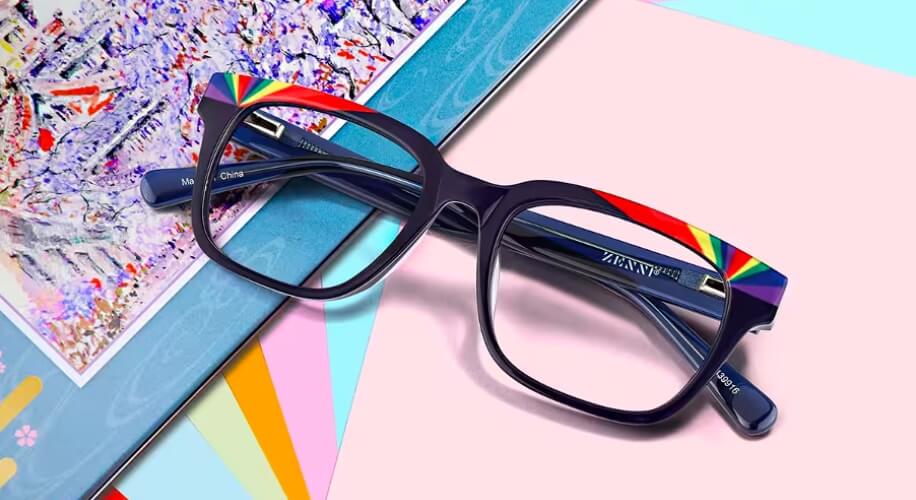 These colorful square glasses are great for anyone who wants to show their pride or just have fun with their eyewear. Ideal for glasses and sunglasses, the medium-wide acetate frame is dark blue with rainbow accents on the upper rim. Spring hinges provide a comfortable fit.
Rainbow Browline Clip On Sunglasses
You don't have to settle on just one color in these stylish browline glasses. The gold frame features a vibrantly-colored browline and temple arms with a hint of sparkle. For added comfort, the look is fitted with adjustable nose pads.
Shop Rainbow Browline Clip On Sunglasses
Rainbow sunglasses from Zenni offer a delightful twist to your style, bringing a burst of color and playfulness to your everyday look. These shades not only protect your eyes from UV rays but also add a dash of creativity and individuality. Whether you're heading to the beach, a music festival, or just a casual day out, these fun and versatile sunglasses are the perfect accessory to make a bold fashion statement and showcase your adventurous side. Explore Zenni's top rainbow sunglass options like the Castro Sunglasses, Uptown Glasses, and Rainbow Browline Clip On Sunglasses to enhance your style and express your unique personality.
Shop Zenni's Rainbow Glasses Collection

Dr. Sophia Moh, OD, is an optometrist based in the Bay Area, California. She holds a doctorate from UC Berkeley School of Optometry and has worked in various eye care settings, including primary care optometry, general ophthalmology, community health clinics, and Veterans Affairs. Dr. Moh is dedicated to improving global vision health by making high-quality, affordable eyewear accessible to all. She is also a certified American Board Optician (ABO) and actively contributes to optical education through training and lectures.