Heart Sunglasses: A Fun Fashion Statement
Whether you're putting the finishing touches on your summer outfit or looking to make a bold fashion statement, heart sunglasses are a perfect choice. This retro-inspired eyewear design brings a fun, flirty vibe to any ensemble and keeps your eyes protected in style.
Why Heart Sunglasses?
Heart sunglasses became a fashion staple in the 1960s and were popularized by celebrities and fashion icons. Since then, they've remained an enduring choice for those looking to convey playful style and personality in their wardrobe. However, selecting the best heart sunglasses requires a little more consideration than just picking the cutest pair you come across. Here are a few reasons why you should consider heart sunglasses:
Fashion Statement: Heart sunglasses are an easy way to add a fun, vintage flare to your look. They are available in a variety of colors and styles, including pink sunglasses and rainbow sunglasses, making it simple to match your personal style.
Eye Protection: Just like other sunglasses styles, heart sunglasses can be fitted with lenses that provide UV protection. Opt for polarized lenses to reduce glare and enhance visual clarity.
Our Top Heart Sunglasses Picks
Black Heart-Shaped Glasses 4420221

Rainbow Heart-Shaped Glasses 2029929

Kids' Heart-Shaped Glasses 4420118
Customize Your Heart Sunglasses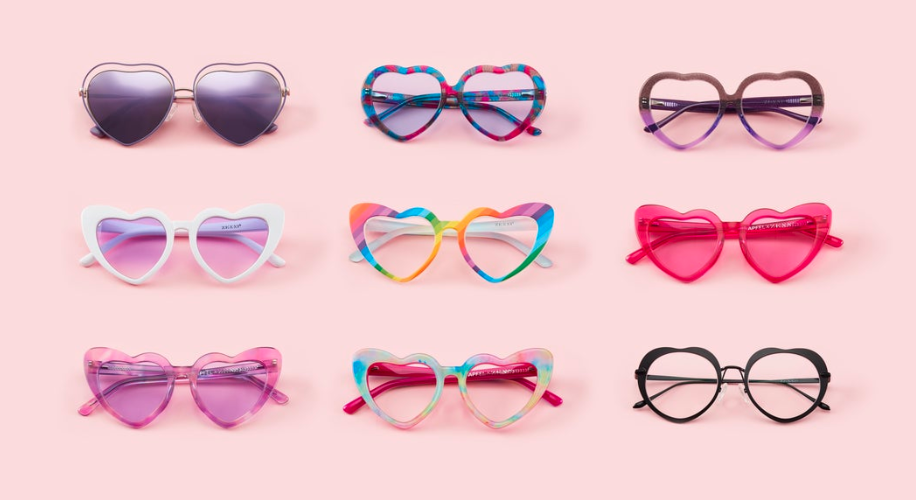 At Zenni, we offer a wide variety of customizable lens options for your heart sunglasses. You can choose from different lens colors and add-ons, such as migraine lenses or blue light blocking lenses for computer use. So, why not add a fun, fashionable pair of heart sunglasses to your eyewear collection today? Not only will you be making a bold style statement, but you'll also be taking a crucial step in protecting your vision.

Dr. Sophia Moh, OD is an optometrist located in Bay Area, California. She completed her undergraduate studies at UC San Diego and earned her doctorate at UC Berkeley School of Optometry. She has experience in a variety of eye care settings including primary care optometry, general ophthalmology, community health clinic, and Veterans Affairs. Her mission is to help the world see better by developing high-quality, affordable eyewear for everyone. She is also a certified American Board Optician (ABO) and provides training and lectures on optical education topics.