American Beauty Star Winner Lucy Garland's Favorite Zenni Styles
If you love glam, then chances are you're a fan of Lifetime's beauty competition series "American Beauty Star." We know that we are (and not just because Zenni was an official sponsor this past season)! Hosted by supermodel Ashley Graham, the series follows a group of hair and makeup artists as they compete in a series of challenges to show off their skills and be crowned the best of the best. Australian Lucy Garland came out on top as the winner of Season 2 of the series. Along with taking home the crown as "American Beauty Star," Lucy also won the opportunity to curate a collection of her favorite Zenni eyewear. Colorful and eclectic, it's aptly named "Don't Hold Back." Much like Lucy's own aesthetic, it's full of sass, style, and color.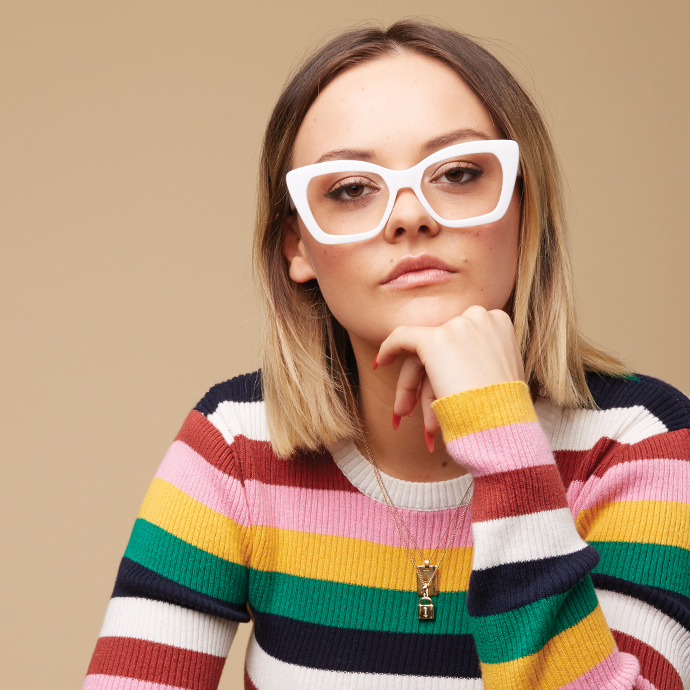 Her 170K YouTube subscribers have fallen in love with her bold, artistic makeup looks. Lucy prides herself on doing everything from head to toe – hair, makeup, costume design, everything.
"'Don't Hold Back' is basically my mantra when it comes to my work. For me it's so important to always go above and beyond, and never hold back no matter what."
Lucy's hand-picked Zenni collection features bright pops of color, geometric shapes, and plenty of fashion-forward style. From vintage-inspired white cat-eyes, to whimsical red heart-shaped sunglasses, and a modern take on the classic tortoiseshell browline with tinted lenses, her picks will leave you wanting to update your eyewear wardrobe ASAP. And if there's one thing that her collection shows, it's that eyewear can be seriously fun!

Modern Take on the Classics
Lucy selected several classic eyewear styles reinterpreted with modern twists. Featured here: round tortoiseshell aviator frames, tortoiseshell half-rim frames with purple tint lenses, and minimalistic rimless frames.
Shop the frames here: /p/round-eyeglass-frames-/78210?skuId=7821039″>7821039, /p/womens-browline-sunglass-frames-/11363?skuId=1136335″>1136335, /p/rimless-stainless-steel-eyeglass-frames-/32127?skuId=3212719″>3212719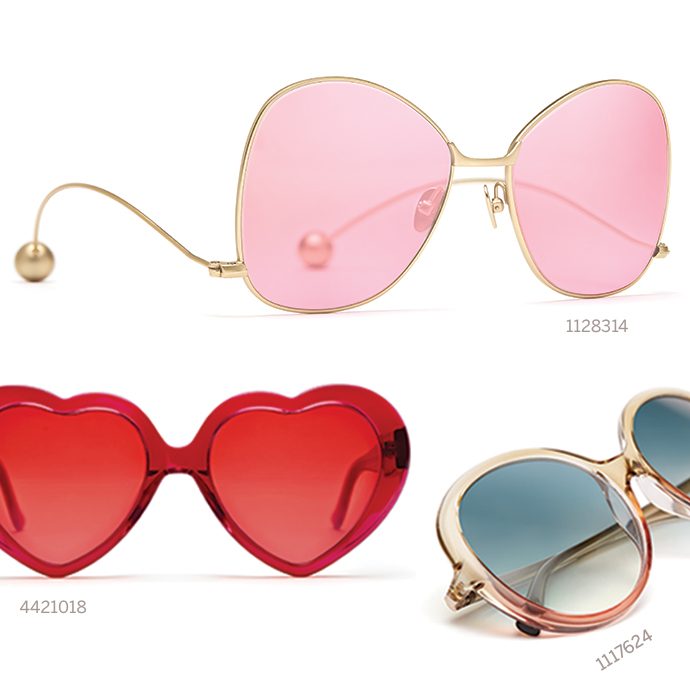 Oversized Frames with a Funky Vibe
Lucy didn't shy away from pairing her favorite oversized frames with colorful tints to create a look that's uniquely her own. Featured here: red heart-shaped frames with red tint lenses, gold geometric sunglasses with pink tint lenses, and round sunglasses in watermelon.
Shop the frames here: /p/womens-stainless-steel-geometric-eyeglass-frames-/11283?skuId=1128314″>1128314, /p/prescription-heartshaped-eyeglass-frames-/44210?skuId=4421018″>4421018, /p/womens-tr-round-sunglass-frames-/11176?skuId=1117624″>1117624
Sunglasses in Geometric Shapes
Lucy incorporated sunglasses in geometric shapes featuring striking angles and plenty of on-trend style. Featured here: exaggerated green acetate sunglasses, angular black sunglasses, and narrow gold sunglasses.
Shop the frames here: /p/womens-other-metal-cat-eye-sunglass-frames-/11209?skuId=1120914″>1120914, /p/womens-tr-geometric-eyeglass-frames-/20260?skuId=2026021″>2026021, /p/womens-tr-cat-eye-sunglass-frames-/11179?skuId=1117934″>1117934
Cat-Eye Inspired Shapes
A good cat-eye never goes out of style, and Lucy made sure to include several versions of the timeless shape. Featured here: white cat-eye frames with purple tint lenses, retro pink monochromatic cat-eye frames, and oversized red cat-eye frames with matching red lenses. Shop the frames here: /p/womens-tr-cat-eye-eyeglass-frames-/20256?skuId=2025619″>2025619, /p/tr-cat-eye-sunglass-frames-/11109?skuId=1110918″>1110918, /p/womens-tr-cat-eye-eyeglass-frames-/20257?skuId=2025730″>2025730
Shop Lucy's Zenni pick sand make sure to tag your looks with #myzennis.