Spring Trends: Add Color With These New Spring Styles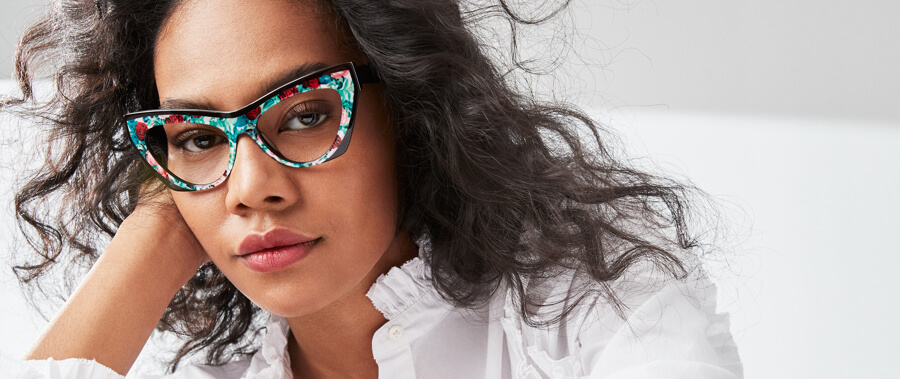 Spring is officially here and already things are looking brighter. The arrival of a fresh new season means the arrival of fresh new trends too. Below are our favorites to help you get your eyewear wardrobe ready for more color, more time outside, and more fun!
Exaggerated Florals
True, florals for spring are nothing new. But exaggerated florals – these are a look you're going to want to know. Think oversized glasses, bold colors, and bright floral patterns all combined to create the perfect pair of statement glasses.
[sp_wpcarousel id="66439″]
/search?keyphrase=floral">Shop floral frames.
Round Pastels
Bold not exactly the look you're going for? No problem! Get ready to add some (understated) punch to your look with these round frames in pastel blues, pinks, and purples. Try them with tinted lenses for a fresh pair of sunglasses.
[sp_wpcarousel id="66445″]
/b/new-arrivals/Frame-Shape-Round/_/N-766053214?sizeOrder=1234510000″>Shop round pastel frames.
Metal Mania
You don't need to be in a heavy metal cover band to appreciate these stainless steel and titanium frames. Each metal silhouette has been accented with soft spring colors to create the perfect mix of sweet and spicy.
[sp_wpcarousel id="66451″]
/b/new-arrivals/Material-Titanium/Material-Memory-Titanium/Material-Stainless-Steel/Material-Other-Metal/_/N-1036707440+795980648+622667079+3865691940″>Shop colored metal frames.
Safe & Sporty
That's right, sport and safety glasses are trending right now. If you thought the wrap-around style wasn't right for you, it may be time to think again. Protecting your eyes has never looked this good.
[sp_wpcarousel id="66457″]
Shop /b/sports-glasses">sport and /b/safety-glasses">safety glasses.
Want to see more of Spring's top trends? /b/new-arrivals">Shop our new arrivals for a pair that's perfectly you.
Feeling overwhelmed too many options? Take our face shape quiz to find out what frame styles complement your face.