Holiday Looks You'll Love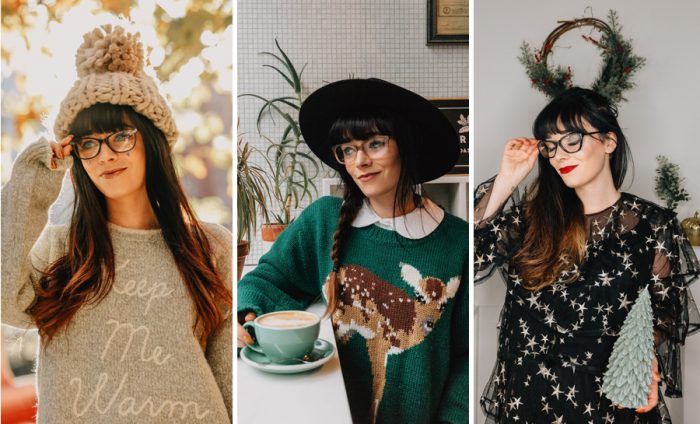 Glasses are such a big part of many people's daily lives, including my own. Therefore I am always very choosy about which frames I wear and how they go with my look. For the holidays, Zenni has so many amazing frame choices that are bold and sparkly! Choosing a frame for each holiday look was so much fun!
I chose three different Zenni frames to accent three different makeup looks.
Holiday Glam
For this make up look I did a glossy shimmer lip and added extra silver glitter to give it a stand out shine. I paired it with these /p/womens-acetate-cat-eye-eyeglass-frames-/44363?skuId=4436316″ target="_blank" rel="noopener">Zenni cat-eyes that have a touch of glitter on the corners. I loved how bold these frames are! I didn't have to go too crazy with the outfit for that reason. Sometimes it's good to let a bold pair of glasses like these speak for itself! To really give it the extra holiday touch, I added two silver stars to my cheeks. Wearing lighter muted tones really gives this look a bright, almost snowy/wintry feel.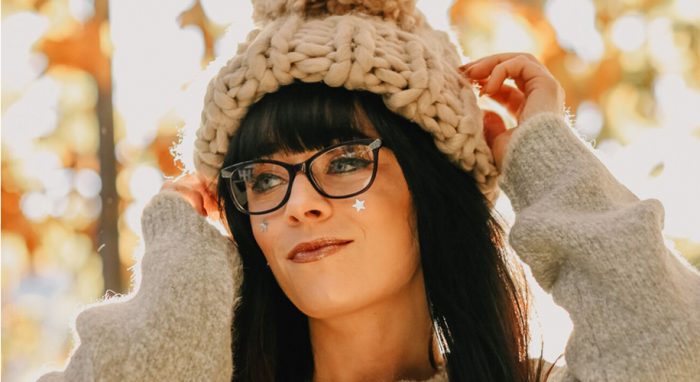 Holiday Party
A bold red lip is a must for me when it comes to holiday parties! I spiced up my everyday cat-eye liner with a deeper shadow that has a hint of green. Shadow can really take the look from day to night when it's time to party, which can be especially great for those going to parties straight from work. I paired this /p/womens-acetate-cat-eye-eyeglass-frames-/44291?skuId=4429121″ target="_blank" rel="noopener">black sparkly cat-eye frame with this star dress to complete the look! These Zenni glasses are probably my favorite because I typically go for a bold black frame. These can also pair with a variety of different looks easily.
Cute & Natural
For this look I wanted to give an example of more toned down holiday style using nudes. This look is perfect for more relaxed holiday dinners with the family. I used a gold eyeshadow and a nude lip to go with this glittery /p/womens-acetate-cat-eye-eyeglass-frames-/44344?skuId=4434415″ target="_blank" rel="noopener">brown-to-tan Zenni frame. I love switching it up from my usual black everyday frames to these! The brown frames really allow for the makeup to shine through, plus they have a really fun gradient! The deer sweater was the final holiday touch for this look. I could also see this look being a hit for an office party or a sweater holiday party!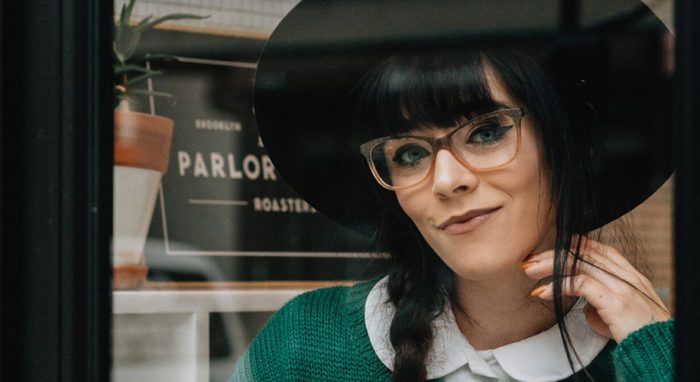 It's so fun to play with makeup and glasses, and see how it all ties together. I just love how glasses frame the eye and truly complete so many outfits. Even if you don't wear prescription glasses, I recommend playing with some non-prescription ones! Eyewear is one of my favorite accessories, especially these three perfect frames from Zenni!
Rachel-Marie Iwanysyzn is a blogger based in New York City. You can follow her obsessions with art, photography, home renovation, fashion, beauty, and travel on her blog Jag Lever.