New Collab: Planet CB by Coco and Breezy X Zenni
New launch alert! Zenni has partnered with Twin DJs/producers and premium eyewear designers Coco and Breezy (yes, the same Coco and Breezy who designed Prince's famous "third eye" sunglasses) on Planet CB by Coco and Breezy X Zenni, a capsule collection of eyewear for conscious kids. This is the first time we've partnered with another eyewear brand and we could not be more excited!
Meet Coco And Breezy
Corianna and Brianna Dotson (aka Coco and Breezy) are twin sisters who seem to do it all. In addition to starting Coco and Breezy Eyewear in 2009 when they were just 19, they're entrepreneurs, producers, DJs, visual artists, and co-hosts of "Wonderama" a weekly variety TV show for kids. It's safe to say that these two live a life of positivity, so partnering with them on a children's eyewear line that inspires inclusion and celebrates differences was the perfect fit.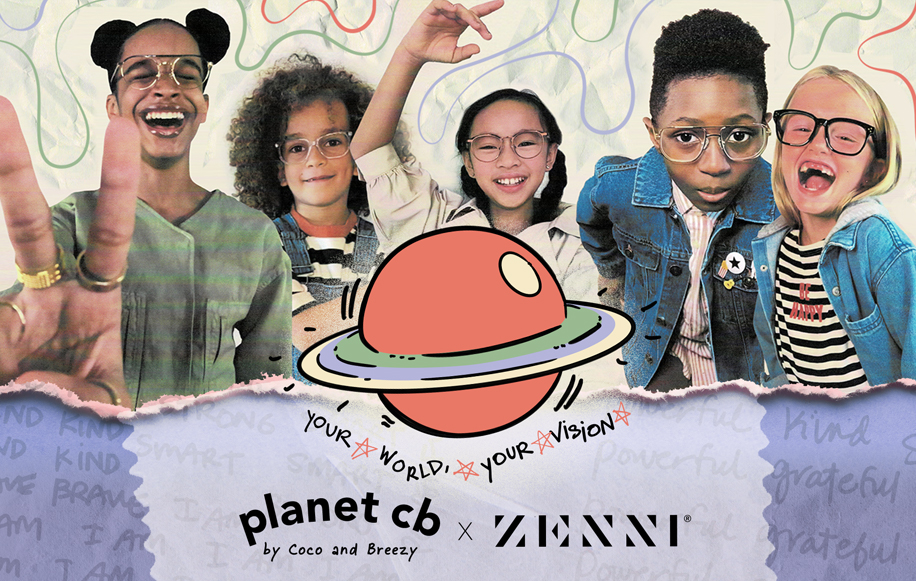 Welcome to Planet CB
If you had to wear glasses as a kid, you may remember not wanting to stand out and look different from everyone else. Today's kids want glasses that express who they are. Planet CB by Coco and Breezy X Zenni is all about individuality, positivity, self-expression, and helping kids embrace all of the unique traits that make them awesome. Planet CB is the place for kids to  express themselves with positivity and style, and find glasses as unique as they are. And at a time where back-to-school plans are uncertain — are they going back to school or back to screen? – each style gives kids exactly what they need to excel in and out of the classroom.
Coco and Breezy partnered closely with Zenni to make sure the unique style of each pair of glasses in the collection and the message behind them would encourage kids to break free from the norm. They took every small detail into consideration, from the design to the names, to make sure kids feel empowered and inspired. 
One of our favorite details about the Planet CB collection is that each of the 8 frame styles is named with an affirmation, including I Am Positive, I Am Powerful, and I Am Strong. Another personal touch  is the vibrant colorful lens cloth that comes inside the protective case.  Every Planet CB glasses order will also come with a unique bookmark for kids to write their own inspirational affirmation. The intention is  to make the entire experience empower kids.
Shop Planet CB by Coco and Breezy X Zenni.
Giving Back
The mental health and well-being of children, especially in today's climate, is something that Coco and Breezy and Zenni are very  passionate about. As we enter an unprecedented school year, we believe this cause has become even more critical. Together with Coco and Breezy, Zenni is donating a portion of the proceeds from Planet CB purchases to Child Mind Institute's Healthy Brain Network, to ensure that youth of Black communities have greater access to mental health services and resources. The funds will contribute to a landmark study to understand mental health in children around the world. Read our blog here to learn more about the Child Mind Institute and their work.
Getting To Know Coco and Breezy
To better get to know the women behind the eyewear, we had them answer a few questions for us.
Your Best Friends Would Describe You As:
Something Unique About You: 

Your Favorite Activity Is:
Something That Embarrassed You When You Were Little That You Think Is Cool Now:
Something You Wish You Could Do:

If You Were A Song You Would Be:
A Feeling You Have Right Now Is:

A Hope You Have For the World Is: