Premium Eyewear Collection: The Lowdown on our High-End Frames
If you're familiar with Zenni Optical, you know that we're committed to offering high quality glasses without the typical high price tag you see elsewhere. In fact, it's one of the core concepts behind our motto of "Eyewear for Everyone." That's all the more true with the introduction of our Premium Eyewear Collection, a new offering of refined glasses frames that unite our expertise in cutting-edge craftsmanship with our dedication to unique, striking designs intended to help you express your style in uncompromising fashion.
Inside the Premium Eyewear Collection
No single style defines our new premium glasses collection. We wanted to make sure there was something for everyone, from those who like vintage flair to those who embrace modern minimalism. Whether you prefer sophisticated rectangle glasses, bold square glasses, sleek cat-eye glasses or playful heart-shaped glasses, you'll find a frame that complements your individual features and enhances your personal style. If you're already a fan of any of these glasses shapes, what you'll see in the Premium Eyewear Collection are interpretations of those shapes that have a little something extra. In addition to the exceptional quality materials used to craft this collection, we've pushed the limit of cutting-edge glasses manufacturing techniques to bring you styles you've never seen at Zenni Optical before, much less anywhere else. Read on to learn more!
Dual Injection Acetate Frames
We're going to get technical for a moment here, so bear with us. Many glasses are made from a plastic called acetate that is renowned for both its versatility and luster. For the Premium Eyewear Collection, we've combined hand craftsmanship with innovative manufacturing techniques, including dual injection acetate, which involves injecting two different colors of acetate into a single frame, creating a mesmerizing layered effect. The colors are fused seamlessly, ensuring your glasses maintain their shape and their good looks over time. There's no way for the pattern or colors to rub off because they are an integral part of the structure of the frames.
To add extra dimension and detail to these glasses, after they have been formed and polished, we use a high-tech method of computer-controlled milling to carve and engrave the frames, adding depth to the contours on top of where the various colors and patterns of acetate meet. Call it the finishing touch on an already exceptional blend of meticulously curated materials and  forward-thinking glasses design. The combination of hand crafting, dual injection and computer-controlled milling allows us to create one-of-a-kind glasses designs that can't be manufactured any other way. The more you wear your new glasses, the more you'll appreciate the precision craftsmanship and one-of-a-kind style.
Stainless Steel and Acetate Frames
Teamwork makes the dream work, and that's definitely true when acetate and stainless steel come together to form some of our newest premium glasses options. The acetate fronts of the glasses are complemented by meticulously crafted metal, which adds a touch of refinement and structural integrity to the eyeglasses. We use stainless steel specifically in our frames because it's durable, corrosion resistant and lightweight. Combining it with acetate allows us to add multiple colors and expressive forms to our designs, broadening the type of styles we can offer while optimizing glasses comfort and durability. Not to mention, acetate and stainless steel frames offer the perfect balance of sleek structure and bold shapes.
A Closer Look at the Details
Take some time to browse through the Premium Eyewear Collection and you'll start to see more of the small touches that make this collection of glasses unique. For example, bold multi-color cat-eye glasses fit for a mermaid with their wavy stainless steel temple arms, each encrusted with a single pearl. Or how about modern geometric glasses with frames encased in solid tortoiseshell acetate, accented with clear honey-tone acetate, for a style that is distinct and multi-dimensional. Or perhaps large bold round glasses, made from two colors of exquisitely fused acetate, balanced with slim, elegant stainless steel temple arms.
Why Choose Premium Glasses?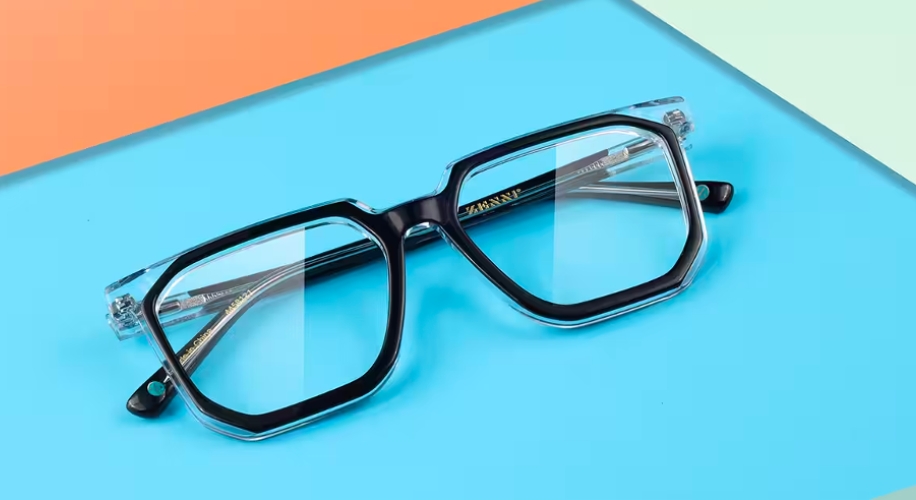 We've been in the eyewear business for a while now (20 years!) and we know that while some people view their glasses as a practical necessity (which they absolutely are), there are plenty of others for whom glasses are an important personal style statement. But sometimes it can be hard to find fresh, unique glasses designs that are also made to be customized. With the Premium Eyewear Collection, we've put our expertise to work to unite artistic styles with reliable craftsmanship and durability, so you can trust that no matter which frames you choose, you will benefit from our commitment to quality and the flexibility to tailor your glasses to your vision needs.
Truly Versatile Glasses
The versatility of the Premium Eyewear Collection goes beyond the exceptional materials and leading-edge craftsmanship used to create them. As with many of our frames, all the new arrivals in this collection can be customized, meaning you can use them as your everyday prescription glasses, progressives, prescription sunglasses, non-prescription sunglasses, Blokz® blue light blocking glasses and so much more. For sunglasses, try adding a fashion tint that complements the multiple colors in the dual injection acetate styles, such as these cat-eye glasses. Or, add a striking mirror tint these aviator glasses. Whichever frames you choose, we encourage you to explore all the possibilities and customize your perfect premium glasses.