Riverdale Style: Our Favorite Glasses from the Hit Show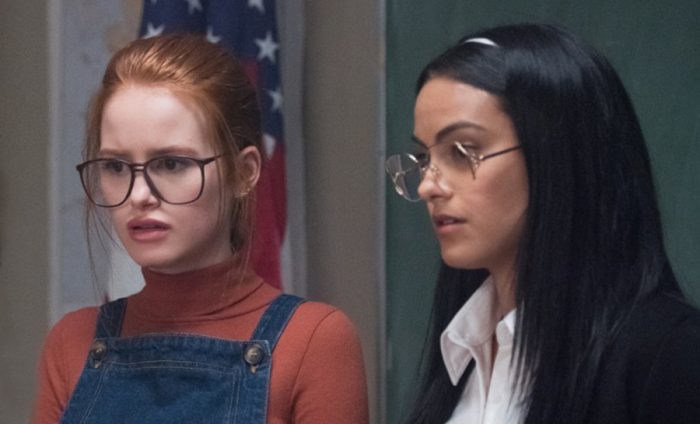 Based on the classic Archie Comics, the CW's "Riverdale" is as popular for the fashion and eyewear worn by its iconic characters as it is for suspense-filled plotlines. The unique style of each character, from Jughead's beanie (an updated version of the original character's crown hat) to Cheryl Blossom's signature red, has become a focal point of the show. Each week, fans tune in to see what their favorite characters are wearing and then recreate their own "Riverdale"-inspired outfits.
One common theme that we couldn't help but notice was how many of the characters wear signature glasses. As a tribute to our favorite old-school comic book turned hit TV show, we found matching Zenni styles to go with our favorite eyewear looks from the show.
Riverdale Characters and Their Eyewear
Veronica Lodge Wearing Round Frames
The girlfriend of Archie Andrews and leader of the band Veronica and the Pussycats, New Yorker Veronica (played by Camila Mendes) has an upscale look that includes plenty of jewel tones. One thing she is never without: her signature round black glasses. We also think Veronica would be a knockout in our round acetate frames.
Shop recommended frames: /p/round-eyeglass-frames-/78018?skuId=7801821″>Round Glasses 7801821, /p/round-eyeglass-frames-/78184?skuId=7818431″>Round Glasses 7818431
Cheryl Blossom Wearing Oversized Sunglasses
The show's queen bee, Cheryl (played by Madelaine Petsch) has big style to match her big personality. Red is her signature color, and we dare you to find her in an outfit that doesn't include the fiery hue. Cheryl loves to sport oversized shades, and we think she would make a style statement in our large red sunglasses.
Shop recommended frames: /p/round-sunglass-frames-/11305?skuId=1130521″>Premium Round Sunglasses 1130521, /p/womens-round-sunglass-frames-/11320?skuId=1132018″>Premium Round Sunglasses 1132018
Miss Grundy Wearing Rectangular Glasses
As Riverdale's music teacher, Miss Grundy (played by Sarah Habel) is as well-known for her good looks as she is for her no-nonsense attitude. Her style includes plenty of prints, such as polka dots and florals, paired with her rectangular black glasses. We also think Miss Grundy would look great in our heart-shaped glasses, since she once wore a similar pair on the show.
Shop recommended frames: /p/mens-plastic-rectangle-eyeglass-frames-/20106?skuId=2010621″>Flexible Black Rectangular Eyeglasses 2010621, /p/prescription-heartshaped-eyeglass-frames-/44202?skuId=4420218″>Heart-Shaped Glasses 4420218

Dilton Doiley Wearing Round Glasses
Dilton (played by Major Curda) is the leader of Riverdale's local scout troop and Archie's classmate. His scout uniform isn't his only style namesake; the school smartypants is also known for wearing thick round glasses. We think our large rectangle frames would be a perfect match for Dilton.
Shop recommended frames: /p/acetate-round-eyeglass-frames-/44207?skuId=4420721″>Thin Acetate Round Eyeglasses 4420721, /p/acetate-plastic-rectangle-eyeglass-frames-/1250?skuId=125021″>Rectangle Eyeglasses 125021

Alice Cooper Wearing Square Frames
As Betty's lovable mother, Alice Cooper (played by Madchen Amick) has the wholesome wardrobe to match her sweet personality. Throughout the show, she can be found wearing a range of eyewear, but her go-to style is a pair of square glasses. We'd love to see Alice in a pair of our navy rectangle frames as well.
Shop recommended frames: /p/tr-rectangle-eyeglass-frames-/20207?skuId=2020715″>Rectangle Glasses 2020715, /p/tr-rectangle-eyeglass-frames-/20207?skuId=2020718″>Rectangle Glasses 2020718