Safety Glasses: Protecting Your Eyes At Work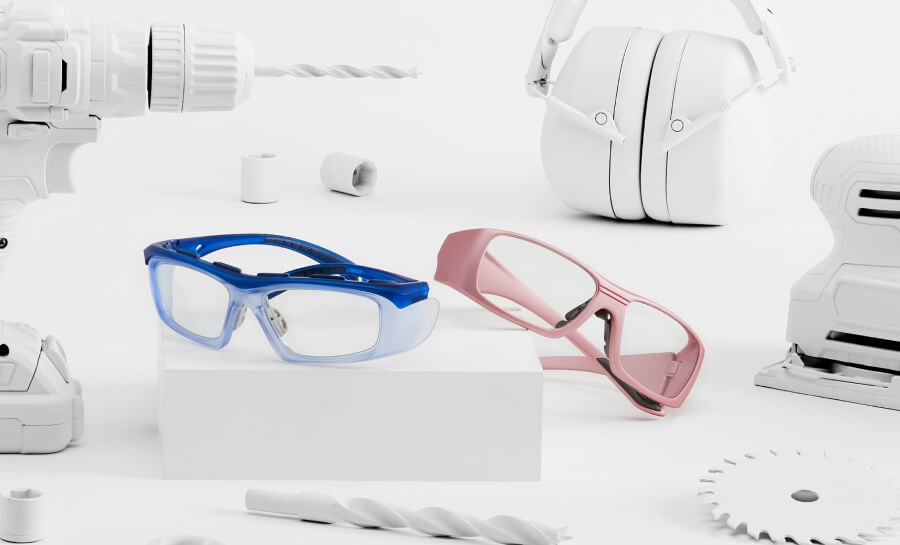 Eye injuries in the workplace are more common than many of us may think, especially in environments where there are potential eye hazards. That's why experts and eye doctors recommend wearing the right eye protection to prevent common eye injuries.
The Occupational Safety and Health Administration (OSHA) requires employers to provide  protective safety eyewear when employees are exposed to flying particles, molten metal, liquid chemicals, acids or caustic liquids, chemical gases, vapors, and light radiation.  OSHA's requirement for eye protection, adopted in 2015, is the American National Standards Institute (ANSI) standard for personal eye and face protectors, commonly referred to as ANSI Z87.1. Zenni offers  OSHA required ANSI Z87.1 Safety Glasses in single vision and multifocal options. Read on to learn more.
What Are ANSI Z87.1 Safety Glasses
ANSI Z87.1 was created to protect eyewear users from hazards such as impact, optical radiation, liquid splash, dust, and fine particles.  This standard covers all types of protective eye equipment, including eye glasses, safety goggles, face shields, welding goggles, welding masks, and more.  Although ANSI Z87.1 safety glasses may look like normal eyewear, they're designed to provide significantly more eye protection by featuring frames and lenses that are much stronger than regular glasses
Under ANSI Z87.1, safety glasses are rigorously tested to ensure they comply with strict regulations for frames and lenses. Frames need to meet criteria for high velocity and high mass impact ratings.  The standard also ensures that frames do not ignite, corrode and lenses do not shatter under the specified limits. Typically, ANSI Z87.1 safety lenses are available in impact-resistant polycarbonate and Trivex™ materials, which must meet or exceed the minimum requirements for protecting your eyes.
How To Identify ANSI Z87.1 Safety Glasses 
How do you know if your safety glasses meet the ANSI Z87.1 standards? Look for specific markings on the lenses and frame that  indicate they're impact rated (high-mass impact and high-velocity impact). If the safety glasses are non-prescription plano eye protectors , they'll be marked with "Z87". If the frames carry prescription lenses you will find more markings such as  "Z87-2+" on the temple and inside front of the frame.
ANSI Z87.1 safety glasses  may also come with  impact resistant  lenses, such as polycarbonate or Trivex.  These lenses will be marked with the manufacturer name and  the "Z87-2+" symbol. For example, Zenni's impact resistant lenses are  engraved with  the "Zenni Z87-2+" markings on the upper corner.
If you're  still unsure that your safety glasses comply with the ANSI Z87.1 standard, go ahead and request the test results from the manufacturer of the glasses.

Zenni ANSI Z87.1 Safety Glasses
Zenni  offers affordable ANSI Z87.1 prescription safety glasses with impact resistant lenses, scratch protection, 100% UV protection, and advanced anti-reflective coating. Our  safety glasses also include  specific  features designed to give you maximum protection against dust, dirt, and flying particles.
Prescription lenses are available in single vision or progressives, with the option for Blokz blue light blocking lenses and/or sunglasses.  Since we want you to look good while staying protected, Zenni's ANSI Z87.1 safety glasses come in a range of style options, such as classic metal aviators and sleek and stylish durable plastic. Our frames are also available  in a range of sizes,  from slim to extended fit.
Head to Zenni to pick out your next pair of safety glasses to keep eyes protected while on the job.