Cat Eye Sunglasses: A Timeless Icon of Vintage Elegance and Modern Glamour
There is something undeniably alluring about the vintage aesthetic, particularly when it comes to eyewear fashion. One style that has stood the test of time, swiftly surfacing as a staple in women's fashion, is cat eye sunglasses. These iconic frames, characterized by their upswept angles and bold lines, perfectly meld retro charm with contemporary sophistication.
A Trip down Memory Lane: The History of Cat Eye Sunglasses
Popularized in the 1950s and 1960s, cat eye sunglasses emerged as a symbol of femininity and style, gracing the faces of iconic actresses such as Audrey Hepburn and Marilyn Monroe. This classic eyewear style embodied the post-war fashion revolution, breaking away from the traditional round frames that dominated the early 20th century.
1950s: The cat eye sunglasses gained popularity amongst Hollywood's elite, adding a whimsical touch to the era's glamorous fashion.
1960s: These frames evolved to become bolder, mirroring the radical social changes and striking fashion trends of the decade.
Now: Cat eye sunglasses remain a favorite choice for those seeking a blend of vintage and modern aesthetics.
The Timeless Appeal of Cat Eye Sunglasses
There is an effortless glamour linked with cat eye sunglasses, they offer a flattering fit for a variety of face shapes, making them a versatile accessory. With an array of designs available, from oversized to minimalistic, everyone can add a touch of retro charm to their look with cat eye sunglasses. The unique angles of cat eye frames accentuate the wearer's facial features, adding definition to the cheekbones and brows. This makes them a great choice for those with round, oval, and square face shapes.
Top Picks for Cat Eye Sunglasses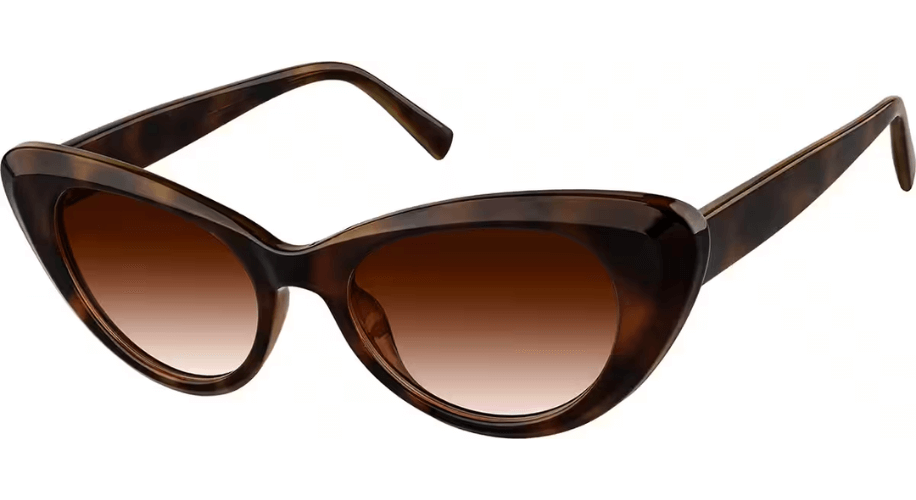 Tortoise Cat-Ey/p/womens-plastic-cat-eye-sunglass-frames/11442?skuId=1144225e Sunglasses 1144225
Transparent Brown Cat-Eye Glasses 4412615

Classic Sleek Cat-Eye Glasses 2025621
Whether you're a vintage lover, a fashion-forward individual, or simply someone who appreciates the timeless appeal of classic designs, cat eye sunglasses can add a classic touch to your style. Embrace the retro charm and make a fashion statement with cat eye sunglasses from Zenni eyewear.

Dr. Sophia Moh, OD is an optometrist located in the Bay Area, California. She completed her undergraduate studies at UC San Diego and earned her doctorate at UC Berkeley School of Optometry. She has experience in a variety of eye care settings including primary care optometry, general ophthalmology, community health clinic, and Veterans Affairs. Her mission is to help the world see better by developing high-quality, affordable eyewear for everyone. She is also a certified American Board Optician (ABO) and provides training and lectures on optical education topics.