Eyewear Touchdown in Style with the San Francisco 49ers
https://youtube.com/shorts/tYOYf6M4jqI?si=ko3HR1dTDlAj82nv
Zenni Optical, renowned for its top-quality eyewear, has joined forces with the San Francisco 49ers as their official eyewear provider, seamlessly merging the realms of football and fashion. Marcelo Sanchez, the acclaimed optician, and Dr. Sophia Moh, Zenni's Optometrist, expertly fitted the San Francisco 49ers players with Zenni eyewear, ensuring both style and functionality were seamlessly integrated. Together, they explored an array of options, including sunglasses, blue light blocking lenses, and FL-41 Migraine Relief lenses, ensuring that each player discovered the perfect eyewear that matched their unique needs.
Nick Bosa, Charlie Woerner, and Ross Dwelley's Premium Aviator Sunglasses
Three 49ers players, Nick Bosa, Charlie Woerner, and Ross Dwelley, opted for Premium Aviator Sunglasses with Flame Red Mirror Tint. These luxurious frames, crafted with advanced edging technology and high-quality materials, offer a subtle curved design and a 90s-inspired aviator shape. The lightweight TR90 plastic frame features spring hinges and rubber nose pads for ultimate comfort.
Explore these premium aviator sunglasses
Talanoa Hufanga's Hayden Glasses from The Kittles x Zenni Collection
Talanoa Hufanga, a rising 49ers star, fell for the Hayden glasses from The Kittles x Zenni Collection, paired with Blue fashion tint lenses for a unique look. These exclusive glasses, with advanced edging technology and premium materials, pay homage to legendary Iowa football coach Hayden Fry. Named after him by 49er and University of Iowa alum George Kittle, these aviator sunglasses offer style and comfort with stainless steel frames, adjustable nose pads, and plastic temple tips.
Discover the Hayden glasses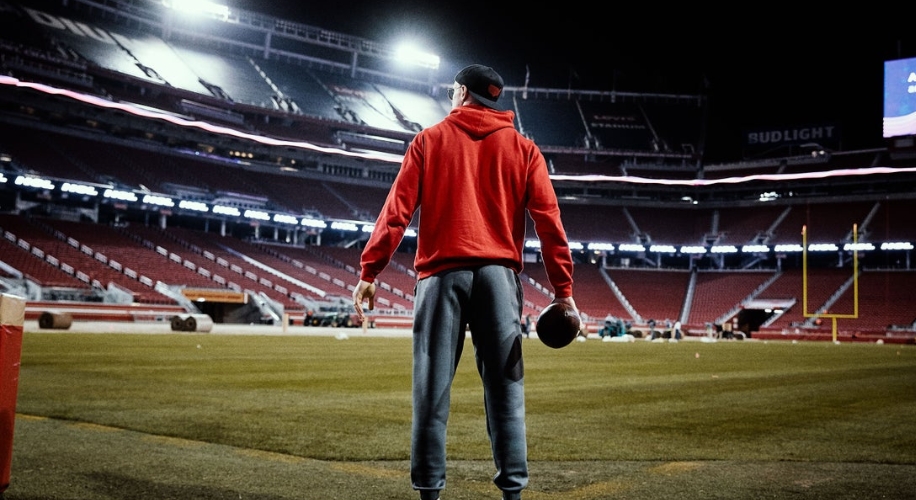 Zenni Optical's collaboration with the San Francisco 49ers marks a stylish touchdown, as players found eyewear that matches their unique style and visual needs. Whether you're a football enthusiast or an eyewear lover, Zenni Optical offers a wide range of options for every taste and lifestyle. Stay tuned for more exciting stories about the perfect fusion of fashion and function, brought to you exclusively by Zenni Optical!
Shop The Kittles x Zenni Collection
Shop The Faithful to the Bay Collection

Dr. Sophia Moh, OD, is an optometrist based in the Bay Area, California. She holds a doctorate from UC Berkeley School of Optometry and has worked in various eye care settings, including primary care optometry, general ophthalmology, community health clinics, and Veterans Affairs. Dr. Moh is dedicated to improving global vision health by making high-quality, affordable eyewear accessible to all. She is also a certified American Board Optician (ABO) and actively contributes to optical education through training and lectures.