Finding the Perfect Pair of Sunglasses for a Round Face
Selecting the right pair of sunglasses is more than just considering fashion trends. It's about choosing a shape and style that complement your face. Round faces, characterized by their equal width and length, soft curves, and less defined angles, call for specific designs to highlight your best features. With the right guidance, you can easily find a pair that flatters your face while protecting your eyes.
Understanding Your Face Shape
First, let's ensure you do have a round face. Visually, round faces are almost as wide as they are long, with fuller cheeks and a rounded chin. The forehead and jawline are less prominent, giving the face a circular appearance. People with round faces, like actress Emma Stone or singer Selena Gomez, often look younger due to their soft features. Now that you better understand round facial characteristics, let's dive into the best sunglasses for you.
Choosing the Right Frame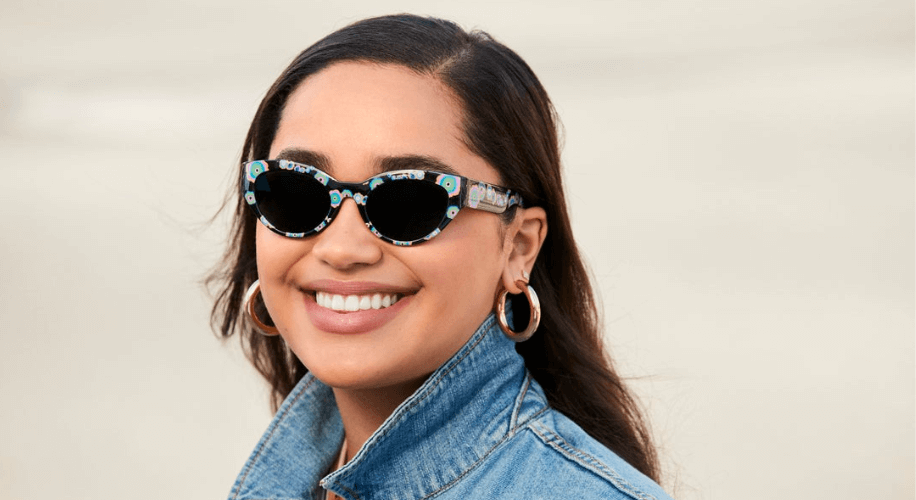 Complement Your Face with Contrasting Shapes
A good rule of thumb when choosing sunglasses for a round face is to opt for frames that contrast with your face shape. Angular frames, like rectangle sunglasses or square sunglasses, can help create a more defined and elongated look. Additionally, oversized or wraparound sunglasses can help slim your face's appearance.
Rectangle and Square Frames: These frames provide a contrast to the roundness of your face. The sharp angles can balance out your soft features and make your face seem longer.
Oversized Frames: These frames can make a round face appear smaller. Just ensure that they're not too large that they overwhelm your face or touch your cheeks.
Wraparound Frames: These frames follow the contour of your face, which can help elongate it.
Styles to Consider
Fashion also plays a big part in your decision. Here are a few style recommendations:
Aviator Sunglasses: The classic aviator sunglasses with their teardrop shape can be an excellent choice for round faces as they help create an illusion of length.
Cat Eye Sunglasses: These frames are wider than they are deep, which can balance a round face. The upward sweep at the corners can make your face appear longer.
Wayfarer Style: This style with its strong brow line can add some definition to your face.
Final Thoughts
While these recommendations provide a guide, the most important factor in choosing a pair of sunglasses is how you feel wearing them. Confidence in your style makes the biggest statement. And remember, sunglasses aren't just a fashion accessory – they also protect your eyes from harmful UV rays. So, choose a pair that you love and that offers the protection you need. Feeling ready to find your perfect pair? Browse through Zenni Optical's wide range of affordable, high-quality sunglasses and find the one that suits your style the best!