Frame Storage — Store-bought Solutions To Inspire You
Whether you find yourself going on one too many searches through your home to hunt down where you left your glasses or you need quick ideas on how to store eyewear, this post aims to help. As a bonus, many of these store-bought storage solutions for glasses could be given as gifts for Father's Day, birthdays or other occasions. We all have different tastes, with some of us liking whimsical or creative ideas and others preferring more traditional storage solutions, but hopefully, you'll find at least one idea that will inspire you to keep an eye out for frame storage that suits your style.
The Nose Has It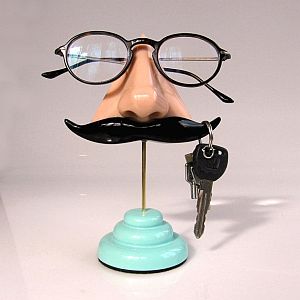 Nose Eyeglasses Holder/Mustache Key Hook    Art Akimbo, Etsy.com    $42.61
A humorous stand to rest a pair of glasses on makes keeping track of eyewear a lot of fun. Something like this could also make an ideal Father's Day gift for a glasses-wearing dad.
Tray Chic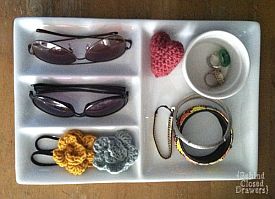 Photo Credits: Behind Closed Drawers.com
 There are oodles of these organizer trays around that can be found inexpensively in department or discount stores. There's no reason any drawer has to look junky anymore! For stowing your glasses, look for compartments about 7″ x 3″ inside the trays — or whatever will best fit your eyewear.
Hold Everything
Waterproof Plastic Eyeglasses Holders   Decorative Things.com   $20 each
These easy-to-wipe-clean eyeglasses-shaped holders offer a cute storage solution for a desktop, nightstand or just about anywhere. Their decorative patterns and colors can add style to your home or office while giving you an easily-remembered place to rest your glasses.
Bend It Like Goony
Goony Modular Holder/Tray   www.Cube Shops.com   $24
Is it a sculpture, pronged holder or mini tray? The answer is that it's all three combined into one creative storage idea. Sculpt the "Goony" to suit your mood and storage needs. For example, the "fingers" also hold items such as notes and photos and a tray-style configuration could give you a different type of container for your eyeglasses and/or watch or jewelry. Choose from pink, green, yellow, black or white.
Something Old Into Something New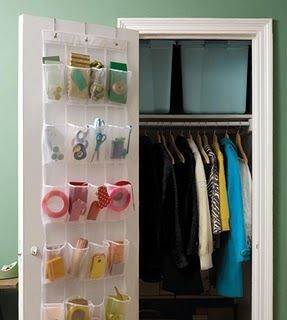 Photo Credits: Apartment Therapy.com
Apartment Therapy.com suggests giving clear-pocketed, hanging shoe storage bags new uses — and of course, these little pockets are excellent for storing eyewear! Give each pair of your prescription or non-prescription glasses and sunglasses its own "home" pocket and you'll still probably have plenty of room in your hanging organizer for cases, cleaning cloths and other eyewear accessories.
Take A Stand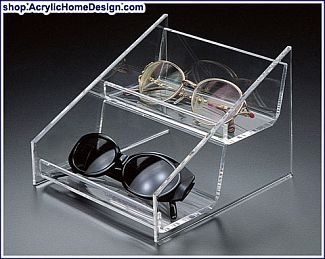 2 Pair Clear Acrylic Eyeglasses Stand   Acrylic Home Design.com   $17.68
Fitting in with any decorating color scheme, this clear acrylic organizer will hold two pair of eyewear. Whether you place this in your closet or office, this approach is nice for contemporary styles.
It's In The Bag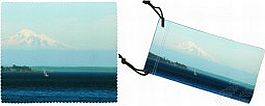 Soft Protective Eyeglasses Cases/Microfiber Cleaning Cloth   ZenniOptical.com  $1.68/case – $2.20/set
Zenni offers a collection of decorative eyewear cases and cleaning cloths. These feature beautiful images on one side and a solid, neutral color on the other. Stock up for yourself or little gifts as these cases and cloths are just so inexpensive and practical for protecting and caring for all of your eyewear. Plus, how can it not be fun to polish your lenses with a mountain or a kayak? (Click on the images above for ordering information.)
Boxed Set
Blue Allure Folding Fiberboard Boxes   The Container Store.com   $12.99 — $19.99 each
Once you have your glasses in protective cases, storing them in a decorative box in the colors of your home can be a practical storage solution. The colorful storage boxes can be showcased on a bookshelf out in the open with books, plants and decor items or placed on a closet shelf or inside an organizer system.