The Ultimate Guide to Cool Glasses for Men
Shop Frame Style Here
Whether you're a seasoned eyeglass wearer or stepping into the world of frames for the first time, finding the right pair that merges style and functionality is key. At Zenni Optical, we understand that the perfect glasses not only enhance your vision but also complement your individuality. Let's explore the timeless and trendy options in men's eyewear, ensuring you not only see clearly but look effortlessly cool doing so.
How to Choose Glasses for Your Face Shape
Selecting glasses that suit your face shape is a game-changer. Here's a quick guide to help you find frames that enhance your features:
Round Face: Emphasize angular features with square or rectangular frames. Avoid overly round frames as they can accentuate the roundness.
Oval Face: Lucky you! Oval faces can pull off various frame shapes. Experiment with different styles to find what you love.
Square Face: Soften strong features with round or oval frames. Steer clear of overly angular or boxy styles.
Heart-Shaped Face: Balance a broader forehead with frames that are wider at the bottom. Cat-eye or aviator styles work well.
Shop Frame Style Here
Cool Glasses for Men
Now, let's dive into the exciting world of cool glasses. Here are some trends and timeless classics that could be your next signature look:
Round Wire Frames
Check out our Metal Round Eyeglass Frames
Embrace a retro vibe with round wire frames. They add a touch of intellectual charm to your ensemble. Ideal for those seeking a blend of sophistication and a hint of vintage flair.
Shop Frame Style Here
Aviator Glasses
Explore our Stainless Steel Aviator Eyeglass Frames
Aviators are a timeless choice. Originally designed for pilots, they've become a symbol of coolness. With a sleek silhouette, they effortlessly elevate your style.

Shop Frame Style Here
Clear Frames
Discover our Clear Eyeglass Frames
Clear frames are a modern favorite. They're subtle yet make a statement. Perfect for those who want a contemporary look without compromising on versatility.
Shop Frame Style Here
Retro Browline Style
Try our Browline Eyeglass Frames
Browline frames, reminiscent of the '50s and '60s, are making a comeback. They add a dash of intellectual flair to your look, striking the right balance between vintage and contemporary.
Shop Frame Style Here
Tortoiseshell
Explore our Tortoise Eyeglass Frames
Tortoiseshell frames are a classic that never goes out of style. Their warm, speckled pattern adds a touch of sophistication to any outfit.
Shop Frame Style Here
Geometrical Frames
Explore our Geometrical Eyeglass Frames
Geometric frames are all about pushing the boundaries of traditional shapes. From hexagons to octagons, these frames add a contemporary and edgy vibe to your look. If you're the kind of person who likes to stand out, geometrical frames are a fantastic choice.
Shop Frame Style Here
Rimless Frames
Explore our Rimless Eyeglass Frames
For a sleek and minimalist aesthetic, rimless frames are the way to go. With barely-there frames, they provide a subtle and sophisticated appearance. Rimless glasses are perfect for those who want a modern, clean look without the distraction of a frame.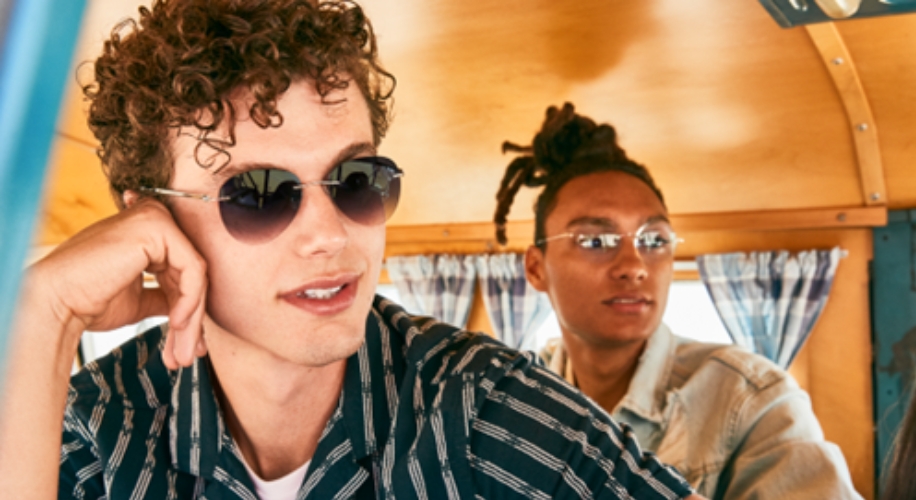 Shop Rimless Aviator Style Here
Modern Glasses for Men from Zenni
At Zenni Optical, we curate eyewear that blends the latest trends with enduring style. Each pair is designed to not only meet your vision needs but also reflect your personality. Ready to upgrade your eyewear collection? Explore our complete men's glasses range and find the frames that resonate with your style. Your journey to clearer vision and cooler looks starts here.

With over 15 years of experience in the optical industry, Frankie Marina is a seasoned optician who has held various roles, from General Manager overseeing optical labs and collaborating with eye doctors to her meticulous position as Final Inspector ensuring the precision of each ordered pair of glasses. Throughout her career, she has refined her expertise. Frankie's skills include troubleshooting vision errors and curating frames for high-profile VIP clients, effortlessly blending functionality with style. Today, as a dedicated optician with Zenni Optical, Frankie is committed to helping people see better and live better by sharing her wealth of knowledge and discover eyewear solutions that not only promote clear vision, but also instill confidence."