10 Glasses for Square Faces
There are literally thousands of glasses styles to choose from, but finding the perfect pair doesn't have to be a struggle. In fact, all you need to know is your face shape and you can narrow your selection down considerably. To help you out, we put together an infographic that gives some tips for choosing the right glasses for your face type. In this post, though, we're taking a deeper dive into some options for all of you with square faces out there.
Best Glasses for Square Faces
When it comes to proportion, square faces are widest along the jaw and forehead. And because this shape is defined by the jawline, glasses that sit high on the nose add length that flatters this face. To draw focus to your strongest features, choose a rounded, rather than angular, frame. Rimless and semi-rimless frames are a great place to start. We recommend round and oval frames. Try to avoid anything square or geometric with lighter frame colors.
Finding the Style for You
To complement an angular face with a strong jawline, we love these oval acetate glasses. Whether you're looking for an ultra-modern clear acetate, bold yellow, or a warm brown, we've got you covered. A thin, metal nose bridge and matte finish gives these modern eyeglasses a bit of old-school flair.
TRY: Oval Glasses #7810423
Want a standout color with a soft, ultra-flattering shape? These contemporary oval glasses might be your new favorites. With a rounded, striking shape and a choice between six bold hues, these glasses were made for women with square-shaped faces. We recommend grabbing the blue if you're looking to update your work wardrobe – they're the perfect fun accessory for a clean, sophisticated outfit and they flatter every eye color.
TRY: Oval Glasses #7809716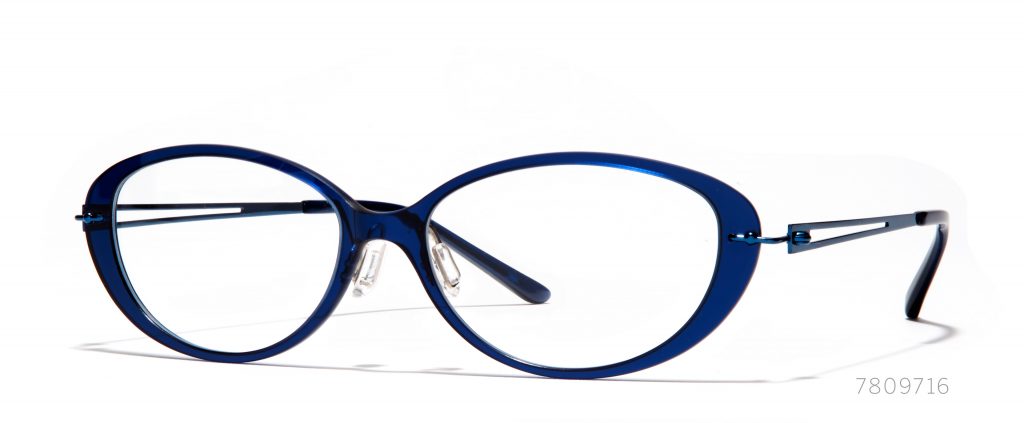 These metal browline eyeglasses are the perfect blend of retro and contemporary. With their classic rounded, scholarly shape and vintage vibe, they're an ideal pair of glasses for finishing any outfit, especially if you're looking to flatter a square-shaped face. Available in cool silver or deep brown, you won't be disappointed with these quirky, sophisticated glasses.
TRY: Browline Eyeglasses #199311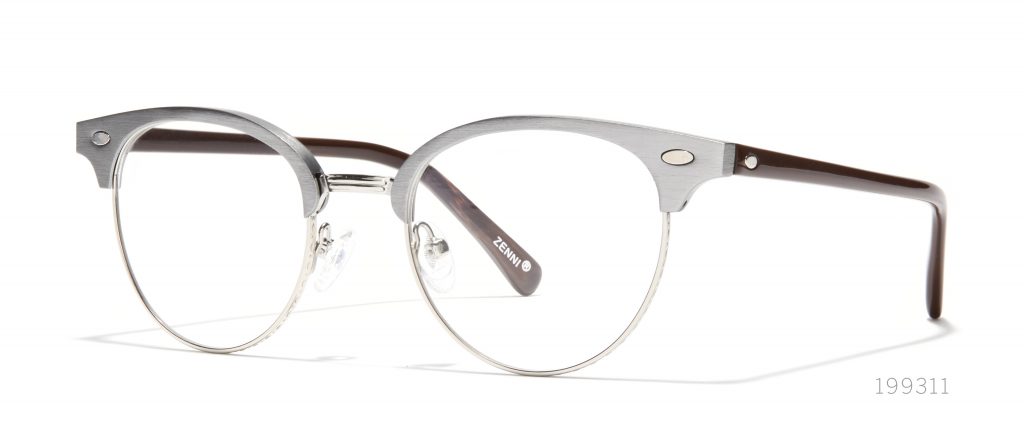 Everyone needs a pair of statement glasses, and this purple and black round frame definitely makes a statement! The two-tone, thin-rimmed shape of these eyeglasses is the perfect weight for balancing more angular features, and the flirty pop of color will certainly turn heads. Whether you're wearing simple black and white, or even a bright floral, these chic, berry-toned glasses will make any outfit better.
TRY: Round Glasses #4412917
Gradient color effects–or "ombre"–remain a hot trend in eyewear. The color contrast from dark to light pulls all the attention up to the eyes. These glasses are perfect for those with a strong jaw who want to update their look with something minimalist and trendy. If you're not feeling the cool black-and-white look, this frame also comes in a warmer two-tone tortoiseshell. They're just as striking and have that same sleek, oval shape that suits square-shaped faces so well.
TRY: Round Glasses #636412
If you're in the market for a flattering frame with plenty of polish, look no further than these round glasses. Not only are they ideal for framing a square-shaped face, they transition seamlessly from day to night thanks to their bold, crisp, and classic look.
TRY: Pei Round Glasses #4419221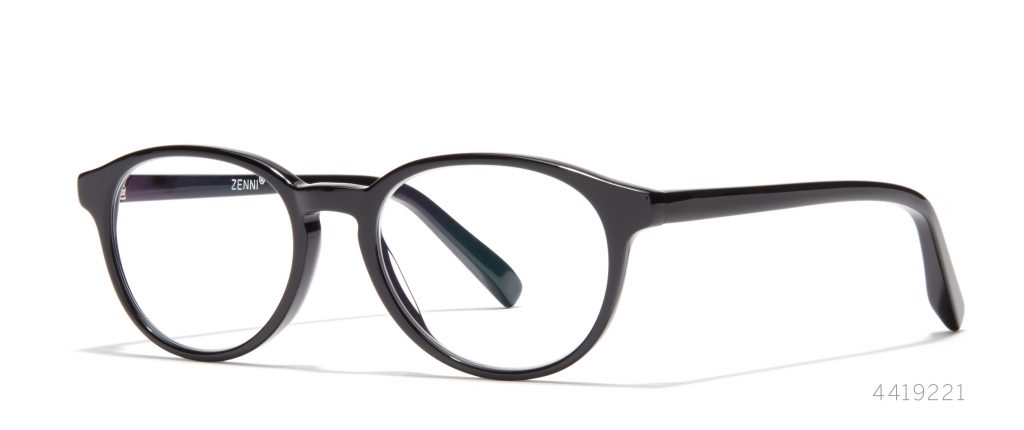 Round browline frames are another great choice for square-shaped and angular faces. The soft gray upper rim of these glasses is angled to bring even more attention to your eyes. These attractive glasses pair beautifully with both office wear and casual looks.
TRY: Geometric Glasses #7812112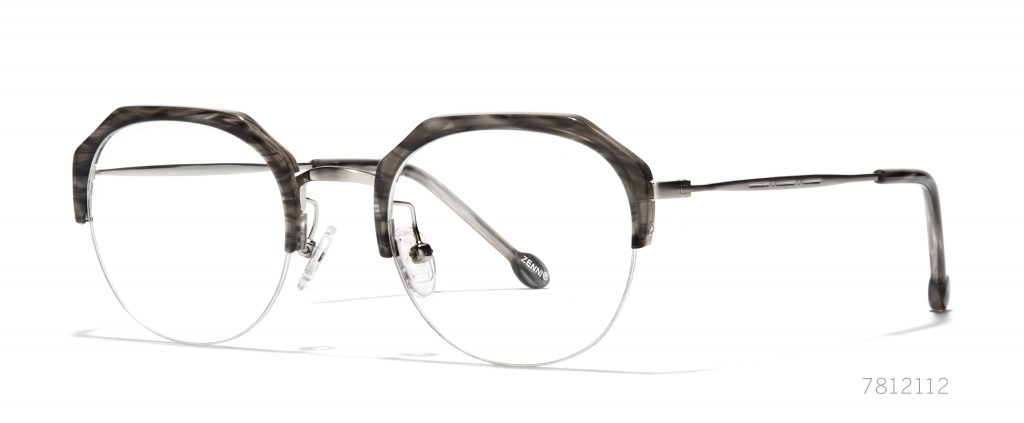 These vintage-inspired oval glasses add a fashionable edge to the classic 'professor' look. You can't go wrong with either black or classic tortoiseshell. Grab one (or both!) for work, going out, or casual, everyday looks. This is a smart, versatile, and contemporary frame that perfectly complements a strong jawline and makes your eyes pop.
TRY: Oval Glasses #7809425
These softly angled round glasses are on-trend and just right for square faces. The tortoiseshell pattern gives them a neutral and ultra-flattering finish. With slight angles on the upper rim and sleek metal arms, these frames are a modern take on classic round eyewear.
TRY: Round Glasses #7812215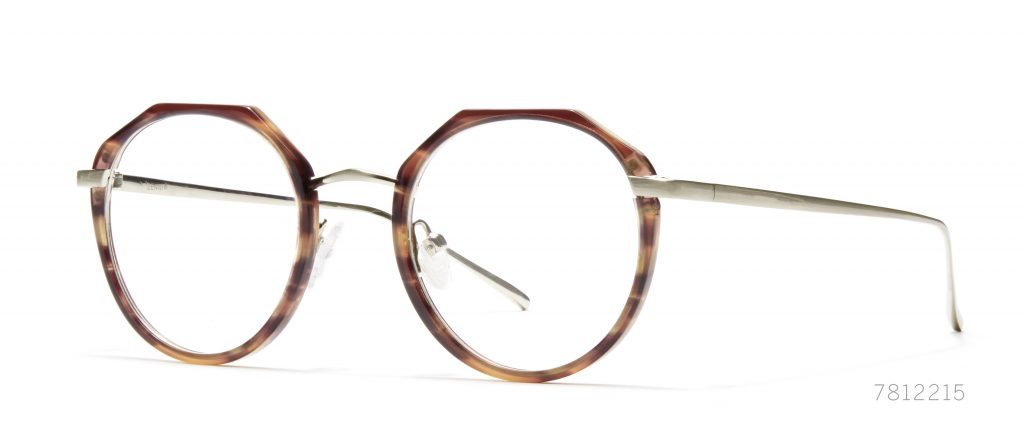 Last but definitely not least, we love these floral round glasses. With a bold pattern and a keyhole nose bridge, these glasses are perfectly shaped to bring attention to your eyes. The thin acetate frame has speckles of pink, green, and navy with gold metal arms for touch of glam that will grab everyone's attention.
TRY: Round Glasses #126629
Not only does Zenni offer a vast selection of flattering frames for square-shaped and angular faces, our 'wow' prices mean you can express all facets of your personality with more than one pair.
If you're not sure your face is a square shape, try out our other guides and see if they're a better fit! We have frame guides for diamond faces, oval faces, heart-shaped faces, and round faces.