Memorable Sit-Com Eyeglasses Through The Years
Steve Urkel (Family Matters, ABC, 1989-1997/CBS, 1997-1998)
Who can forget the enormous red-framed glasses worn by Jaleel White's character, Steve Urkel, in Family Matters? This is obviously a major 'what not to do' when picking out eyeglasses — choosing frames that cover half of your face. The scoop is that the glasses apparently belonged to White's dad, so hopefully Papa White had a large face.
Urkel's bad choice of eyewear wasn't the only accessory competing for bad taste though — remember those red and yellow suspenders, flood pants and crazily-patterned shirts? Top all this off with the whiniest voice on the planet and you've got classic Urkel.
Jess Day (The New Girl, FOX, 2011-present)
"Geek Chic" is all the rage on The New Girl thanks to Zooey Deschanel's character, Jess Day. The dark, over-sized, nerd glasses are so cute with her long, dark waves and heavy bangs. For those who have to know, the eyewear is Wacks by Oliver Peoples.
I may just have to randomly break out into song over this eyewear look, just like Jess is known to do at any given moment. Her look is just that cute.
Jan Brady (The Brady Bunch, ABC, 1969-1974)
Jan was no Jess. She did not look cute. It seems like the character of Jan Brady, portrayed by Eve Plumb, was written so loser-like that Jan just couldn't have attractive glasses.
It was a self-fulfilling prophecy when Jan resisted getting eyeglasses by dramatically whining: "They'll make me look absolutely positively goofy." Yup. They did.  The lens shape was not flattering on her face and the color of the frames was pale like her skin and hair. Jan's look was bland and blah. No wonder it was all about "Marcia, Marcia, Marcia."
George Costanza (Seinfeld, NBC, 1990-1998)
Well, at least Jan was a kid. A grown adult (well sort of), George Costanza, played by Jason Alexander, couldn't pick out flattering eyewear for himself on Seinfeld to save his life.  Of course, this is George Constanza who can't seem to hold a job like most normal adults either.
In the highly rated episode called "The Glasses," George thinks his eyeglasses were stolen at a health club. "Who steals prescription glasses?" became a comical question. In trying to choose new eyewear, George makes such bad choices that Jerry calls him "Elton" and "madam." Poor George. He's absolutely useless at everything.
Dwayne Wayne (A Different World, NBC, 1987-1993)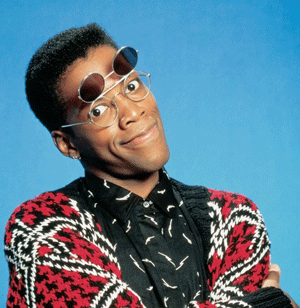 If you've ever seen The Cosby Show spinoff, A Different World, you're bound to remember Kadeem Hardison's character, Dwayne Wayne (who could forget that name?) and his trademark, flip up round sunglasses. We love that the flip up circles are metal rimmed just like the rest of the eyewear.
In June, Miami Heat basketball player, Dwayne Wade, wore very similar sunnies to an NBC press conference presumably because he loved the eyewear too as well as has a similar name to the character's.
Lucy Ricardo (I Love Lucy, CBS, 1951-1957)

In a hilarious, yet somehow still glamorous, attempt to not look at all similar to her usual self, Lucille Ball's character, Lucy Ricardo, dons a pair of bejewelled cat eye glasses, fake nose and a head scarf since Ricky is bringing movie star William Holden to meet Lucy and she's already met Bill Holden.
Of course, Lucy made a terrible impression which is the reason for her disguise. Jewel-edged eyewear aside, our favorite part of that episode was when Lucy, all star struck at the Brown Derby restaurant, is staring so hard at William Holden that she butters her hand rather than her bread.
Leonard Hofstadter (The Big Bang Theory, CBS, 2007-present)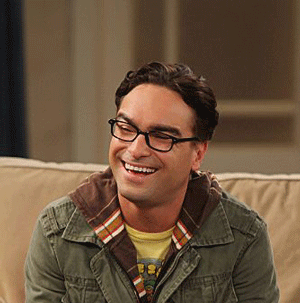 At least Lucy presumably had lenses in her glasses, because Experimental Physicist, Leonard Hofstadter, played by Johnny Galecki on The Big Bang Theory wears the dark nerdy frames only. Add yellow sneakers and hoodies and that's Leonard's PhD look. Yeah, stick to science, not fashion, Leonard.