Easy Halloween Costume Ideas That Will Work With Your Glasses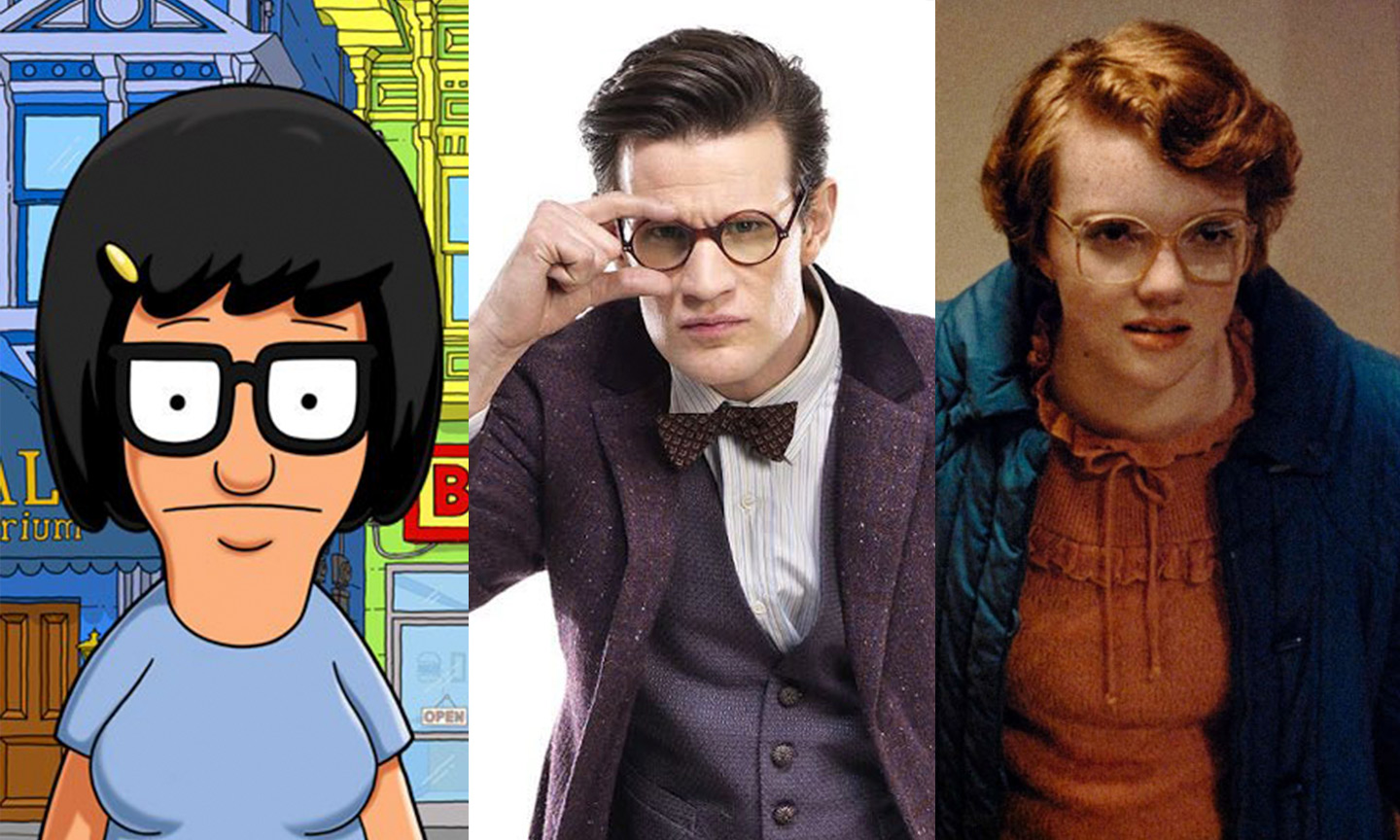 Enjoying Halloween doesn't have to mean spending a frightening amount on a costume. We've assembled a list of the most spook-tacular and affordable costume ideas that are sure to be a hit this year. Regardless of whether you're a master with the needle and thread or struggle to fold your shirts, these outfits are incredibly easy to assemble and fun to wear. The linchpin for each costume: a pair of our top-choice frames. But don't run away in terror if you don't normally wear glasses; each set of frames comes with the option of non-prescriptive lenses.
Halloween – we got this!
Barbara "Barb" Holland – Stranger Things
"Stranger Things" turned into a national phenomenon by dousing audiences with a stream of everything that made the '80s awesome. Barbara Holland, or Barb, became a fan favorite for her loyal and honest personality, but met an untimely demise (or did she??), much to the chagrin of real-life wallflowers and geeks. Pay tribute to Barb's memory by sporting the following items:
1. Short Curly Brown Wig
Get Barb's short, boy-cut bob to help you lean wistfully against your locker.
2. Plaid Shirt
Local thrift stores might also be a safe bet to find a gently worn plaid, checkered shirt.
3. Mom Jeans
High waist. Skinny legs. These jeans look and feel great all year round.
4. Brown Eyeliner Pen (for freckles)
There's a (slightly sexist) saying that a girl without freckles is like a night without stars. Be Barb when you add some to your face with this affordable eyeliner.
5. Blue Eyeliner (for eyes)
You can't go to the Upside-Down world without the right makeup.
6. Pink Transparent Glasses
Our Acetate Full-Rim Frames are ideal for relaying that teenage angst.
7. Puffy Down Jacket
This jacket is great for a chilly night of trick-or-treating and goes well with almost anything in your wardrobe.
Tina Belcher – Bob's Burgers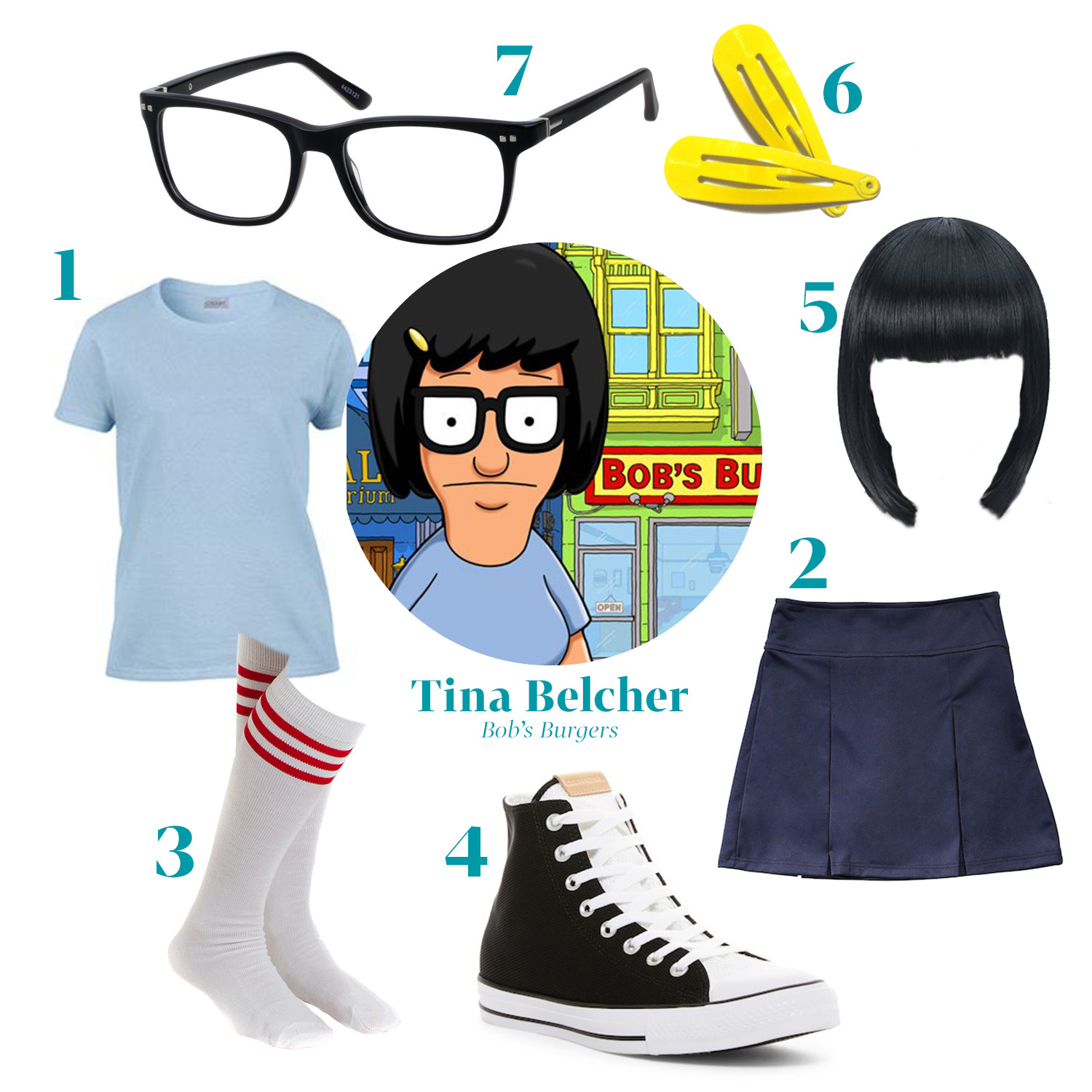 Being the middle daughter is tough, especially when you're on the Fox-animated show, "Bob's Burgers." Channel your inner Tina Belcher and let your charm bomb explode with this simple, but delightful outfit.
1. Light Blue T-Shirt
Who doesn't need an extra top for the gym or doing chores around the house?
2. Navy Blue Mini-Skirt
Whether you're boogieing at a party or making your way around the neighborhood in search of candy, this comfy, French Toast pleated skirt will keep you comfortable and mobile.
3. Red Stripe Tube Socks
Want to keep your legs warm on a cold Halloween night? Try these affordable striped varsity tube socks.
4. Black and White Chuck Taylors
Classic. Comfortable. Stylish. Lace up your Chucks and get after those sweets.
5. Black Wig with Bangs
You may not need a wig, but if don't already have a bob cut, you won't have to blow your paycheck on a new hair piece with this option. To get a more authentic Tina Belcher look, use a pair of scissors to make the hair somewhat less put together.
6. Yellow Hair Clips
Great for Halloween … and beyond. Save them for crafts or regular, everyday use.
7. Black Square Glasses
There's no getting the Tina Belcher look without these classic wayfarer glasses.
11th Doctor – Dr. Who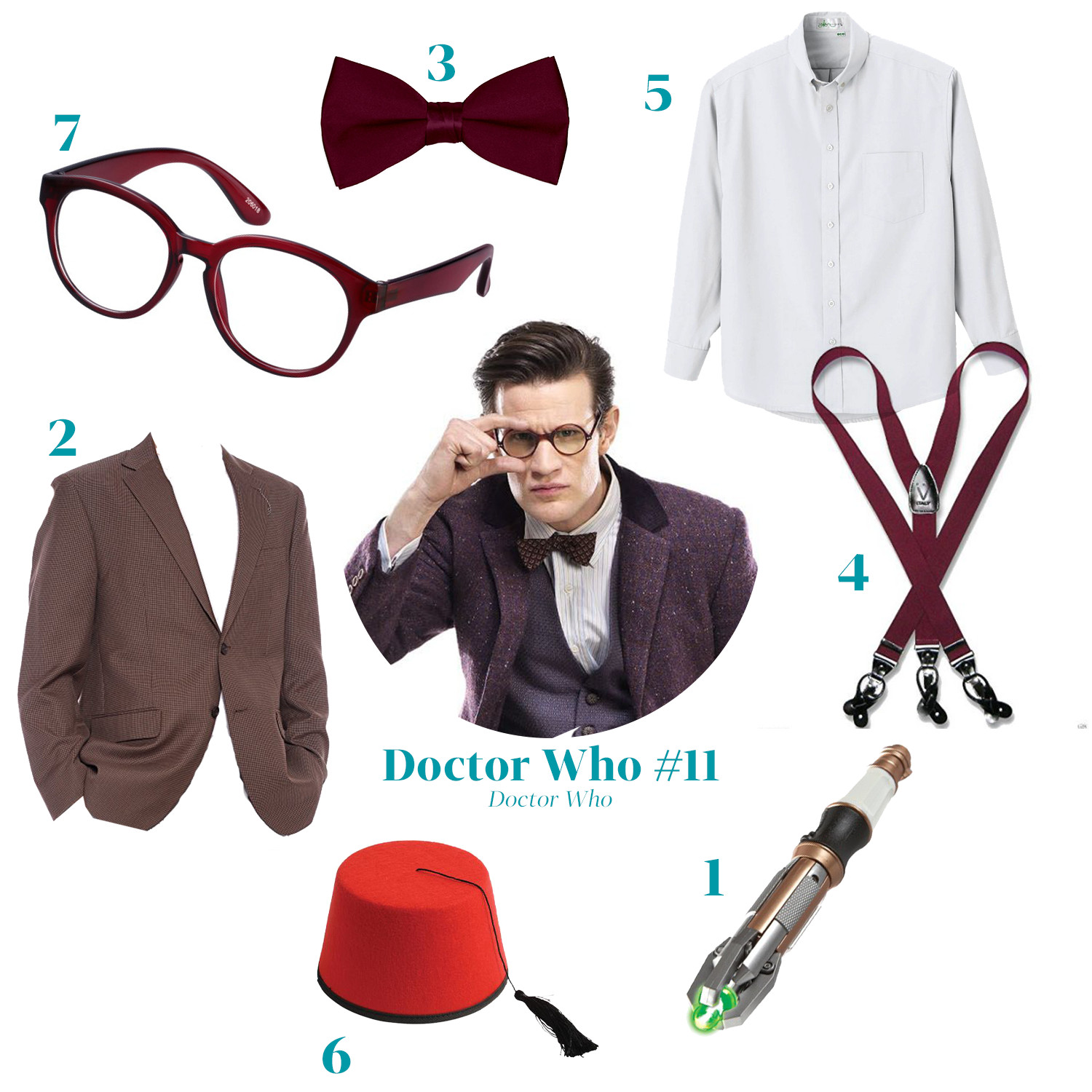 Since 1963, "Doctor Who" has captured the imaginations of people from every corner of the globe, and perhaps none is more iconic than the bombastic 11th Doctor. One of the easier cosplay costumes to pull off, all your friends at the Halloween party will instantly recognize this outfit that's absolutely oozing with Britishness.
1. Sonic Screwdriver
Dr. Who doesn't carry a knife, sword, gun, or anything of the sort. Save some people and money with this accessory.
2. Tweed Blazer
Look dapper and dress for success in this Geoffrey Beene two-button tweed sport coat.
3. Burgundy Bow Tie
To fully capture the essence of the 11th Doctor Who, you'll either need a working TARDIS or a burgundy bowtie. The latter is a little easier to find.

4. Burgundy Suspenders
You can't battle the Daleks if your trousers keep falling down.
5. White Button-Down Shirt
This simple, lightweight button-down presents thousands of styling opportunities no matter the century you're in.
6. Red Fez Hat (optional)
The 11th doctor always claimed he looked good in a fez. Get yours for next to nothing.
7. Round Red Glasses
The Doctor is in when he's wearing these eye-catching flexible plastic full-rim frames.
Olivia "Liv" Moore – iZombie
Who knew a zombie could turn into a crime fighter?
1. Red Hoodie
Nothing says, "zombie medical student who moonlights as a detective" better than this full-zip hoodie. The red helps to hide any brain-related stains.
2. Zombie Makeup
Adding a few earthy tones around the eyes and mouth will help bring out your inner walker.
3. Grey Crewcut T-Shirt
If you're going to purchase a comfy tee, grab one that goes with anything. This light and airy cotton top will quickly turn into one of your favorites.
4. Black Leggings
These slimming, classic leggings combine comfort and style without turning your bank account into an undead nightmare.
5. White Lab Coat
Hold onto this coat and go as Meredith Grey to next year's Halloween bash.
6. Blonde Wig
If you're lacking some golden locks, this Marilyn wig from halloweencostumes.com does the trick.
7. /sport-eyeglass-frames-708223.html" target="_blank" rel="noopener noreferrer">Goggles
Complete your transformation with these clear rims and classic silver metal accents. Who says the living dead can't be fashion-forward and scholarly?
Pablo Escobar – Narcos
Running from the DEA on Neflix's hit show "Narcos" isn't easy, but dressing like a millionaire doesn't have to be difficult. Let them know who's the jefe at the costume party this year by going as Pablo "El Padrino" Escobar. As a bonus, you can probably hang onto most of these items to wear year-round!
1. Black Mustache
This cookie duster will give you that authentic Medellin look. Grab an inexpensive one from amazon.com.
2. Short Sleeve Hawaiian Shirt
Ahh, the classic Hawaiian shirt, forever the official uniform of drug kingpins everywhere.
3. Burly Fake Chest Hair
There are few things that are more threatening than a burly swath of chest hair staring you in the face. Pablo clearly made full use of this intimidation tactic, and now you can too.
4. /mens-stainless-steel-aviator-sunglass-frames-1125921.html" target="_blank" rel="noopener noreferrer">Stainless Steel Aviator Glasses
No Pablo Escobar costume is complete without these attractive, aviator frames. Add some tinted lenses to get that authentic, Colombian feel.
5. Dad Jeans
These flex-fit waist jeans are a solid addition to any guy's clothing collection. Dad jokes not included.
6. White Sneakers
Stay fresh-to-death with these stylish Fila sneakers. The soothing memory foam will keep your feet from aching during those long nights of trick or treating.
7. Brown Curly Wig
You may want to spray the wig with some water after putting it on to achieve that slicked-back look.
If you like this post leave us a comment below! Or better yet, tag us on Instagram with a pic! If you still need some more inspiration, check out our previous two posts for some more Halloween costume ideas that incorporate glasses: